By Michaela Brant, Special to the Reporter
July 13, 2022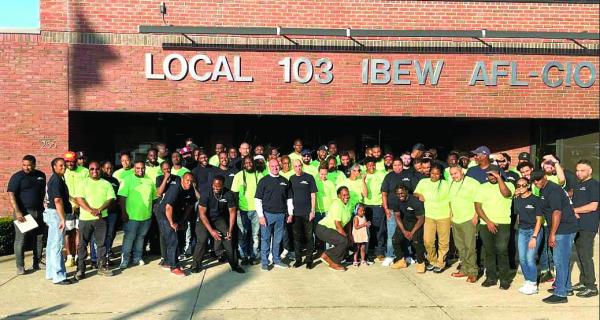 The Community Mentoring Team (CMT), a program that connects Black Bostonians with mentors and trade skills, celebrated its partnership with Dorchester's IBEW Local 103's electrician apprenticeship program during an event on June 30 at the union's headquarters on Freeport Street.
A group comprising 25 young men and women have completed orientation and training with CMT support and been accepted into the IBEW apprenticeship program that will prepare them for union licenses and jobs. 
CMT was founded in 2016 by Bill Moran, an educator and community activist who was driven to help close the wide wealth gap between Black and white Bostonians. Along with a group of peers from various professions, Moran began mentoring the group of 25 whose ages ranged from 18 to 40, preparing them for seeking apprenticeships with IBEW.
"This would not exist without mentors," Moran said at the event. "They are the backbone of this program."
Since its founding, CMT has grown to incorporate more participants, more partner organizations, and more opportunities for change. In 2020, Suffolk Construction began a partnership with CMT, and the next year, unions representing sprinkler-fitter, carpenter, ironworker, plumber, sheet-metal, and elevator workers followed suit.
Participation in CMT is free, and in addition to mentoring and workforce preparation, the program offers wellness classes, financial literacy resources, and access to financial assistance for occupational necessities like exam fees and tools needed on the job. With all of these facets, CMT continues to work toward providing economic stability and growth to young Black Bostonians. 
"This program is unlike any I have seen before," said Sean Fontes, vice president and legal counsel for CMT.
Next year, the first group of mentees to enter CMT will complete electrical apprenticeships and earn licensing from IBEW Local 103's training program, which they started working with in 2018. The anticipation of that moment, along with the recognition of those who have just been accepted to the apprenticeship program, was cause for reflection on Thursday. 
Said Robert A. Lewis, one of CMT's first mentors: "We dreamt about this day."
Said Lou Antonellis, Local 103's business manager and financial secretary: "CMT's doing amazing work, providing opportunities. As a representative of Local 103, I couldn't be more proud to just be a part of their team and part of making a difference in these folks' lives."