By Seth Daniel, News Editor
July 20, 2022
The Boston Little Saigon cultural district in Fields Corner held its first big event since receiving state designation in 2020 last Saturday, and it was one for the history books. Official estimates tagged the attendance at some 15,000 and more as attendees flocked to Dorchester Avenue – which was shut down for the afternoon and evening – to enjoy food, art, performances, and a peaceful summer evening.
Businesses on the corridor between Park Street and Adams Street set up booths; other businesses sold food and cultural items; various martial arts groups performed; there was even a crawfish eating contest.
Police reported no incidents of any consequence despite the large crowds and organizers said it was a complete success in highlighting Vietnamese and other cultures in the neighborhood.
Boston Little Saigon Board member Tam Le, who also runs Reign Drink Lab on Dorchester Avenue, said they are already calling for the event to become an annual summer festival. He said he had been skeptical at first, knowing the work it would take, but after the fact, he was won over.
"To say that the experience exceeded our expectations would be a gross understatement," he said, noting that they had prepared food for about 4,000 people and sold out within the first hour. 
More than that, it was a slice of Vietnam right in Fields Corner.
"The smoke coming off of the charcoal grills, and the plastic red stools brought us back to Vietnam," he said. "There's been discussions on how to make Fields Corner more of a destination since my time with Fields Corner Main Street over 10 years ago. This past Saturday proved that if we build it, they will come."
He said the final attendance estimates were not necessary, as they saw the success with their own eyes in shoulder-to-shoulder crowds.

True-See Allah, DA Kevin Hayden and Rev. Wayne Daley were spotted on Dorchester Avenue enjoying the peaceful atmosphere.

Boston Little Saigon organizers, including Annie Le (far right), accept a resolution from new C-11 Capt. Shawn Burns, Councillor Frank Baker, and At-Large Councillor Erin Murphy at the outset of the celebration.

Dorchester's Ethan Nguyen, getting a boost from his dad, Tuan Nguyen, reached for one of the many lanterns in the alleyway between Adams Street and Dorchester Avenue. The lanterns are part of a temporary art project that seeks to cover up frequent graffiti and replace it with a mural, lighting, and the lanterns.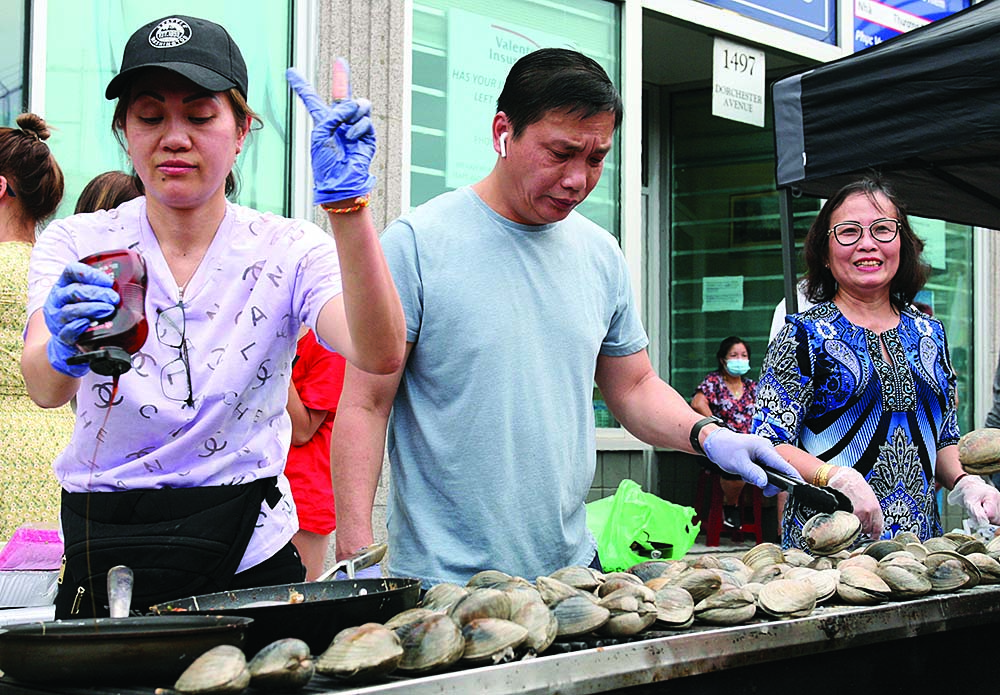 Clams on the grill and a little peace. Workers from the OST Grill prepared an authentic Vietnamese dish for the thousands of customers along the Avenue.


Dorchester residents Damita and Sam Thompson were excited to stroll through the excitement in their neighborhood on Saturday.

Dorchester residents Scott and Rachel Hartley enjoyed some Dorchester Brewing specialties at the beer garden outside Blarney Stone.

Julia Le extends a fan as she prepares a fighting move as part of a performance by the on the main stage at the Viet Do Dao Massachusetts Academy of Martial Arts during the Cho Dem Night Market on Saturday.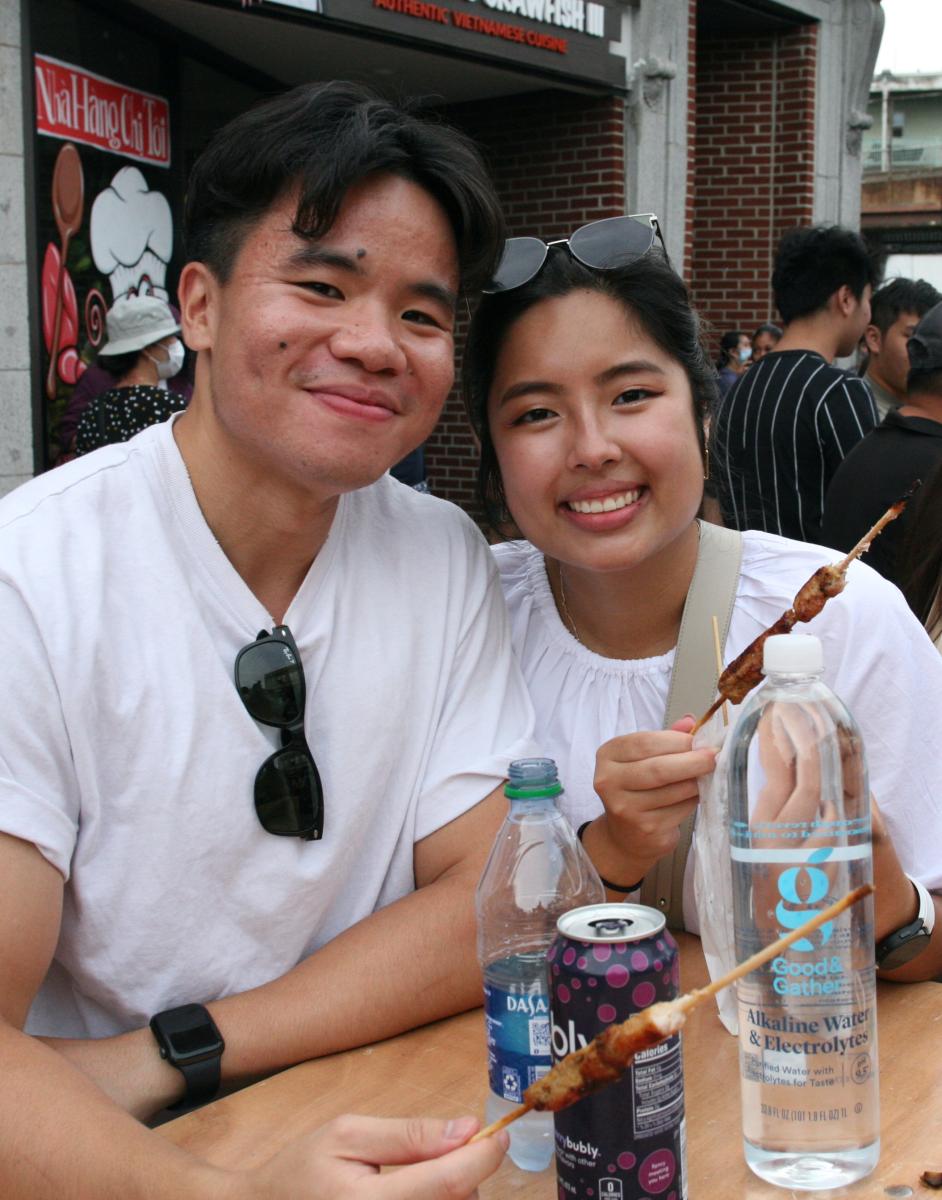 Eugene Tsu and Jen Pham sat right on Dorchester Avenue and enjoyed several samples of meat from the grill.


Carli Lee and Jimmy Ren (right) of the Rensauce Grill prepared a variety of grilled meats right on Dorchester Avenue as passers-by took in the great sights and smells.

Khang Nguyen and Harvey Nguyen show off their vintage Honda motorcycle to onlookers at the Cho Dem Night Market.

Getting it fixed! Vivien Girard helps Albert Cortez to repair the chain on his bicycle as part of the bike repair station at the Cho Dem Night Market.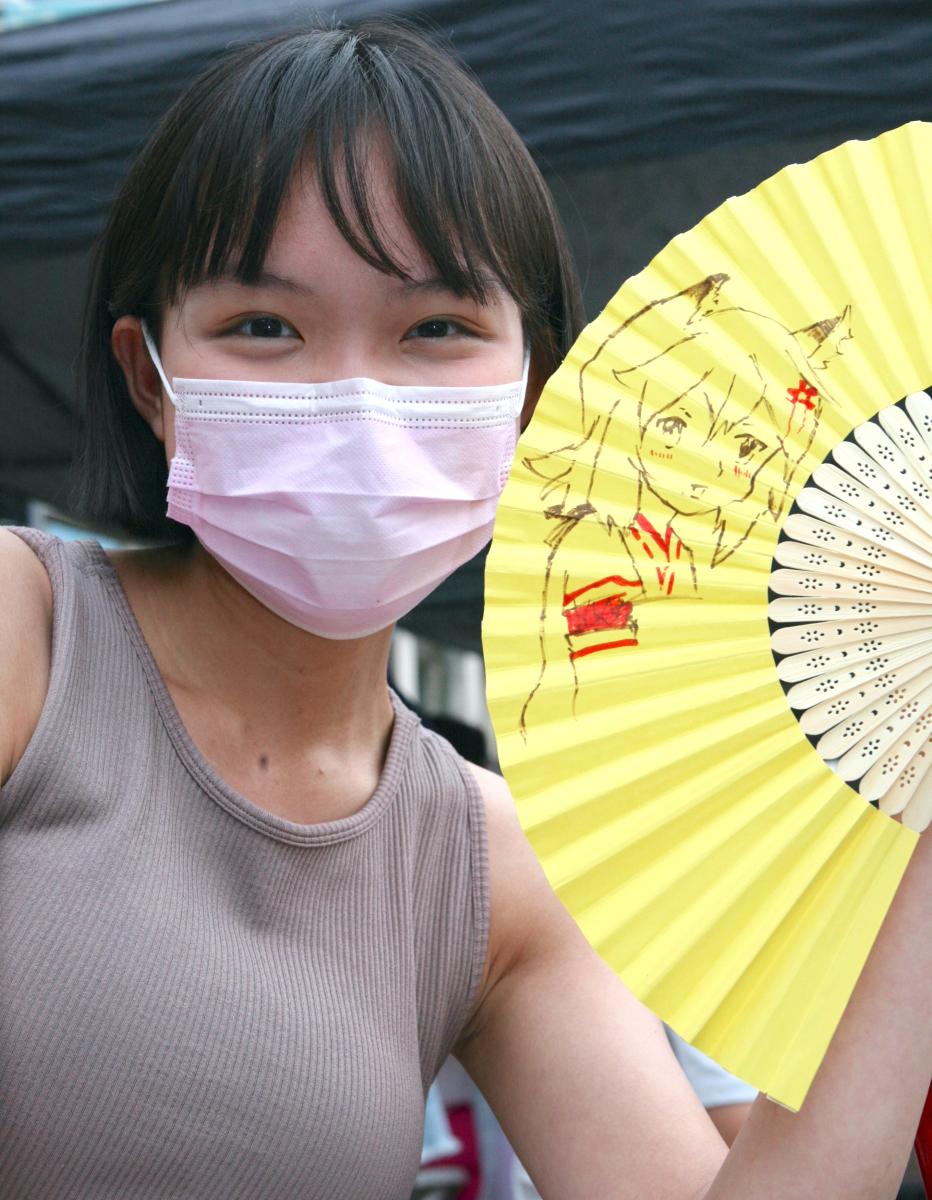 Dan Nguyen shows off the traditional fan she created at the art station in the Cho Dem Night Market. Visitors were invited to create their own designs on the paper fans, and Nguyen chose a popular anime character.

Kim Driscoll, candidate for Lt. Governor, was spotted in the crowds with Tri Tran on Saturday.