By Reporter Staff
January 19, 2022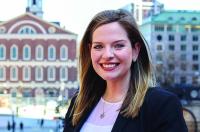 Kaitlin Passafaro, a Dorchester native and former aide to Mayors Marty Walsh and Kim Janey, has signed up with the Berklee College of Music as the college's vice president of community and government relations.
Passafaro, who served as a senior adviser to the mayor as director of the office of intergovernmental relations, started at Berklee on Jan. 10. While at City Hall, she oversaw a team of nine people and had a cabinet-level position. Her resume includes the title of director of policy for economic development and working for Mayor Thomas Menino's advance team.
Mayor Wu has appointed Clare Kelly of Jamaica Plain as the new director of her administration's office of intergovernmental relations. Kelly previously worked as executive director of the Environmental League of Massachusetts Action Fund, executive director of the state Democratic Party, and political director for Gov. Deval Patrick.
"We could not be more thrilled to have someone of Kaitlin's caliber join Berklee," Richard Hisey, the college's chief financial and investment officer, said in a statement.
Said Passafaro, who has degree in history from Boston College and a master's in public administration from Suffolk University: "I am honored to join this prestigious institution and am grateful for the opportunity to build upon the strong foundation of the college's past community and government relations work.
Berklee, a school founded in 1945 as the Schillinger House, has 6,000 undergraduate students and is based in Boston's Fenway neighborhood.
Passafaro is the daughter of City Clerk Maureen Feeney, who served as District 3 City Councillor, representing Dorchester, until taking the clerk's job in 2011.