By Michaela Brant, Special to the Reporter
August 3, 2022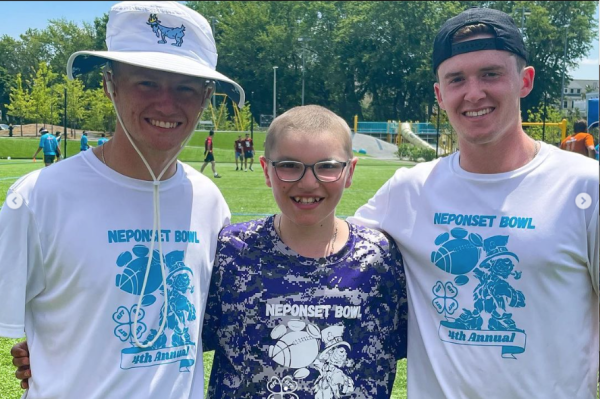 In 2017, 15-year-old Dorchester pals Aidan Devlin and Thomas Donahue, who liked to play what they call "arena football" in the street hockey court at Garvey Park in Neponset, organized the first Neponset Bowl, a youth-led flag football tournament, as a way to raise money for neighborhood families experiencing hardships.
For the latest competition, held two weeks ago, on July 23, they noted the ongoing trials of 13-year-old Conor Olsen, his mother, and his family while raising more than $7,000 for the fight against Hodgkin's lymphoma, Conor's diagnosis, as some 100 players on 16 teams competed against each other and their fans cheered them on from the sidelines. 
Said Devlin, like Donahue a Boston Latin Academy graduate, about the tournament's inaugural event: "One of our close friend's mother passed away, so we kind of wanted to do something nice for the family. And the next year, we just figured we would continue the tradition."
Devlin now attends University of Massachusetts at Lowell, and Donahue is a member of the US Coast Guard, but both are eager to keep the neighborhood event going strong.
To raise money, Devlin and Donahue sell t-shirts each year and also take in donations from community members. This year, with help from City Councillor at-Large Erin Murphy, the young men created a 501(c)(3) non-profit to branch out in their fundraising efforts from friends and family to include local businesses.
The money they raised this year will help the Olsens, a well-known Neponset clan, as they deal with two difficult health issues: Conor's cancer of the lymphatic system that he has been gamely battling in recent months, and his mother Deb's breast cancer, diagnosed shortly after they learned of his situation.
"We've never raised that much money before," said Devlin. "And it just felt really good to be able to do something like that."
Murphy, who taught Devlin and both of his brothers as a BPS teacher, said she is "super proud of him and his friends."
The common thread throughout the Neponset Bowl is pride, say the two founders – not only in achieving the feat of setting up an event of this magnitude, but also in bringing the community together to help one another. 
"I'm proud of how big we've been able to make it," said Devlin. "It really wasn't just the two of us, me and Thomas. Everyone helped out, all our friends helped us hand out papers to businesses, and with ideas for everything."
Added Murphy: "It just showed they were raised right. Their families must be so proud of them."