By Gintautas Dumcius, Managing Editor
November 22, 2022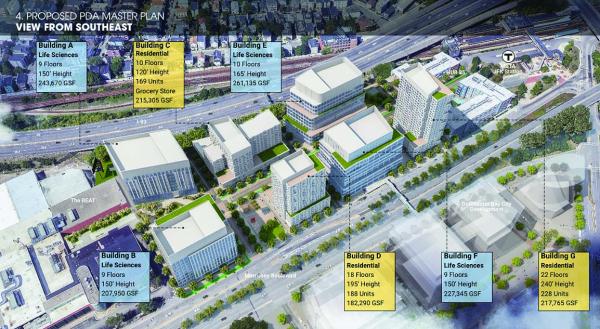 The development team behind residential towers and lab space planned for Morrissey Blvd. south of the JFK/UMass MBTA station fielded questions virtual style last Wednesday from a community advisory group about their plans to remake the stretch of properties that currently includes a two-story office building, a former TV station, and a Star Market with an adjacent liquor store.
The project, known as 35-75 Morrissey, calls for seven buildings, which will be taller the closer they get to the T station, with four life sciences buildings and three residential buildings.
The session was the first in a series, with a second public meeting, also online, set for Thurs., Dec. 1.
The development team includes the owner of the property, Center Court Mass, which purchased the 75 Morrissey property (the former WB56 TV station) in June 2017, the architectural and engineering company Stantec, the engineering firm Howard Stein Hudson, and the Sullivan and Worcester law firm for permitting and legal matters. Catherine O'Neill, a real estate development consultant and local playwright, has been hired for community engagement.
Center Court, which has worked on projects creating luxury residents out of a Suffolk University property across from the Massachusetts State House, an industrial building on Rutherford Avenue in Charlestown, and an office building at 95 Berkeley St. in the South End, bought 35 Morrissey and 55 Morrissey (the Star Market and Beasley Media Group building, respectively) in August 2018.
Earlier this year the team filed a master plan laying out their proposal, which also includes underground parking and 4.7 acres of public open space across four community parks. The project totals 1.56 million gross square feet of mixed-use development, which will be delivered in three phases. The Star Market store will remain open until a new supermarket is built.
In addition, the plans call for a new main street, running parallel to Morrissey, through the existing Hub25 apartment complex to JFK/UMass station. Bike lanes will connect to JFK/UMass station and Morrissey.
The team is also proposing a structure for outdoor meetings and outdoor events at one of the community parks, as well as one park geared toward family recreation.
The various proposed streets and paths prompted one community member, Taufiq Dhanani, to note that he didn't see any connections to the neighborhood on the west side of I-93, where he lives. Currently, anybody making the trek to the Star Market from that side has to cut under the expressway and through JFK/UMass station.
Eric Potkin, director of development and construction at Center Court, pointed out that the MBTA and the Massachusetts Department of Transportation (MassDOT) own the Red Line tracks and the space underneath I-93, so they're beyond Center Court's direct control, but,. He said, by enabling the development, the community could force those agencies to do something about a new connection.
Desmond Rohan, a Columbia-Savin Hill resident, raised City Hall's push for blocking usage of fossil fuels in new developments and asked if the development will feature a completely green build-out. He also asked about the type of life science labs in the planned buildings, and whether they'll be safe for nearby residents.
Potkin said they are closely following new directives from the Wu administration, which is seeking to participate in a state pilot project allowing 10 cities and towns to require new projects to be all-electric, with life science buildings and health care facilities being exempt. He added that it's too early to say whether the project will be completely green or what types of labs will be built.
Don Walsh, who headed up a master planning effort for Columbia Point more than a decade ago, said the proposal was "very consistent" with that effort. "In general, I like the project," he said.
But he also noted that residents are concerned about all the projects along the Morrissey Boulevard corridor, which together could lead to some 28,000 new workers coming and going, in addition to all the new residents. "No one is doing the comprehensive planning for 10,000 new residents," he said.
The projects could be terrific for the neighborhood, he said, but "they could be a disaster if they're not done right."
Nick Carter, senior project manager for the Boston Planning and Development Agency (BPDA) and the main facilitator of the meeting between residents and project proponents, said he will take back what he has heard to the planning agency's overseers.
The 37-75 Morrissey project is one of several underway with plans for lab space along the corridor. The $5 billion "Dorchester Bay City" project, which is planning over the next 15 years to add residential and lab buildings several hundred yards across Morrissey from the 37-75 proposal at the former site of the Bayside Exposition Center, is another, with both joined by a lab building being planned up against the Expressway behind the former Boston Globe headquarters, known as The Beat, which has a fitness apparel company and biotech companies coming to its floors.
There'll be additional player on the scene soon: State and city officials are planning to appoint a Morrissey Boulevard commission, with a report due by next June.