By Seth Daniel, News Editor
May 30, 2022
The Dorchester Vietnam Veterans Memorial community came together at midday on Monday to commemorate the 35th annual Memorial Day services and the 80 American service members from the neighborhood who lost their lives in the Vietnam War.
"We want to welcome you to the celebration of our 35th Memorial Day celebration, and it is a celebration," said coordinator Ed Pimentel.
"We aren't here for guests or elections; we're only here for the 80 names listed on this memorial," he added.

Lisa Zinck read a poem about Memorial Day as Ed Pimentel looks on.
Said Rev. Robert Kickham, from the Cathedral of the Holy Cross, "It is so important that we are here today with family and friends to remember the sacrifice of those that gave their lives so we could be here and enjoy freedom on a day like today."
In Dorchester, as Gold Star Mothers, families of the fallen, and their younger relatives who never got to meet them, gathered along Morrissey Boulevard in the hot sun of late May, the celebration was perhaps like few others what with the large contingent of residents from Dorchester's burgeoning Vietnamese community in attendance.

Khang Nguyen and former South Vietnamese military leaders Kim Dang and Tran Thin sing the South Vietnamese National Anthem following the American National Anthem during the ceremonies on Monday. Seth Daniel photo
Many of those who routinely turn out to the Vietnam memorial on Memorial Day, and other key moments throughout the year, were part of the South Vietnamese armed forces, and in many cases fought alongside American soldiers.
Their presence is conspicuous and comes out of a respect for the American soldiers who came to help defend South Vietnam from the northern Viet Cong (VC), they said.
"I was on the original committee to build this and when it was dedicated and ever since the Vietnamese community has been fantastic," said Willy Austin, a life-long Dorchester resident who served in 1970 and 1971. "They back us up and are always here for their holidays and our holidays and we just really appreciate it."

Tran Thin, who was a captain in the South Vietnamese Army, with life-long Dorchester resident Willy Austin. Seth Daniel photo
Said Tran Thin, who operates Kimmy Pharmacy on Dorchester Avenue and who was a captain in the South Vietnamese Army, "We have a lot of respect for the Americans who came over and gave us a big hand to help us fight for our freedom. We continue to fight. That's why we show up here every year."
The ceremony focused strongly on the names of the 80 Dorchester soldiers who lost their lives in Vietnam, with a reading of the names and the placing of flowers on the Memorial by veterans, Vietnamese veterans, family members and young people who came to help. At the end, the American National Anthem was sung, followed by the South Vietnamese National Anthem.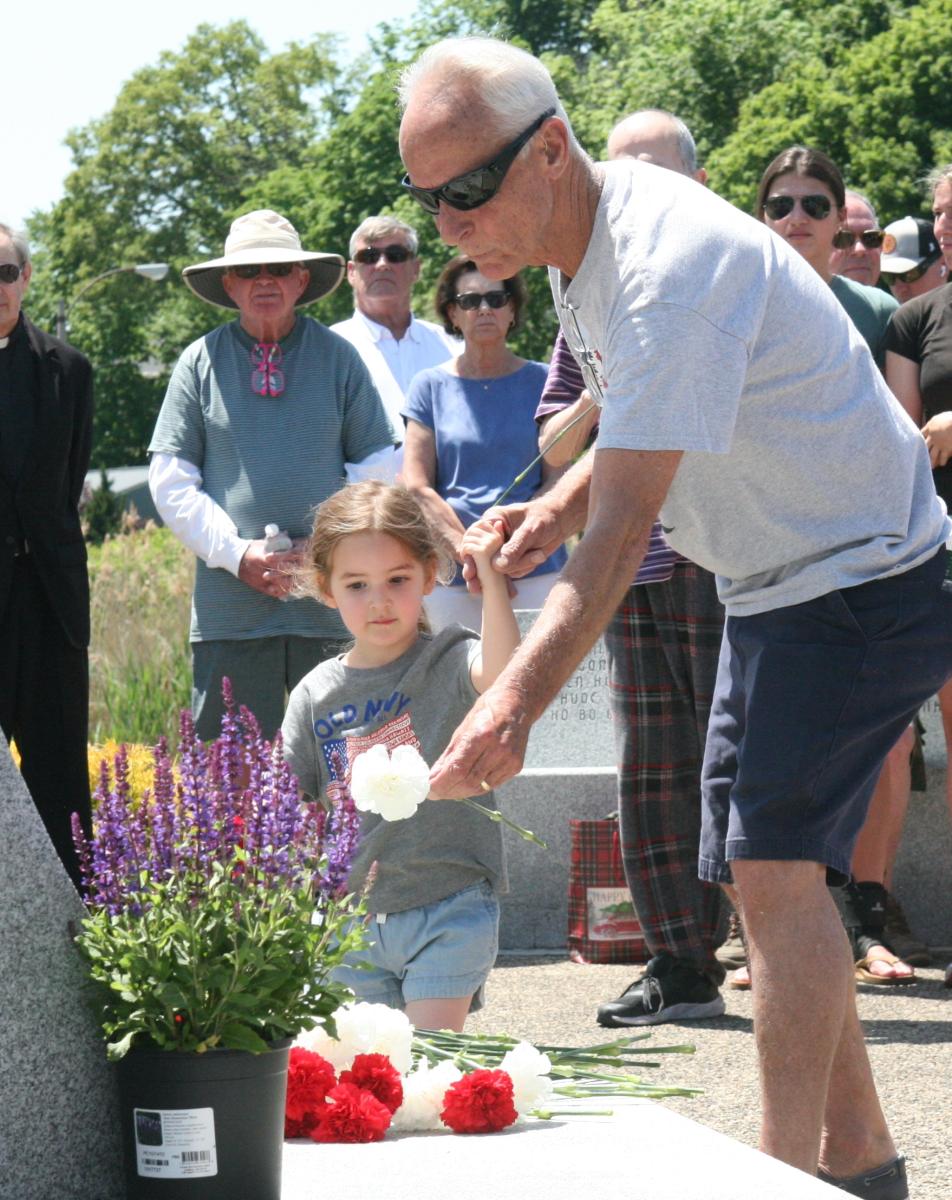 Steve Tankle and his granddaughter, Caroline Tankle Johnson, place a flower on the Memorial.

Vietnam veteran Charles Santangelo places a flower in remembrance of a fallen soldier. Seth Daniel photo