By Reporter Staff
September 21, 2022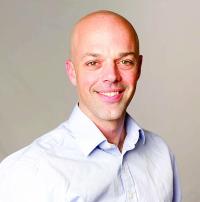 Adam G. Hinds, a Massachusetts state senator and former United Nations negotiator, will be the new chief executive officer and executive director of Dorchester's Edward M. Kennedy Institute for the United States Senate.
He will take up the post next Monday (Sept. 26) a day after resigning the Berkshire-based state Senate seat rethat he has held since 2017.
Bruce A. Percelay, chairman of the Kennedy Institute board of directors, said Hinds was chosen from a pool of 160 candidates for the position. "Adam stood out as exceptionally qualified, connected, and committed to the Kennedy Institute's mission," Percelay said.
"From my time serving with Adam in the Massachusetts Senate, I have seen his engagement and leadership on public issues across the Commonwealth, and I know in what high esteem Adam is held by people on both sides of the #mapoli aisle,'' said the Hon. Linda Dorcena Forry, also a Kennedy Institute board member.
"Adam will be a superb convener, leader, and bridge-builder as the Kennedy Institute's CEO.''
Added Andrew H. Card, a board member, former chief of staff to President George W. Bush, and a former Republican state representative from Holbrook, Mass.: "We need to create a more positive climate of cooperation, compromise, and consensus in the Senate to deliver solutions to the many major challenges facing all Americans. The Kennedy Institute, with Adam's leadership, can be an important player in bringing together people from across the political spectrum to build a better Senate."
The Senate Project, which the Kennedy Institute has launched in partnership with the Bipartisan Policy Center and the Orrin G. Hatch Foundation, intends for the public to hear leading senators from each end of the political spectrum.
The Oxford-style format of the 60-minute debates, two of which have been held so far this year, allows senators to engage in extended, thoughtful, wide-ranging debate while exploring areas of potential bipartisan compromise that have been a hallmark of the Senate for more than two centuries.
A Western Massachusetts native, Hinds earned his bachelor's degree in government and sociology from Wesleyan University and the Master of Arts in Law and Diplomacy (MALD), with a concentration in international law and negotiation, from the Fletcher School of Law and Diplomacy at Tufts University. He is married to Dr. Alicia Mireles Christoff, an associate professor of English at Amherst College, and they have a one-year-old son.