By Seth Daniel, News Editor
June 29, 2022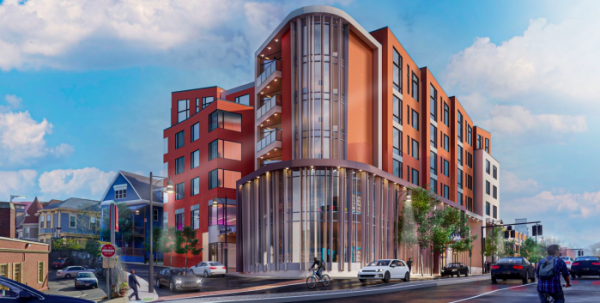 Two experienced development teams have submitted proposals for key city-owned properties in Uphams Corner, setting out very different approaches in a process that failed to attract any takers late last year.
Braintree's Caritas Communities/NHP Foundation and Civico Development, which is based in Hopedale, some 25 miles southwest of Boston, have submitted proposals to city officials for the properties at 555-559 Columbia Rd that abut the Strand Theatre. While each takes its own approach to the former bank building and adjacent parking lot, both bidders have included the required space for the future Uphams Corner branch library and expressed a desire to support the Arts and Innovation District concept.
While Civico focuses on homeownership units and parking with the library amenity, Caritas is looking at entrepreneurship space with the library and mixed-income rental units without parking.
City officials and Boston Planning and Development Agency (BPDA) have reserved comments on the proposals, but said they are excited to begin the public review process.

The old city-owned Bank of America building and adjacent parking lot in Uphams Corner on Columbia Road have been the focus of RFP processes for the past year. Courtesy BPDA
The responses to the city's request for proposals (RFP) come after thousands of hours of discussion in the community dating back to 2016. Last year RFPs required that developers also find an operator for The Strand Theatre. That seemed to scare off the development community, and no proposals emerged. With that in mind, the city issued an RFP earlier this year that did not contain the Strand factor.

Caritas bid looks to entrepreneurship
Caritas Communities got its start in 1985 in Dorchester, where it built 11 units of project-based Section 8 housing on Beale Street next to the Ashmont T station. Since then, the firm has been successful in providing supportive housing throughout Greater Boston. Partnering with NHP Foundation and the nonprofit Innovation Studio, Caritas is proposing a library, an entrepreneurial complex, and 72 units of broad mixed-income housing for the parcels without a parking component.
"We think this property means too much to the community to be utilized for parking," said Greg Rittchen, director of real estate assets with Caritas. "We think there are other spaces nearby that are more appropriate. We understand the need for parking and won't debate that, but we find this space is so iconic we didn't want to stick a parking garage on it."
Rittchen said they are more excited about tying in entrepreneurial opportunities with a library and a diverse mix of housing – with ranges going from homelessness prevention units to others at 30, 50, 60 and 80 percent of area median income (AMI) and even some at market-rate.
"What makes this proposal unique is the way we are tying together the housing and retail opportunities," he said. "By partnering with Innovation Studio, we are able to provide opportunities for resident artists and entrepreneurs to not only receive the full breadth of support in the onsite incubator, but also to have access to the cafe, market boutique, and gallery/flex spaces to market their products and services."
Innovation Studio has curated spaces to great acclaim at District Hall in the Seaport, as well as at spaces in Roxbury and Providence. With the Caritas proposal, there would be three entrepreneurial spaces on the ground floor that would be master-leased. Innovation Studio would operate the café/eatery, where local food and beverage entrepreneurs would rotate; and in the same way, the entrepreneurs-in-residence would sell their newly created products and services at the boutique/market space. A third small gallery space would be utilized for local art shows and other community events.
On the second floor there would be a space for arts and budding businesses entrepreneurs to learn and earn at the same time. The two floors next door, connected by an atrium with "lots of glass," would be the shell for the future Uphams Corner branch library. 
"The Innovation Studio is on the cutting edge of entrepreneurial incubation, especially for underrepresented entrepreneurs," added Rittchen.
Housing would be on floors 3-6 and would focus on live/workspaces for a true variety of incomes. That part of the development would be in close partnership with NHP Foundation – a national non-profit engaged in affordable housing development.
Amy Meneely, a Caritas spokesperson, said the range of housing is meant to make sure the existing community is accommodated in this project. "It will really be a mixed income community and provide things for folks that live in Dorchester now," she said, giving a nod to the mission of the district – Development without Displacement.
Development costs for this proposal have been out at $21.7 million.

Civico pledges to bring stakeholders, homeownership
As he waited in a line that wrapped around The Strand Theatre on Friday night, June 17, to get into the acclaimed Malcolm X production, Civico Development partner Taylor Bearden said he could feel the energy and potential that Uphams Corner offers as an arts district, which made him even more excited about the proposal that his company had submitted just a few days before.
Bearden said he and his business partner, Andrew Consigli, have been looking to get involved in something innovative in Boston. The housing above the library was just what they were looking for, he said.
"We're preparing a mix of workforce condo units and, of course, the library core and shell that we hope the Boston Public Library will activate. It is pretty straightforward," he said. "We focused on providing homeownership units…There are some RFPs where you try to meet every single checked box. We focused on the two most impactful things that we could deliver – the library and the homeownership units.
"We're putting forward a plan we're confident we can accomplish," he continued. "We want to know if it meets the goals of a diverse constituency."
While the RFP stressed the inclusion of a business element, Bearden said they decided not to include that in their plan "because when we looked at other proposals or projects pending in the community, we found it was more important to do well in delivering the housing and contribute to the work being done around us and now compete with it," he said.
"There are other proposals pending in the area [with affordable commercial space]," he said. "Realistically, I'd like to support them by bringing in neighborhood stakeholders to our proposal." To that end, Civico put its focus on homeownership opportunities at the work-force level, planning to put 33 condo units into the building with 39 parking spaces and a 19,852 square-foot to be turned over for the library.
Bearden said he could picture new homeowners in the building walking down the street to the theatre and supporting the businesses around it. In particular, he said, his company felt that the housing tied to the library – known as "housing with public benefits" – was a great synergy.
"That's an innovation we want to be a part of," he said. "It's such a perfect fit when you think about the pace of life and the pace of a library. They're a wonderful marriage."
Development costs for this proposal are put at $22.8 million.

What's next for the former BofA building and parking lot
The RFP sought qualified developers who could deliver affordable housing, deliver affordable commercial space, and build out the shell of the new branch library. The property consists of 18,800 square feet of land, and the bank building is currently vacant – despite the flashy artwork on its exterior. 
The BPDA expects a ground lease price proposal for the premises of at least $3 per gross square foot of floor area per year. However, the agency indicated it might consider an offer below the asking price if the proponent can show clear public value that would justify a reduction.
Public meetings on the RFP responses have not yet been set.