By Seth Daniel, News Editor
November 8, 2023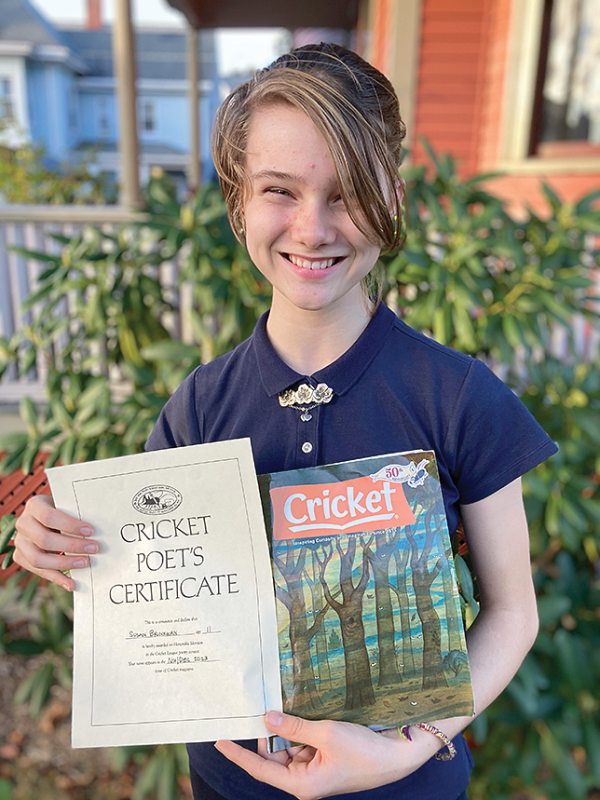 Dorchester's Susan Brinkman likes bugs a lot, she says, so much so that she has written a poem about butterflies that was published this month in the nationally acclaimed Cricket Magazine.
The 11-year-old Brinkman resides on Remington Street with her family and attends the Thomas J. Kenny Elementary School near Adams Village, which is under the leadership of Principal Shereka King. With summer in full bloom last August, Brinkman entered the magazine's monthly Cricket League poetry contest, submitting her favorite work, about bugs, naturally, "The Butterfly in Summer Flies."
"I like bugs. I really, really like bugs," she said, noting with a laugh that she chose to write about the butterfly because "people probably wouldn't want to read a poem about, say, an ant."
In school, she enjoys studying art with her teacher, Casey Manning, and music with Jerry Chu. In her spare time, she enjoys reading and writing poetry. Some of her favorite poets are Jack Prelutsky, Shel Silverstein, and Calef Brown, she said.
For the November/December edition of Cricket, her poem won an Honorable Mention citation out of a group of many entries from around the country, the magazine noted.
Founded in 1973, Cricket features the best short stories, poems, and articles by the world's finest children's authors and is illustrated by artists from here and abroad. In each issue, Cricket sponsors a different writing or art competition, with hundreds of entries pouring in each time from readers all over the world.

The Butterfly in Summer Flies
By Susan Brinkman
The Butterfly in Summer flies,
floating on the breeze,
soaring o'er bushes,
gliding through the trees.
The Butterfly through Fall smiles,
chasing jumping leaves,
flapping by pumpkins, while
dancing above winding streams.
The Butterfly during Winter hides,
nowhere to be seen,
sleeping somewhere safe and warm,
awaiting a season of green.
The Butterfly in Spring plays,
looking forward
to Summer's bright days,
pushing up pollen, into the breeze,
which twirls by your face,
causing a sneeze.
Award winners, like Brinkman, receive recognition and a certificate, and the best entries are published in the magazine and on its website for children.