By Bill Forry, Executive Editor
November 15, 2023
Store will close after holidays; owner plans transition to floral studio
Cedar Grove Gardens, the iconic floral and gift shop on Adams Street that has helped customers keep their dining room tables, porches, and yards blooming with festive colors since 1979, will close its doors as a brick-and-mortar store at the end of the year. Longtime owner Richard O'Mara said he plans to transition the business to a phone and internet model only with no walk-in retail location after the first of the new year.
In 2018, O'Mara sold the property at 911 Adams St. — directly across from the entrance to Cedar Grove Cemetery —and has been leasing the site since under an agreement with the new owner, Adams Street LLC. With the lease ending soon, O'Mara says it's time to pivot to a smaller, less demanding mode of operations.
"My lease is up at end of January," O'Mara told the Reporter last week. "I figured that I would be moving and breaking down and selling off some of the furnishings while I get a new studio space open."
O'Mara and his team will continue to welcome retail customers this holiday season but will not stock Christmas trees. The store will, however, continue to make and sell custom-decorated wreaths and other items like roping and mixed-greens for window-box displays.
As to the trees, O'Mara said it has become too hard to find reliable seasonal labor to serve tree-buyers. "We used to spend $15,000-$17,000 on trees and the resulting sales would be $30,000. But with all the time and effort, we just don't have that labor to fall back on."
The turnover in senior management at the store and the increased difficulty of securing new talent has fueled his decision to transition.
"I've lost a very seasoned crew that had been with me anywhere from 20-30 years," O'Mara said. "The idea now is to stay in business and continue to service my clientele. We will keep the phone numbers, keep the name, and maybe we will be operating under a new name at some point, but as a fresh flower studio."
O'Mara does not yet have a new location solidified but he is able to continue operating in nearby space that he leases for cold storage. It's not yet clear what might happen next at the 11,413-square-foot site at the corner of Milton Street.
Peter Lee, who controls the LLC that owns the property, also owns a hardwood floor business on Neponset Avenue. Lee told the Reporter in 2018 that he regards the site as a perfect location for a flower-related business.
"I want to keep renting to people to do a flower business there. I think it's a great area for a flower store. I love the location," he said. "If no one wants to do that," Lee noted at the time, he would consider other uses, including new housing.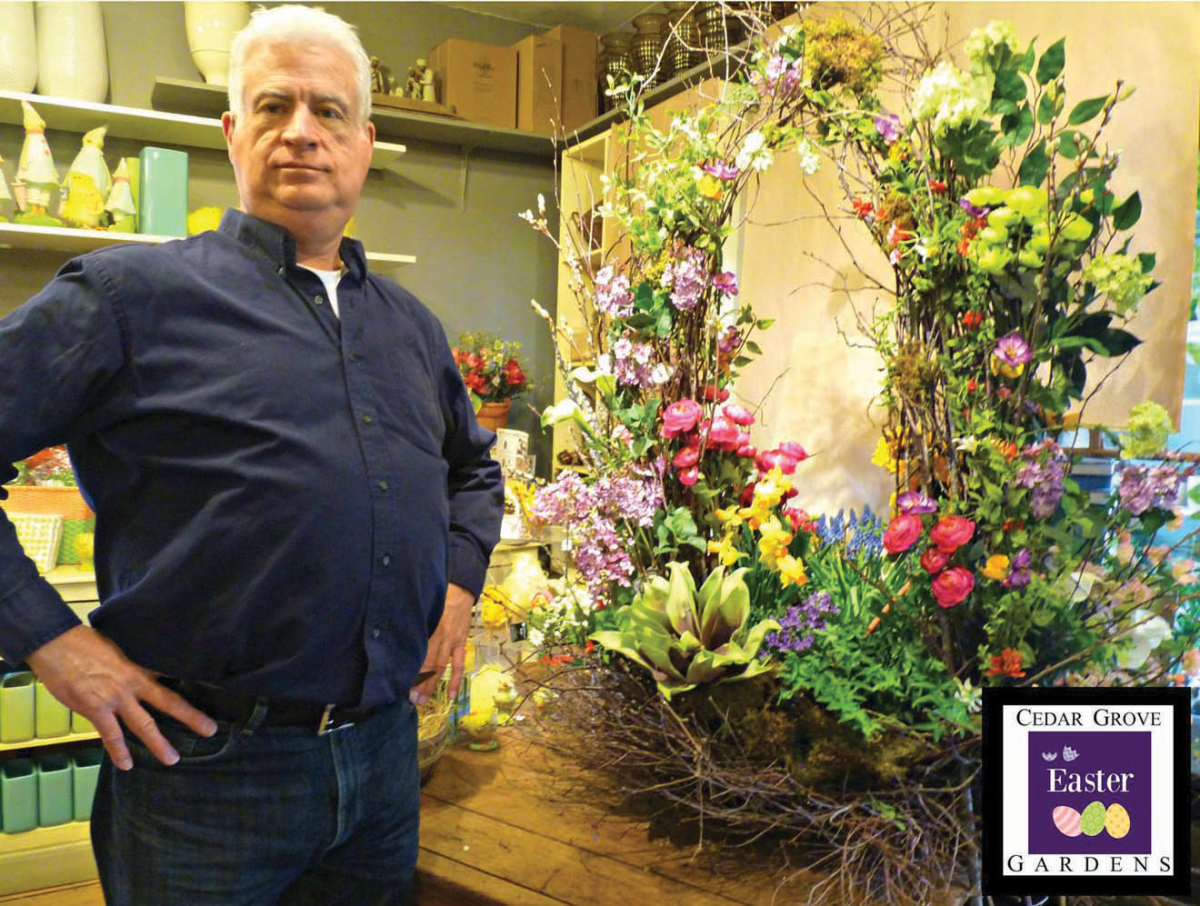 Richard O'Mara plans to pivot to phone and Internet floral sales for Cedar Grove Gardens, the business he has owned and operated in Dorchester since 1979. The store will remain open through the holiday season. Image courtesy Cedar Grove Gardens
O'Mara, 69, has been a prominent member of the Dorchester community since opening the store in 1979 when he was 24. Born and raised in Mattapan, he initially was drawn to a career in law or politics after attending Boston Latin School and UMass Amherst. He took a job right out of college and learned to grow plants and flowers in the greenhouse inside Cedar Grove Cemetery. He bought the building at 911 Adams St. and renovated it himself, with help from his father and friends. For a time, he also lived in the house above the retail floral shop.
Over the years, O'Mara has taken on leadership roles in city zoning reviews and as a key figure in the Lower Mills Merchants Association, Lower Mills Civic Association, and the Dorchester Park Association, which he led as president.
"I think you have to participate," he told the Reporter in 2018. "I think there's a level of giving back and it's important to prepare for what we can and accept what we can't. I'm pretty proud of our record in Lower Mills."
O'Mara continues to own the property that abuts the store property. As to what might happen with any potential redevelopment of the site, he said: "I still have a voice as a direct abutter as to how this property will be used."
Cedar Grove Gardens will remain open through the holiday season with slightly different hours: Monday, Tuesday, Wednesdays, and Sundays from 10 a.m. to 5 p.m; Thursdays and Saturdays, from 10 a.m. to 6 p.m.; and Fridays from 9 a.m. to 7 p.m.
In a follow-up email to Reporter this week, Richard O'Mara added: "I have been blessed with talented and dedicated staff for 43 years and I couldn't have made it through the last three without those that were here and helped me get by," he said.
"From Nina Hartmen to Janet Harrold to Lisa Ahern, to Tajah Downey Gerald Fulti, Robert DelBove, Stephanie Nilovec, Pilar, Jim and Ginger, Robert , Liz, Kathy and scores more of dedicated and talent people that have worked for me over the last few years. Thank You."