By Cassidy McNeeley, Reporter Correspondent
November 15, 2023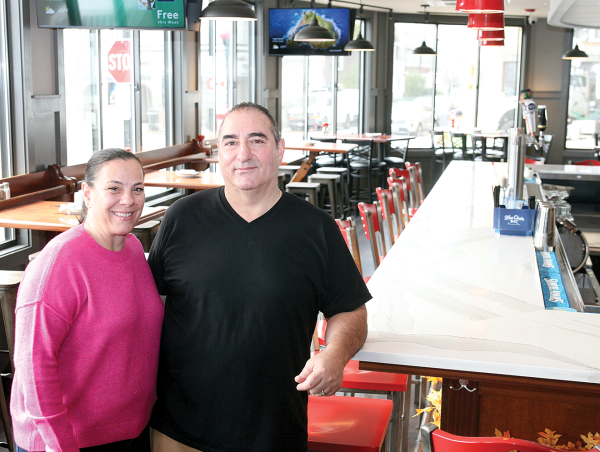 One of the anchor restaurants in the Adams Corner business district — Blasi's Kitchen and Bar & the Fat Belly Deli — has reopened after a six-year pause that was prompted by a 2017 fire and extended by the pandemic.
The popular restaurant— beloved for its signature dishes like honey hots, chicken parmesan and eggplant rollatini— has doubled in size and can now seat up to 110 people. The proprietors – Kenny Blasi and his wife Maria – are carrying on a family tradition of doing business in Dorchester that dates back nearly a century.
In the six months since the couple re-launched with a soft opening in the revamped space at the corner of Minot and Adams streets, Blasi's has quickly re-claimed its spot as a cherished destination for neighborhood diners, much to the delight of regulars like Michael Owens.
"We as a neighborhood are so excited to have Blasi's back in business because it truly is a neighborhood gathering spot and always has been," said Owens, who lives in Popes Hill. "[Now] it's back and better than ever. Bigger, brighter, the food is excellent, and the spirit is alive."
•••
Before Blasi's was reinvented as a restaurant and deli, it was Adams Hardware, owned and operated by Michael A. Blasi, who lived in Dorchester with his wife and six children and was a prominent figure in the neighborhood.  After Michael's death in 1990, Kenny and his brother Joe took over the hardware business and ran it for about 10 years. Although the brothers did not want to remain in the hardware business for the long term, they loathed the idea of selling the building their dad had worked so hard to purchase back in 1959.
 "We'd have a big group of guys come to the hardware store and put a big lunch order together and we would go somewhere we knew was good," Kenny recalled in an interview with the Reporter this month. "And then we were like, 'Oh, we should open a deli' and then 'Oh, we should open a deli in the hardware store.' It just morphed into this. We closed the hardware store and ended up opening Blasi's."
After the tools, machines, and shelving came out— the 1912 building was overhauled into a restaurant and deli. Even though the new storefront came with challenges, the family business quickly became a cornerstone of the neighborhood— a popular gathering spot for locals, as well as people from outside of the city. Tom Brady— when he was a young player for the Patriots— was counted among the deli's regulars.
Then came Sept. 23, 2017— and an electrical fire that started in the shared basement of the building.
"It was Kenny's birthday the day of the fire, recalls Maria. "We got a phone call around 2:30 in the morning and we just thought it was the fire alarm company saying the alarm went off." But it was no false alarm. The fire caused significant damage, forcing the restaurant and other tenants to close.
It was the start of six strenuous years for the Blasi family. "Kenny's family has been here for 100 years. Their hardware store was here previously so he really is tied to the building emotionally," Maria said about her husband. 
To some, a building is just that, but to Kenny, 762 Adams St. is his father's legacy. In the immediate aftermath, he and his brother Joe discussed selling the building. But he could not let go. Eventually, he bought his brother's share and moved forward with renovations.
 
A fire could not stop Kenny from getting his restaurant and deli back in business but, unfortunately, a pandemic did – for a time. After he sorted out insurance policies for over a year and bought 100 percent of the building, the onset of the 2020 pandemic stalled his reopening of Blasi's for two more years. When the team finally got back to work, the final construction took over a-year-and-a-half to complete. Finally, in May of 2023 a new and improved restaurant, renamed Blasi's Kitchen & Bar and nicknamed "Blasi's 2.0," opened for business.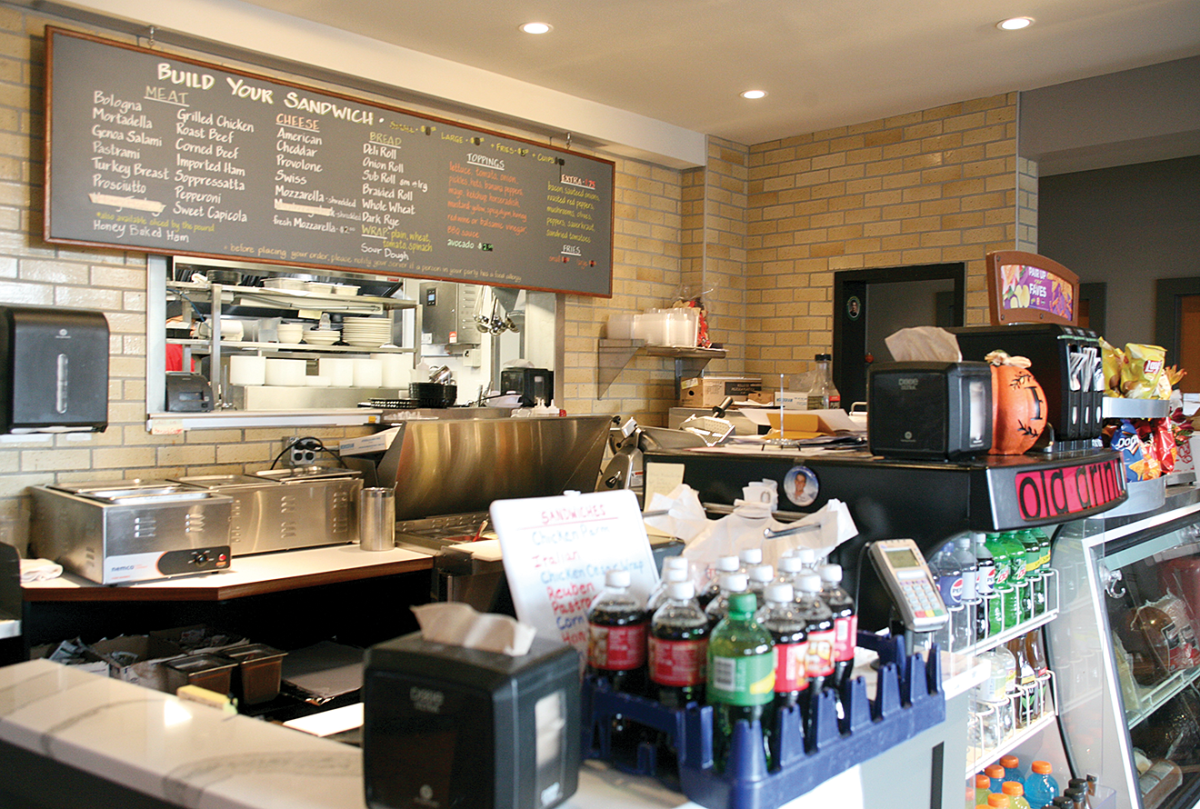 Kenny Blasi and his wife Maria are back in business and carrying on a family tradition in space that used to be a hardware store run by Kenny's dad. Above, the deli counter inside the Fat Belly Deli, which is a key part of the business.
This time around Kenny's main business partner is Maria. The couple, who live in South Boston, share a true Bostonian love story. They met at the Southie St. Patrick's Day Parade in 1999, around the same time that the original Blasi's was opening. They married in 2003 and now have four kids.
"When they say opposites attract, I think it's true," said Maria. "Kenny's glass is always half-empty and mine is always half-full."
But those different styles make for a productie pairing. Kenny runs the back of the house and Maria takes charge up front, engaging with customers and staff. 
"I'm kind of baffled how we've persevered because it really has a been a turbulent time to do this," Kenny said during a rare break in the action last week. "A lot of people didn't think I could do it. I don't know if I thought I could do it, I'm just a regular dude. Opened one restaurant and somehow got another open." 
The Blasis credit much of their success to their staff associates. "Seventy-five percent of our old staff came back," said Maria. "We have been closed for six years and I think that says a lot."
The returnees include Blasi's chef, Jorge, who has worked with the family for more than 20 years. Kenny is also thankful to former executive chef Tony Debello, who, along with Kenny's late mother, Dorothy (Salierno) Blasi, helped create a lot of the popular items that remain on the menu today.
"The initial desire to get open and be in the restaurant business is because of how my mom cooked," said Kenny. "My father would close the hardware, walk home, and we'd eat dinner at six every night. She was a phenomenal cook, Italian and mainstream American food. I feel like she inspired where we went with the menu, and with Tony's help." 
While Kenny's love for food stems from his mother, the way he goes about his business comes from his father.
"He was a real cool guy, would find anything for you, do anything for you," said the son. "I feel like I'm just a mini version of him." 
Even though Maria did not get to meet Michael, she has grown to know him through the loyal customers who still share stories about him and the hardware store days. Keeping Michael's legacy alive emphasizes the importance of family and community found in Blasi's. 
"We want the Blasi experience to be a personal one," said Maria. "We do not deliver or accept online or third-party ordering. Place your order over the phone, come in and say hi, check out the new place! It's super family-oriented, everyone brings their kids in.
"There are customers that have come in that brought their kids and now they bring their grandkids, and their kids are adults."
The new-look, new-service restaurant has evolved over the months since it reopened as Kenny and Maria decided to roll things out incrementally.
"We were so slammed with sandwiches it was insane. I was making Italians and then we rolled out the honey hots and that went berserk. We couldn't keep up with it," said Kenny. "So, we were only doing those couple of things, then we gradually rolled out more and opened the bar."
The restaurant is now fully functioning and offers a diverse menu. Even though the kitchen closes at 9 p.m., the bar stays open until midnight.  
Kenny, for one, is not ready to celebrate just yet. "I'm glad to be open but there is so much more to it. We have been struggling through keeping it all together and I've regained no tenants yet," he said, adding that he hopes to fill the empty units soon.
Maria, on the other hand, is characteristically optimistic. "Everyone comes in with awesome memories," said Maria. "It is time to move forward and make new memories!"