By Reporter Staff
November 14, 2023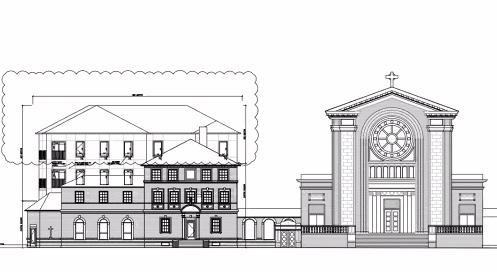 The Zoning Board of Appeal on Tuesday deferred a vote on a developer's proposal to turn the former St. Matthew convent, 43-45 Stanton St. in Dorchester, into 14 condos - two of them affordable - to give the developer and neighbors a couple more months to try to reach agreement on the size of the project, in particular, its roof.
The board initially voted to approve the Volnay Capital's project 4-1, but that meant the project would be defeated because state law requires at least 5 votes for zoning variances. Chairwoman Sherry Dong cast the lone no vote, saying she felt Volnay and neighbors should keep trying to come to terms on the project.
The board then voted 4-1 to deny the project without prejudice, which would have let the developer submit new plans within a year, so that motion failed as well, again for lack of five votes.
Board members then agreed unanimously to give Volnay owner Ricky Belliveau and Stanton Street residents until Jan. 23 to reach some sort of agreement. Six board members were present, but member David Aiken recused himself.
Volnay, better known for its projects in East Boston, proposed preserving the current convent building - built in 1889 and vacant since 2020 - and adding a four-story addition to its rear.
Volnay originally proposed a flat roof on the addition, but the BPDA urged it to put in a "hip" or peaked roof to better fit in with the design of the equally vacant St. Matthew Church, which is not part of its project. The proposal also calls for moving parking spaces in the front of the convent behind the building, which would allow for green space along Stanton Street.
Ironically, it was elevating the roof of the addition that was one of the concerns raised by neighbors, who said it would simply make the building too large for a street that consists mainly of one- and two-family homes. But even with a flat roof, some residents said the proposal was just too large - especially since a local non-profit group is looking at using the remaining church property for a development with more than 70 housing units.
With the peaked roof, the building would tower over both Stanton and Ufford streets, Stanton Street resident Alice Nelson said.
Nadie Brathwaite, also of Stanton Street, said Stanton is a relatively narrow street and that the new building would cause additional parking and traffic issues. Volnay's proposal calls for 16 parking spaces.
Christina Baron, whose parents and grandparents own houses on Stanton, said that even with a flat roof, the building would overwhelm the street. She called for a three-story building with eleven condos - and two of those affordable.
Volnay's attorney, Marc LaCasse, however, said that while Belliveau is intent on preserving as much as he can of the historic building, he determined that 14 units was as small as he could get and still make any money from the project.
The project needed variances including for not having enough parking, for being a multifamily project on a site not zoned for that, for being closer than allowed to its rear lot line and for being denser and taller than allowed.