By Seth Daniel, News Editor
September 13, 2023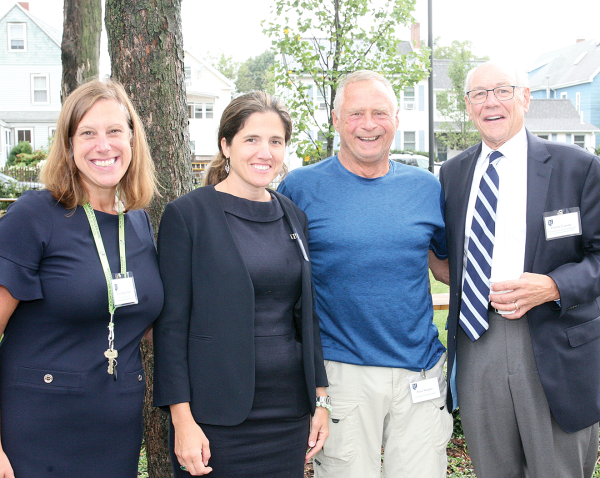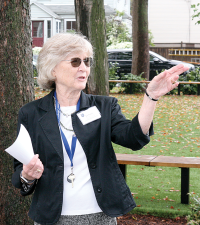 The Boston Collegiate Charter School celebrated the completion of a $1.3 million expansion project during a ceremony on Tuesday of this week at its Mayhew Street campus. The lottery-based public charter serves grades 5-12 on two campuses, including the old St. Margaret school and convent.
The school acquired a property next door at 21 Mayhew St., which now boasts new outdoor classrooms, quiet study spaces, and a parking lot for staff.
"We really did want to acquire this, and it really made so much sense," said Charlie Cassidy, president of the school's foundation. "Finally, we were fortunate enough to have the opportunity to acquire it. The reality is that 15 years ago we probably wouldn't have had the resources to have consummated the transaction. We really appreciate the support of the neighbors over a long period of time."
Peter Skipper, a neighbor, said the school has done a good job in communicating with abutters, including his wife, Boston Public School Supt. Mary Skipper, about all aspects of the project.

Beth Newhall of Boston Collegiate; Bethany Franz, a former staffer; Trustee Bill Heiden; and Collegiate co-founder Susan Fortin. Seth Daniel photos
"It's much easier to get upset when little things happen if you don't think people on the project care about you as a neighbor, but when you communicate and are open, it's easier to avoid that," he said. "The end result here was great for everybody. It was a great marriage of a lot of different parts that ended up with a great outcome."
Nicole Chang, the school's board chair, said charter schools don't qualify for state funding to build out campus amenities, even though they are public schools. Construction took place during the summer, and the result includes a hardscape area for science and art classes, a parking lot for about 15 cars, a quiet study space next to the school, and an activity area at the rear of the site with two storage sheds.
In a nod to the former pear orchard that existed on the site in colonial times, the project included three pear trees within the new open space. Mayhew Street is named after a type of pear that once flourished in the orchards that dotted the neighborhood.
School leaders said the parking lot includes two electric vehicle (EV) charging stations that accommodate four cars, and added that neighbors are welcome to park and charge in the lot during non-school hours.