By Ed Forry, Associate Publisher
June 1, 2023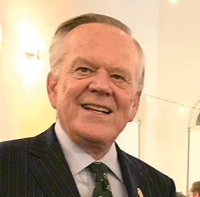 When President Biden named Jim Brett last year to the Presidential Committee for People with Disabilities, the appointment continued a commitment that Brett has been living with for most of his life. This spring, Biden added to the honor by naming him chair of the commission.
That dedication is rooted in his love for his brother Jack, the first-born Brett sibling who was disabled as an infant. In an interview with Boston Irish Magazine, Brett said that he pledged to their mother that he would always look after his eldest brother and be an advocate for persons with intellectual and developmental disabilities.
"He was the oldest in the family, and I was the youngest, so we were very, very, very close," he said. "And I was the last in my family to get married. So, we lived together on Grant Street with my mother. When she passed in 1981, he lived with me for a short period of time. And then he went through the state system for housing, and eventually wound up in a beautiful group home in Scituate. So I always had said to my mother – you know, she worried about her son – I said the whole family would take care of him, which we did.
"I made a commitment that I would use my voice to be an advocate for people like my brother who had nothing, no services. When he was born in 1934, they would take people like him and say to the mother, 'We'll, put him in an institution, put a roof over his head, three meals a day. And, not to worry about your son because he is not going to live long.'
"And here's my mother, with a sixth-grade education coming from Sligo saying to the doctor, 'He's coming home and we're going to have more children. They're going to be proud of his life, and he's going be part of their lives.' And the doctor told my mother, 'You shouldn't have more children because it's a very difficult pregnancy. If I put your son in an institution, the burden will be lifted.' She just said, 'There's no burden to him. You know, I'm going to have more children,' and then she had five other kids.
"I told my mother, If I run for office, I'll be a voice for people like my brother who had no one advocating for him. So, I spent my career in the Legislature advocating for services of people with disabilities, intellectual, developmental."
The Presidential Committee has 21 members from across the country. Brett was first appointed as a member by George W. Bush in 2004, and later served under President Obama, including a previous term as chair from 2011 to 2013. 
He described his brother Jack as living with an intellectual disability: "He had an IQ of maybe 35, so as a practical matter, he could talk, he could walk, he could clothe himself, but he couldn't hold a job. He couldn't add. He'd get somewhat confused if different colors appeared. I mean he had his limits. And that's why someone like him would not be employable because he wouldn't know the time of the day to report to work, wouldn't know how to get there.
"And for someone like him, he either stayed home or – at the time in the 30s and 40s, they had institutions, or back in the 50s, 60s, and 70s, they had what they call workshops. But for people like my brother who couldn't function in an everyday job, the work in these shops was piecemeal, with some type of compensation. It was basically something to get him to be out of the house and be with other people, but it wasn't a job because he couldn't hold a job."
Jack Brett lived until the age of 77, passing away in 2010, but the family's support was inspiration for Brett's work on the committee.
"It inspires me to remember that there are an awful lot of people like my brother who have no one advocating for them; many are sitting at home. They don't have somebody helping them find some meaningful employment, helping them get access to dental care or healthcare.
"There is a major discrimination out there when it comes to people with disabilities; they're not treated equally. So, for the last ten years, I've been working with dental schools, urging them to adopt at least one new course to diagnose and treat people with disabilities. It's been a battle, but it's something that I'm proud of and it has been accomplished. If they do go to a dentist, they may not have dental insurance, they may be on Mass Health, which doesn't reimburse enough for the dental costs.
"Beyond that, there is major discrimination on how people with disabilities are treated in healthcare, transportation, housing. Those are issues that I've been working on for 30, 40 years."
Brett continues to be hopeful that his efforts will produce needed changes. "The awareness is becoming more prevalent with the medical community. But we are going to spread it beyond the dental, spread it to all the hospitals. We will try to do what we did with the dental schools and create a new course on how to diagnose and treat disabled people. How do nurses and doctors and other primary care people treat people with disabilities? It's a major problem. We've been working on healthcare disparity involving people with disabilities. And we're making progress, but we have a long way to go."
Brett invites healthcare workers willing to help to reach out personally to him: "I will get them in touch with other people who are involved in this movement. I have never seen a class of individuals discriminated against as much as people with disabilities are."
Jim Brett is president and CEO of the New England Council, a non-partisan alliance of businesses, academic and health institutions, and public and private organizations throughout New England aiming to promote economic growth and high quality of life in the six-state region. The Council has its headquarters at 98 North Washington St., Boston 02114. Phone: (617) 723-4009