By Seth Daniel, News Editor
April 12, 2023
The Mattapan Teen Center turned into a recruitment center on April 6 as city officials began publicizing a finely tuned youth summer jobs program that will offer up to 7,000 opportunities for youth ages 14-18.
Gone are the days of the "red shirts" toiling in the weeds of the neighborhood's many vacant lots through July and August. Now young people can be matched with jobs that could produce a career pathway while also paying a competitive wage, officials said.
Mayor Wu joined the teens in Mattapan to introduce this summer's "historic investment" in new opportunities and to explain changes aimed at easing access to those jobs.
"We want to make sure we're giving enough time to reach everyone," she said.
Wu also noted they are decentralizing the process and putting more hiring decisions in the hands of community organizations, which was done only partly last year. She said last year's process was too clunky, leading to lower participation levels than expected.
"There were many, many forms required, proof of this and that from so many directions…We are simplifying that process and part of that benefit is ensuring to do our best of getting the city out of the way with those hoops and barriers," she said.
Rashad Cope, Wu's deputy chief of the Worker Empower Cabinet and Youth Employment Opportunities, said Covid-19 continued to cause uncertainty last year, with young workers often having to quarantine and miss work. Beyond that, the hot private labor market is also took young workers out of the city programs.
"There were some young people who could get jobs last summer at Target and Amazon and those trends will continue in this tight labor market," he said. "But we're hoping all of our changes will yield positive results for the program this summer."
Meanwhile, Neil Sullivan, a Dorchester resident who runs the Private Industry Council (PIC), said his organization is working to make sure kids who need summer school, or summer credit recovery programs, can still access jobs.
"We are shouldering the jobs and creating flexibility so those young people can go to summer school and still have job opportunities," he said, noting that summer school does not mean you can't work.
Sharon Scott-Chandler, director of the nonprofit ABCD, noted that it alone hopes to hire 1,700 young people citywide for summer jobs, but need to get the word out now to fill those positions.
Last year, Wu said, the city did hit record highs for participation at approximately 3,500 jobs filled, with previous highs at 2,500. That included direct city jobs, grant partner jobs, and "learn and earn" jobs.
But many remained unfilled. A forthcoming study on last year's youth employment by Northeastern University will show that after accounting for grant-funded jobs, there were about 554 (16 percent) of the city's direct jobs unfilled, while another 275 (18 percent) grant-funded jobs with community organizations were left untaken.

Mattapan Teen Center's Atisha 'Tea' Leach worked at the center last summer and plans to do so again, as she told those in attendance at a April 6 press event, including State Rep. Russell Holmes, background. Seth Daniel photo
Atisha "Tea" Leach, a sophomore at TechBoston Academy who said that she had her first job last summer at the MTC encouraged other young people to pursue similar opportunities this summer.
"Working at the MTC last summer really brought me out of my shell," she said. "I would have never thought I could record a song, help make a film documentary, or give a speech like this in front of a crowd."
Moses Sibley used his job last summer in part to refine his award-winning documentary, "Mattapan The Documentary." His take: "You learn a lot of important things like how to come to work on time, working with others and how to manage money and not spend it all on DoorDash. Every teen in Boston should try to find a job on SuccessLink," a reference to the formal city name for the jobs program.
Many of the elected officials in the room last Thursday recalled their times as teens in Boston working summer jobs through the city or the PIC.
Councillor Julia Mejia noted how she worked at Brigham & Women's Hospital, while Councillor Ruthzee Louijeune said she and her sisters worked with the late Mel King on community organizing. Councillor Ricardo Arroyo shared how collecting a paycheck in the summer was important for him to learn money management.
State Rep. Russell Holmes recalled that he worked at financial consultants Brown Brothers Harriman during the day, then came back to Mattapan Square to scoop ice cream at a Brigham's restaurant.
"Those are the types of experiences we need to have," he said. "Working with those financial folks did influence me to become a financial advisor many years later."
Applications on SuccessLink are now open and young people are encouraged to go online immediately to apply.
The city and numerous youth summer job partners will be holding a large summer job fair at the Reggie Lewis Center in Roxbury Crossing on April 22 – the first such fair that's been held since 2019. City officials said they hope it will make a huge dent in recruiting young people for the 7,000 jobs available. Rashad Cope said they are encouraging many employers to make job offers on site that day.
For more updates, follow the Reporter on Twitter @DotNews.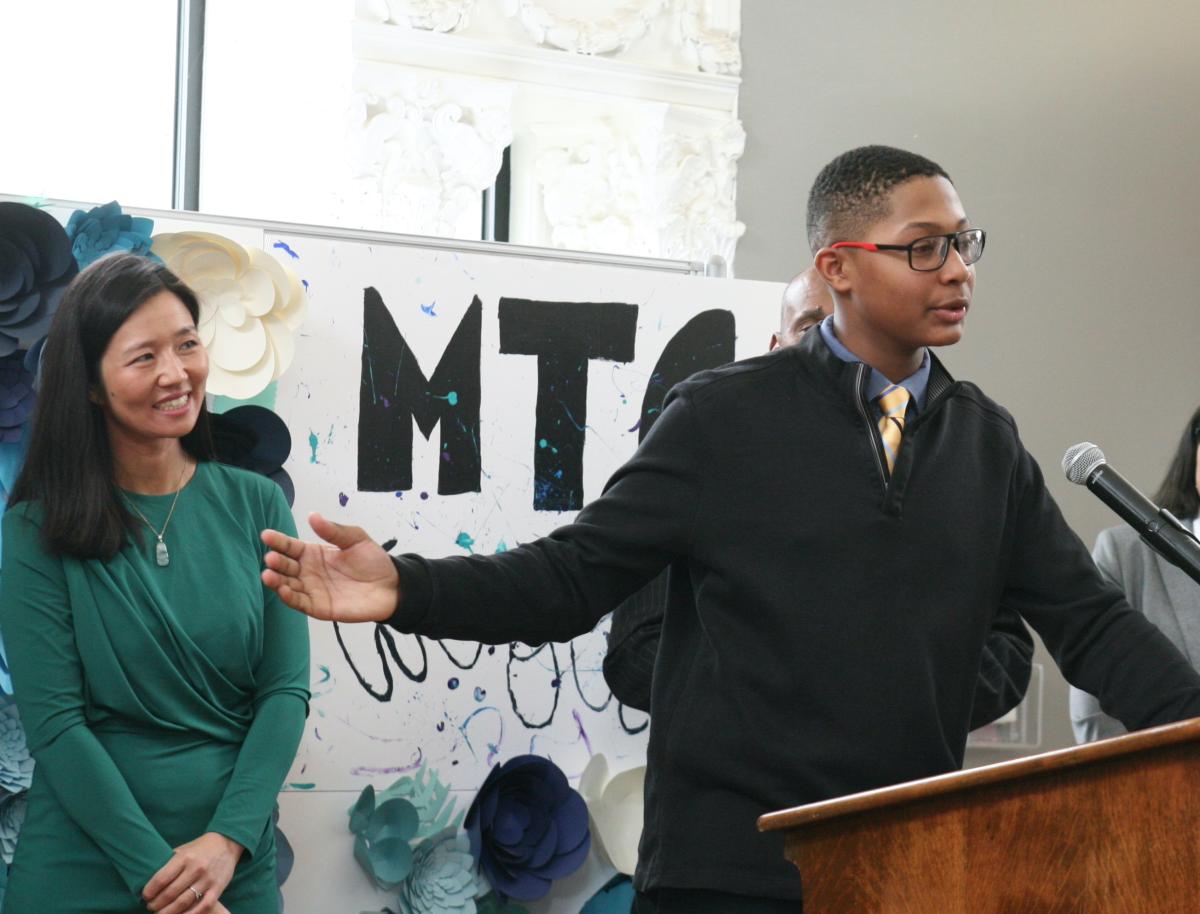 Mattapan Teen Center's Moses Sibley thanked Mayor Wu for coming out to the center and making a priority of expanding and simplifying SuccessLink.

State Rep. Russell Holmes talked about his summer job experience working for Brown Brothers Harriman and Brigham's Ice Cream.

Councillor Ruthzee Louijeune said she and her sisters all started working in youth summer jobs at the age of 14.

Mayor Wu announced last week that the city would be funding the largest amount of youth summer jobs this year, with a record 7,000 direct and grant-funded jobs available.

Councillor Julia Mejia said she worked at Brigham & Women's Hospital and took those skills on to professional jobs in television and media.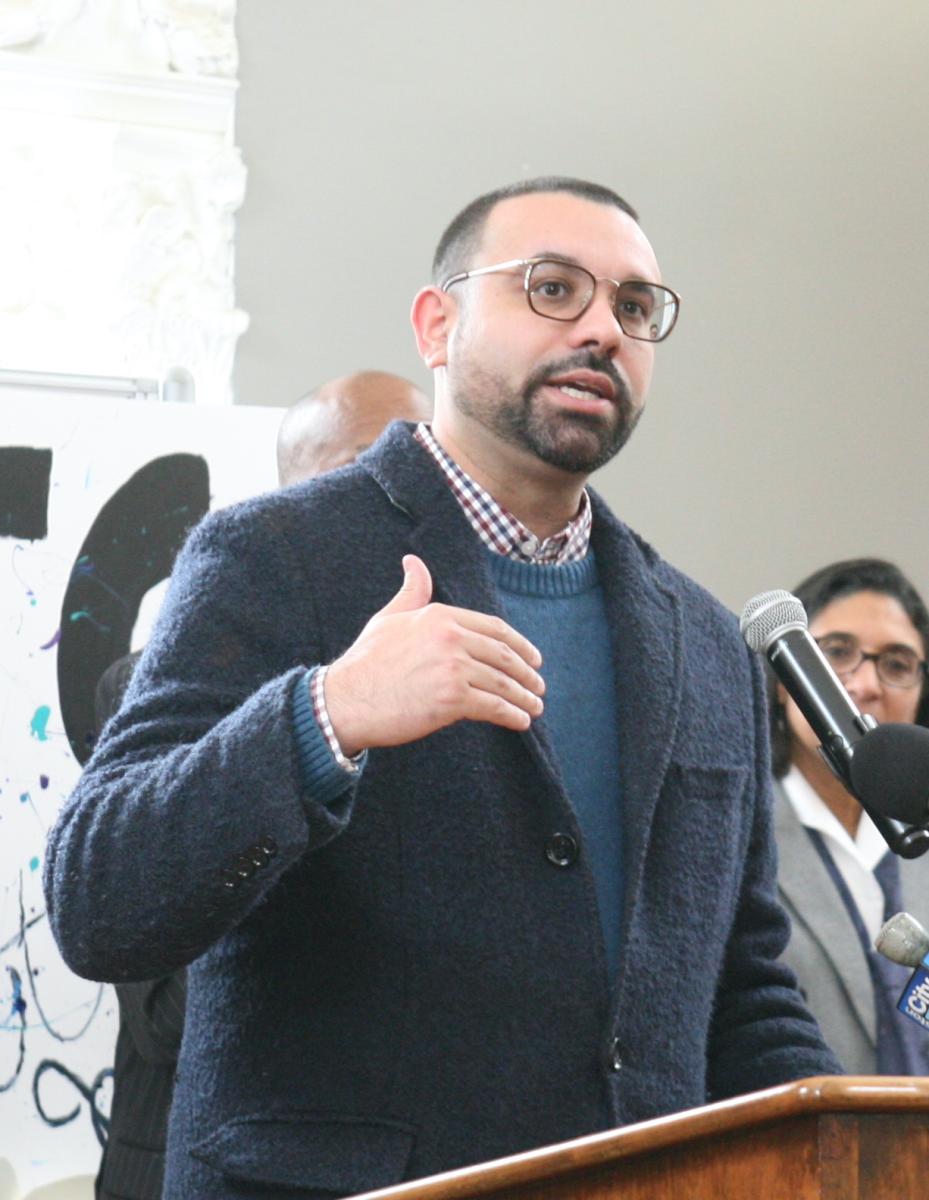 Councillor Ricardo Arroyo noted that making money in the summer helps young people learn how to handle money and help their families with expenses.

Joshua Ricketts Johnson, Atisha 'Tea' Leach, Mayor Wu, Moses Sibley, MTC Director Rick Aggeler, and Joseph Soto.