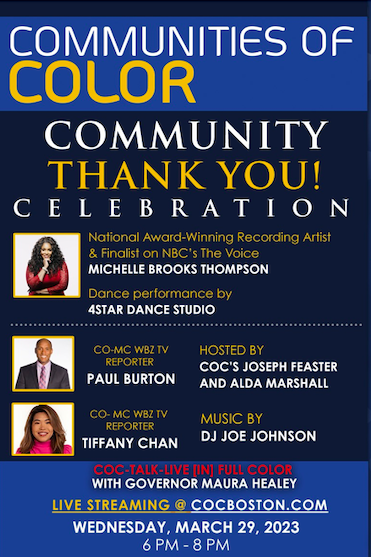 The political action group Communities of Color (COC) and several Boston Democratic ward committees are co-sponsoring to a "thank you" event on Wed., March 29 at Hibernian Hall in Roxbury's Nubian Square. Gov. Maura Healey and recording artist Michelle Brooks Thompson are among the guests.
WBZ TV reporters Paul Burton and Tiffany Chan will serve as emcees at the event, with Joseph Feaster and Alda Marshall from COC assisting as co-hosts. Gov. Healey will participate in a live-stream "talk" from the event, which starts at 6 p.m.
Musical guests include national award-winning recording artist – and a finalist on NBC's 'The Voice' – Michelle Brooks Thompson, with dance performances by 4Star Dance Studio. The DJ will be Joe Johnson.
Special guests include Mayor Michelle Wu, along with other state and city elected officials. Democratic Ward Committees sponsoring the event include Wards 18, 17, 15, 14, 13, 12, 11, 10, 9, and 8.