By Seth Daniel, News Editor
May 31, 2023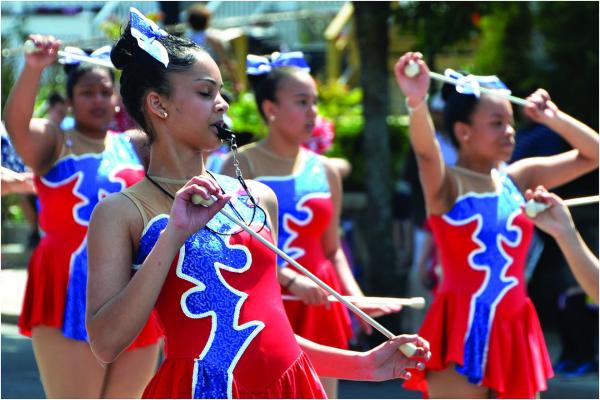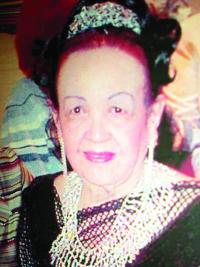 What started as a way to help kids connect to their culture during recess has become baton twirling and dancing journey for Estrella Tropicales dance team, which celebrates its 50th anniversary this year while also marching yet again as a decade-long participant in the Dorchester Day Parade.
Franklin Field's Joselina 'Jossie' Leon, 58, said the Estrella Tropicales (which means Tropical Stars) dance team has been a four-generation effort with her late grandmother, Felita Oyola, her mother, Reinelda 'Chickie' Rivera, herself, and her daughter, Jossie Leon, now the assistant coach. As they march up Dorchester Avenue on June 4, they'll be displaying special 50th anniversary shirts along with their baton and pom-pom talents over blazing beats from their mobile DJ.

Assistant Coach Jossie Leon and Coach and Choreographer Joselina 'Jossie' Leon – of Franklin Field – represent two of the four generations of family that have participated in Estrella Tropicales baton and dance team since 1973.
Photo courtesy Estrella Tropicales
"So, it started with me, my sister, and my cousin on the baton team in 1973," said Leon. "It was just us three and it just kept growing and growing and growing. The whole 50 years Estrella Tropicales has been going, I've been part of it. I always came back for the summer even if I was in Puerto Rico in the winters because in the summer, they did the parades and festivals. Here we are 50 years later. We are four generations in Estrella Tropicales, my late grandmother, my mother, myself, and my daughter."

Two of the original three Estrella Tropicales members were current Coach Joselina 'Jossie' Leon and her sister, Wilma. The sisters and their cousin took to marching in 1973 to start the group. Baton is a popular sport in their native Puerto Rico.
Photo courtesy Estrella Tropicales
The roots of Estrella go back even before the 1973 founding. Oyola, the founder who passed away in 2010, came from Puerto Rico to New York City in the 1960s and was a singer in clubs, on television, and on radio. When she arrived in Boston, she became a teacher's aide in the public schools. Seeing that the Spanish-speaking kids – many of them Puerto Rican – didn't know their culture, she started teaching them songs and dances and folklore during recess. When school was out and the lessons stopped, parents asked her to start a company to teach their kids and themselves.
"They all lived in the US and didn't know these things," said Leon. "The kids loved it and when school was out, the parents were upset, and they wanted her to continue doing this full time and to teach them also. They had all been born here and didn't know their culture. She opened up her house and created a space in the basement."
That space housed the original Tropicales, which focused on traditional songs, dance, and folklore from Spanish-speaking countries. At the same time, Oyola also performed in the Estrella Tropicales Band on Latin Night at the former Frolic Club on old Revere Beach.
Then Leon and her mother arrived from Puerto Rico, where Leon had been practicing baton on the town team for four years. Baton is considered a serious sport in Puerto Rico, and Leon helped her grandmother and mom get the Estrella Tropicales twirling and dancing team formed in 1973 when she was a child.
Though it was a modest affair at first with just Leon, her sister and cousin, they were able to leverage that into performing in the first Festival Betances Parade in the South End – which also celebrates its 50th anniversary this year. The rest is continuing history as the group has expanded to a pre-pandemic high of 164 baton twirlers, pom-pom girls, and flag team members.
The group is mainly for ages 4-18, but no one is shown the door if they want to continue marching in processions like the Dorchester Day Parade after age 18.
While there is still a core of Puerto Rican dancers, the group has expanded to all races and ethnicities. For those 25 and older, an alumnae group known as the OG's also marches and twirls with the crew. It seems, Leon said, that when girls find their place with Estrella Tropicales, they don't want to leave – even as adults.
"I treat these girls like they're my daughters," said Leon. "They don't call me 'Miss Jossie,' they call me 'ma.'…We have girls now in the group whose grandmothers were in the group. Some of the OG's have daughters dancing alongside them in the Estrella Tropicales. I always promised my grandmother we would keep that kind of legacy going, and we did."
Other groups have formed from Estrella Tropicales, like the Roberto Clemente Dancers, South End Dynamite, and Glamorous Divas – all of whom have directors who started with Estrella.
For Dorchester Day Parade veterans, there's no mistaking the Estrella Tropicales marchers coming down the street with their red, white, and blue sequined uniforms. Those colors have a purpose that go back to Oyola, who asked that they never take them away.
"She wanted those colors because they are the colors of her Puerto Rican flag, they are the colors of her American flag, and they are the colors of our two closest brother and sister countries – Dominican Republic and Cuba," said Leon.
For the group's 50th anniversary, however, those colors will be missing for just one year as a tribute to the milestone. In Sunday's parade, they will be wearing special 50th anniversary shirts and leggings, and for the Festival Betances in July they'll debut special gold-sequined dance uniforms.