By Gintautas Dumcius, Managing Editor
January 12, 2023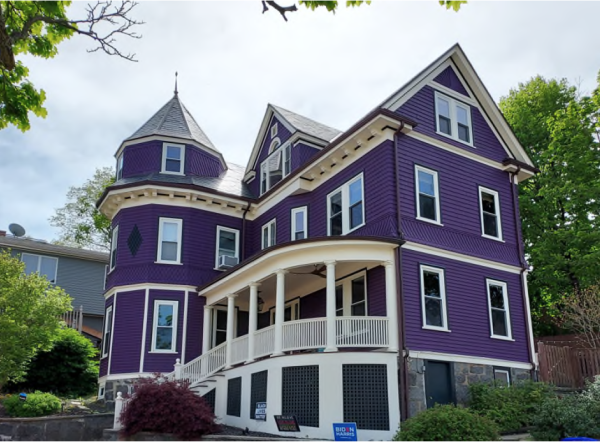 An attempted murder. The Popes of Dorchester. A hidden-away home.
Every house has a story, and four members of the Dorchester Historical Society are digging into the digitized past to unearth and share them with homeowners and neighbors interested in finding out more about where they live.
The idea for the house histories started with house markers. The Society decided to offer plaques that residents could affix to their homes. They were also planning to offer classes for people who wanted to look up the history of their homes. But when the pandemic hit, the organization shifted gears, and said it would do the histories themselves, for a small fee of $75.
Among the four of them — Earl Taylor, Marti Glynn, Vicki Rugo, and Kayla Skillin — they've written 429 house histories. Glynn had guessed that they would end up doing about 100 a year, but during the height of the pandemic, the foursome cranked out 172 reports.
The requests come from people who want to know about the house they grew up in or that their grandparents owned. Others are just curious about a house they pass by every day. They can find out when the house was built, who the original owner was, the builder, the architect, and what changes have been made over time.
"There's a lot of different kinds of information you can come up with and most of it is available online," Rugo said, pointing to scanned deed books for Suffolk County, which absorbed Dorchester in 1870 when the town was annexed by the city of Boston. Before then, Dorchester was in Norfolk County.
There are also genealogy websites, the US Census, and newspaper archives.
As they've completed the histories, the four researchers have seen the ebbs and flows of the local and national economy. "When you do a history of a particular house, you see the evolution of the occupants," Rugo said. "Some houses stay in the same family for a long time, while others, such as multifamily homes, see a lot of turnover.
"It's also easy for the history searchers to go down rabbit holes," she added. "Somebody owned a shoemaking business and you get into the story of what they did produce, how did they advertise it."
They also noticed trends as family estates started to get divided and subdivided into smaller lots. Once trains started to come through Dorchester, the middle class and working class moved in because it was close to the heart of the city. "They were the first suburban commuters, I guess," Glynn said.
The homes of the Popes, of Pope's Hill, have surfaced in the history reports, including the one at 12 Butler St. in Lower Mills. Brothers James and Albert had bought land along Adams Street. "Many people purchased land in the mid-19th century in anticipation of the annexation of Dorchester," Rugo noted in her writing.
James later took over some of Albert's share, and the 12 Butler home was built sometime between 1865 and 1873. It was handed down to another Pope, Stephen, who apparently killed himself in another home after experiencing troubles with his business. "The press did not hold back on the details, which were surely hard for the family to read, confirming that the news as entertainment is hardly a new phenomenon," Rugo wrote in her report.
Before television, radio, and the internet, newspapers were the main source of information and entertainment. In researching the history of a three-decker on 83 Van Winkle St., behind the Ashmont MBTA Station, Skillin came across another tragedy through an 1894 newspaper sketch of a shed near the property.
The Beal family owned land and property in the area, and had built the shed as a workshop. But it became the scene of an attempted murder, when a boarder living in one of their Carruth Street units, James G. Paul, attempted to shoot a young woman named Ella Whitfield.
"Apparently, James had promised to marry Ella, but that night he revealed to her that he was still married and told her that they could no longer be together," Skillin wrote. "Unsurprisingly, this led to an argument, which escalated to such a point that Ella was shot."
She was disfigured by the gunshot but survived, and Paul was found guilty of attempted murder, and sentenced to ten years in prison.
Skillin, who grew up behind Ashmont Station and now works for the city archives, has a few favorite houses, including 22 Radford Lane, built in 1890. She used to take piano lessons in the front living room. Herbert Carruth, a wealthy landowner who partook in the construction boom that hit Dorchester, was its first owner, and the home was designed by Edwin Lewis Jr., an architect who worked for the firm that designed the Custom House Tower and the Dorchester Heights Monument.

This Greek Revival home at 46 Payson Ave. in Dorchester was the subject of an in-depth report produced by Marti Glynn of the Dorchester Historical Society. She calls the home the neighborhood's "best kept secret.
Glynn singled out 46 Payson Ave., which is located between Hancock Street and Columbia Road. She called it Dorchester's "best kept secret. Payson Avenue was once farmland and named for a blacksmith who bought it. His descendants would include John Baker Payson, who set off for San Francisco, drawn there by the "Gold Rush."
But the origin of the house at 46 Payson, tucked away from the street, behind another home and built in a late Federal or early Greek Revival style-home, is a mystery. Payson moved it to its current location, and a four-family home was built in front of it. "Unless you know it's there you can't see it from the street," she said.
Glynn then ticked through a couple of other houses throughout Dorchester. "I always feel like the one I'm writing about now is my favorite house, whatever one it is," she said.
For more information— and to read full house histories— go to dorchesterhistoricalsociety.org.