By Gintautas Dumcius, Managing Editor
July 6, 2023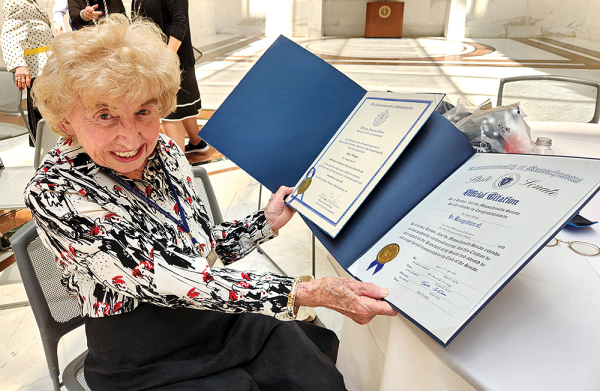 Dorchester's Mary Whalen, who taught American history and constitutional law to Braintree students for 40 years, always looked forward to Sunday afternoon, because it meant Monday, and the opportunity to impart knowledge, was at hand.
When she retired from teaching 20 years ago, the move left a hole in her schedule and she looked into becoming a guide at the State House. Secretary of State William Galvin's office, which runs the tours of the building, called her in for an interview.
She was quickly hired for the position and asked which day of the week she preferred. "Mondays," Whalen answered immediately. She remembered that her interviewer said, "Monday's great. Nobody likes to work on Mondays, so come."
That was more than 5,000 Mondays ago. With the exception of the pandemic timeout, which shut down public access to the building for roughly two years, Whalen has been greeting and taking residents and tourists across the marble-floored State House for 18 years.
The capitol building hosts 90,000 visitors a year on tours that are free and last roughly 40 minutes.
Ever the teacher, Whalen often ends the tour by noting that all the guests received an "A+" and there would be no homework to do. "I get a positive reaction from that," she quipped while sitting in the State House's Great Hall, where Galvin's office had put together a luncheon to honor her volunteering efforts.
Her favorite parts of Massachusetts history are the Revolutionary War and the early years of statehood that followed. "Because so much of our history fits into that particular area," she said. "I am so awed. People will say, 'My goodness, all the tours you've given, it must get so boring.' Never. Never does it get boring."
Born in 1935, Whalen has lived on Dorchester Avenue in Fields Corner her whole life. A Reporter profile in 2015 noted that she has an illustrated alphabet board, framed and covered in glass, above her fireplace, with the "R" standing for "Revolutionary Soldier" and the "W" for "The Washington." She is a graduate of Boston College and Boston State College.
In the summertime, she hands over her duties to teenagers, who step in as volunteers. Whalen, who occupies her time helping to administer law school exams, returns to Beacon Hill with the other adult volunteers after Labor Day.
Galvin said the State House tours program "wouldn't be possible without volunteers" like Whalen. He expressed gratitude for her "unheard of" 5,000 hours of service
"When the building was closed due to the pandemic, many of our Doric Docents chose to take a well-deserved retirement from their service as tour guides," he said. "We were lucky to have Ms. Whalen return enthusiastically and selflessly give our visitors even more of her time."