By Staff
September 12, 2023
Voters in select parts of the city on Tuesday trickled into polling locations, choosing two finalists, John FitzGerald, a Boston Planning and Development Agency official, and Joel Richards, a public school teacher, in the open race for City Council District 3, which includes Dorchester and the South End. They also expelled Ricardo Arroyo, the incumbent councillor for District 5, which includes Hyde Park, Mattapan, and Roslindale.
The latter made history, as Arroyo became one of two incumbents to be ousted in a preliminary since Boston switched to its current system in 1983. District 6 Councillor Kendra Lara, who represents Jamaica Plain and West Roxbury, was the other. She also lost her seat Tuesday night.
In District 3, Frank Baker decided back in April against running for another two-year term, sparking a seven-way preliminary. FitzGerald, who received support from Baker and former mayor Marty Walsh, was the top vote-getter. The name of the candidate who will join FitzGerald on the ballot for the Nov. 7 final election became clear on Wednesday morning after Ann M. Walsh, a former nonprofit leader, called Richards to concede.
FitzGerald was posting lopsided wins in key precincts in Wards 16. Walsh and Richards, notched wins in their home precincts in Lower Mills and Fields Corner, respectively.
But in parts of Neponset— like the vote-heavy double-precinct polling station at the Adams Street Library— FitzGerald was building a sizable lead. In 16-9, he posted a landslide with 381 votes out of a total 432 cast. Walsh came in second in that precinct with 23 votes.
FitzGerald, who has the support of Baker and former mayor Marty Walsh, was also very strong in the other Adams St. Library precinct 16-8, which covers much of the Ashmont-Adams section. There, he captured 237 votes to Walsh's 87 and Richards' 53.
In Savin's 13-10, FitzGerald won 221 votes, with Richards picking up 82 votes and Walsh receiving 62 votes. FitzGerald and Jennifer Johnson, a Meetinghouse Hill activist also on the District 3 ballot, were both at the polling location, Cristo Rey High School, until the polls closed at 8 p.m.
Overall, FitzGerald won with 43 percent of the vote, according to the unofficial City Hall tally. Richards received 19 percent, and Walsh came in with roughly 18 percent.

Joel Richards, who earned a spot on the November ballot for District 3 council with a second-place finish in Tuesday's election, is shown with supporters at his Election night party at the Blarney Stone in Fields Corner. (Seth Daniel photo)

Ann Walsh, who finished third in the District 3 contest, addressed supporters on the patio of The Bowery in Lower Mills on Tuesday night. (Gintautas Dumcius photo)
As votes were still being counted around 9 p.m., FitzGerald swung by Walsh's election party at the Bowery in Lower Mills before heading to his own at the Landmark in Adams Village. He briefly spoke with several Walsh supporters.
About a half hour later, Walsh arrived and addressed her supporters. "Wasn't this a fun summer project?" she quipped.
She relayed that her campaign was "unlikely" to make it. "But it is so close we will wait," she said. "It's under 100 votes so we're waiting." She later said she had spoken to City Hall elections staffers and they said the full results were expected in the morning.
Richards, who ran for City Council in neighboring District 4 in 2021 before the Council's redistricting process flipped him into District 3 this year, declared victory in a phone call with the Reporter. He credited his message focused on the need for affordable housing and neighborhood schools people can walk their children to. "I have the same desires other people have," he said.
Inside the crowded Landmark restaurant in Adams Village, FitzGerald was exultant. "Tonight was a big night for the city," he said. "Feel that? The city's alive tonight, guys. The city's alive."
While his name was on the ballot, FitzGerald said the campaign wasn't about him. "It's all about the folks who said, they've never met me before, and said, 'Billy's with you, Jackie's with you. If they love you, I love you,' and it spread like that. Let's keep it going."
The full list of District 3 candidates included FitzGerald, Walsh, Johnson, and Richards, as well as Savin Hill labor lawyer Matt Patton, Barry Lawton, a former schoolteacher who lives in the Uphams Corner/Savin Hill area; and housing activist Rosalind Wornum, who lives in Ashmont.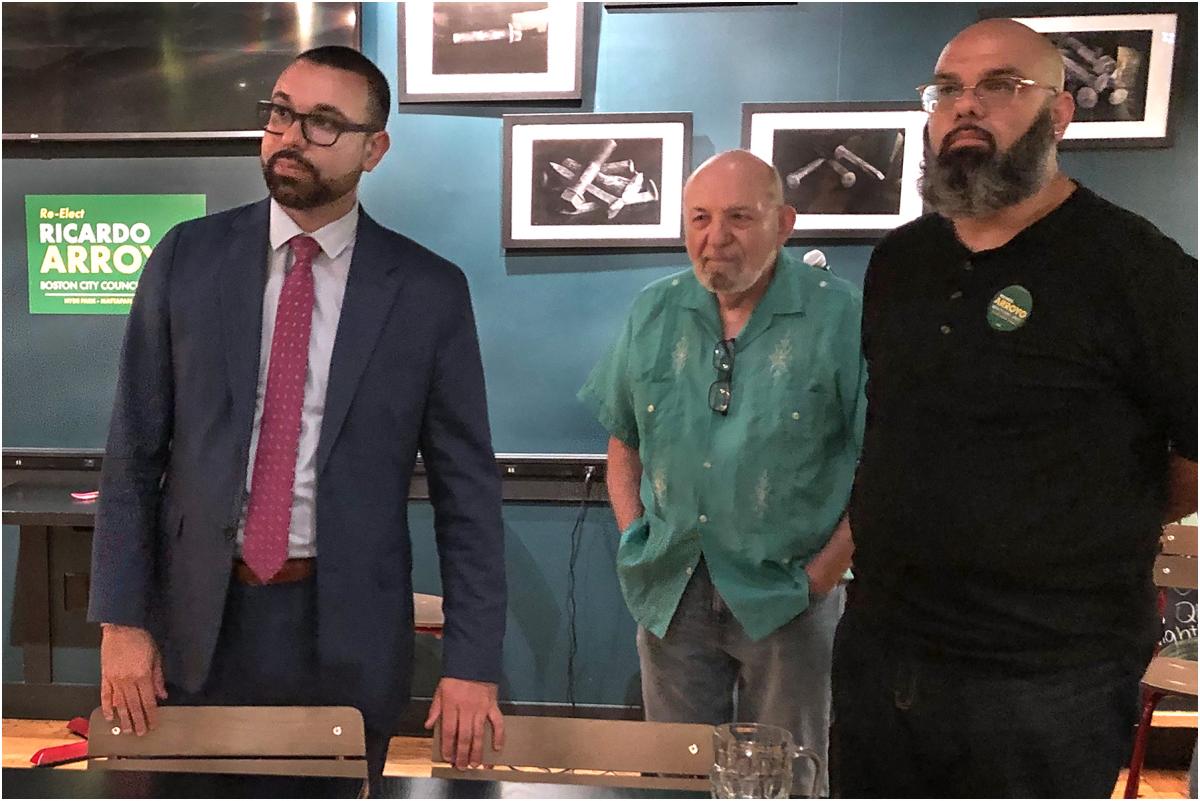 Incumbent Councillor Ricardo Arroyo with his father Felix D. Arroyo and brother Ernesto "Eroc" Arroyo-Montano. (Chris Lovett photo)
Voters oust Arroyo
In the other races, incumbents who have faced scandals over the last year were contending with challengers for their seats.
Arroyo, who was first elected in 2019, had challengers in former police officer Jose Ruiz, former Wu administration aide Enrique Pepen and Mattapan activist Jean-Claude Sanon. Arroyo conceded while addressing supporters in Roslindale. His father, the former Suffolk register of probate and city councillor at-large Felix D. Arroyo, stood with him.
Pepen and Ruiz are the two moving onto the Nov. 7 final, with Pepen as the preliminary's ticket-topper. Arroyo garnered under 20 percent of the vote.
Arroyo's loss came after several self-inflicted scandals, including an ethics fine for representing his brother Felix G. Arroyo, a former city councillor at-large who once worked in Mayor Walsh's administration, as part of a civil lawsuit involving City Hall. Arroyo was also prominently featured in two federal investigatory reports that led to the resignation of US Attorney Rachael Rollins. Text messages released as part of the investigations showed Arroyo urging Rollins to help him beat Kevin Hayden in the 2022 Suffolk DA race to succeed her.
Before the election and after the scandals, he also lost Mayor Wu as an ally, who came out for Pepen on Aug. 20. She knocked on voters' doors in Hyde Park and Roslindale as City Hall employees flooded parts of the district. Former District 7 Councillor Tito Jackson and ex-Rep. Joe Kennedy III, who both count Pepen as a former aide, also joined Wu and Pepen at a Roslindale rally last weekend.
Pepen's best precinct, in terms of raw numbers, was Ward 18-Precinct 10, Wu's home precinct, where he racked up over 300 votes while the other candidates stayed in double digits.
UNITE HERE Local 26, the hotel workers union, also supported Pepen, who until earlier this year served as Wu's executive director of the Office of Neighborhood Services.
Meanwhile, Ruiz had the support of Walsh, the former mayor, as well as Firefighters Local 718, the Boston Carmens Union and IBEW Local 2222. He was just several hundred votes behind Pepen, and ahead of Arroyo by nearly 1,000 votes, according to unofficial results posted on the city's website. Sanon, who has previously run for District 5, came in fourth with 751 votes.
In District 6, Lara also lost to challengers: Attorney Ben Weber and IT director William King are moving onto the final election. Lara faced questions and charges in court after crashing a car into a home last June.
District 7 Councillor Tania Fernandes Anderson, who is running for a second term and represents Roxbury and part of Dorchester, will face perennial candidate Althea Garrison in November. They both beat out Roy Owens, another perennial candidate, and Dorchester resident Jerome Scott and anti-vaccine protester Padma Scott.
The Reporter's Bill Forry, Gintautas Dumcius, Seth Daniel and Chris Lovett contributed to this report. This article was last updated at 10:41 a.m. on Wednesday, Sept. 13.