By Cassidy McNeeley, Special to the Reporter
June 1, 2023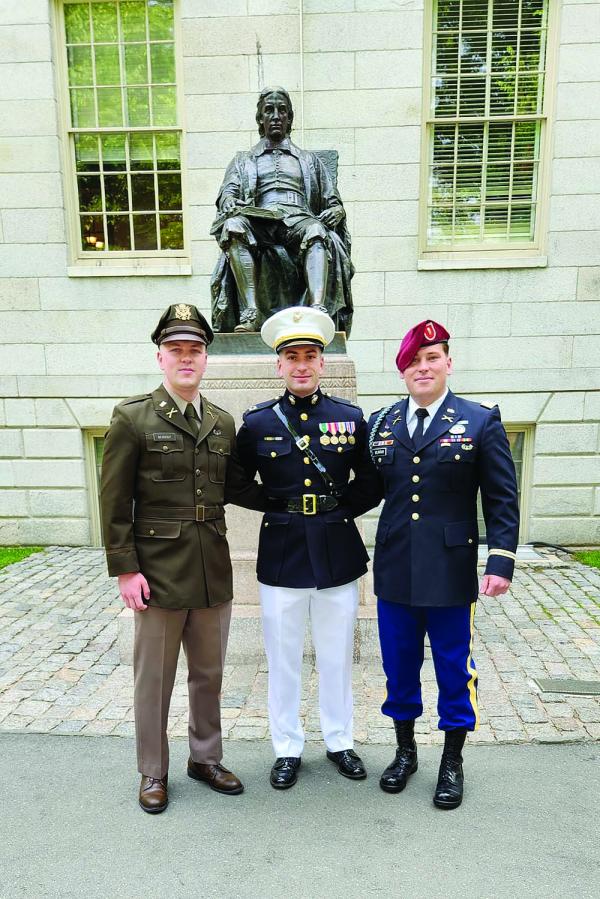 Less than one percent of the United States population serves in the armed forces today, but one hundred percent of Tim and Courtney (Burke) Murray's sons have signed on to serve in the military— each of them just after graduating from Harvard University, where they went through the Reserve Officer's Training Corps (ROTC) program.
The youngest of the three brothers – 23-year-old John – graduated last week. A 2nd lieutenant, he will travel to the Fort Moore in Georgia this summer to complete infantry officer training.  The oldest brother, Michael, 28, graduated in 2017 and is now a Marine Corps captain stationed in Quantico, Virginia. Patrick, 26, a 2020 graduate, a 1st lieutenant in the infantry, is stationed in Italy.
All three Murray men attended Dorchester's Richard J. Murphy School. All three attended Boston Latin School, with Patrick and John transferring to play ice hockey at Nobles and Greenough School in Dedham, from which they later graduated.
They are also following in their father's footsteps. Tim Murray, born and raised in Dorchester, enlisted in the Marine Corps in 1987 and served on active duty until 1991. After spending time in the reserves, he became a State Police bomb technician and, eventually, an explosive specialist for the Transportation Safety Administration (TSA).
Tim met and married Courtney Burke, the daughter of a US veteran. They credit much of their sons' success to their Dorchester community, which, John says, is oriented toward nurturing people who want to serve their country. 
"Growing up in Dorchester playing sports, it seems like every single one of your coaches or your close teammates serves," he told the Reporter. "Whether they were in the military or they are a firefighter or a cop, it felt like no matter where you went in Dorchester, there was some sort of homage to service.
"All I wanted to do was be in a profession where you felt like you were part of something bigger than yourself, and that you were actually making a difference," he said.
While John had many role models to look up to when he was growing up, the biggest were his brothers Michael and Patrick. "They were always supportive of whatever I wanted to do," he said. "They were going to back me up on it. … Their support and their willingness to back whatever I decide to do is what ultimately led me to choose that route and go to Harvard."
Graduation day was an important occasion for John, his family, and his community. Prior to the official ceremony, Michael and Patrick privately rendered him the oath of military office, a moment John said he would remember for the rest of his life.
During the official ceremony's overall commissioning, the whole Murray family got involved. John's parents and grandmother pinned his bars on his uniform and his grandfather gave him his first salute. 
For John, his march from the Murphy School to Boston Latin to Harvard Yard was a lesson about life's challenges and opportunities.
"Unfortunately, a lot of times kids growing up in Dorchester sell themselves short because they don't know any better or they come from a difficult family situation," he said. "But I think that me and my brothers just tried to be an example for what can happen if you stay focused and lean on your support system and maximize the opportunities that are given to you."