By Cassidy McNeeley, Special to the Reporter
June 1, 2023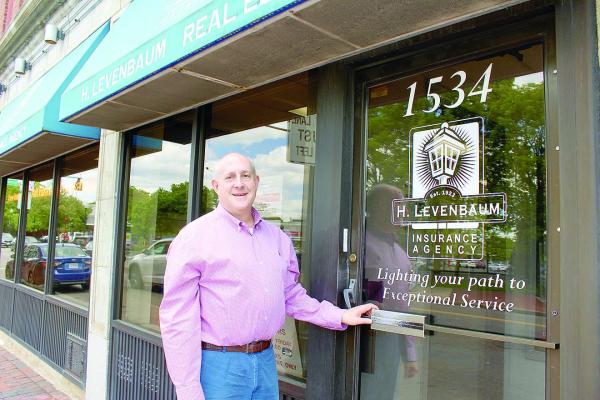 In 1923, Hyman Levenbaum opened for business in Fields Corner with a stated goal of servicing all comers – individuals, families, and businesses – with their insurance needs.
In 2023, Hyman's grandson, Alan Issokson, is keeping the H. Levenbaum Insurance Agency on track as the company's president. For his part, he credits that success to how Levenbaum employees have always treated the clients they work with. 
"We've always been a place where people can go, regardless of where they're from and what their educational background is," said Issokson. "They can come and ask questions and we're going to give them information and we're going to hopefully put them in a situation where they understand what they're spending their hard-earned money on."
Issokson grew up in Randolph but has been a regular in Fields Corner since the mid-1970s. As a kid, he would situate his grandfather's office by the Coca-Cola sign painted along the brick wall of the old Murray Drug building. In 1994, he joined his grandfather as a member of the agency team.
Issokson's love for Dorchester stems from his childhood memories and enriches his work with community residents and businesses. He believes that Dorchester has a unique combination of energy and vibrancy and he strives to emulate that spirit within the agency.
"Whether it's Geico or Progressive, they make it seem fun with all of their ads and they make it seem very simple. But in so many insurance cases, it's not. And in so many cases, they're breaking it down to simply price," Issokson said. 
Unlike these larger companies, the independent Levenbaum agency, which also has an office in Marshfield, emphasizes the importance of customer care, he said.
"We've never really needed to change, whether we were doing things with paper or doing things with computers," said Issokson. "At the end of the day, we were still on the phone or at a counter talking to people about what they needed and helping them understand what they were buying."
It takes generations of hard work and dedication to be able to celebrate a 100th anniversary of anything. "You see businesses large and small struggling, and some of those places are not around anymore. And 100 years later, you know, we're still here. I think it's kind of remarkable," said Issokson.