By Izzy Bryars, Special to the Reporter
February 22, 2023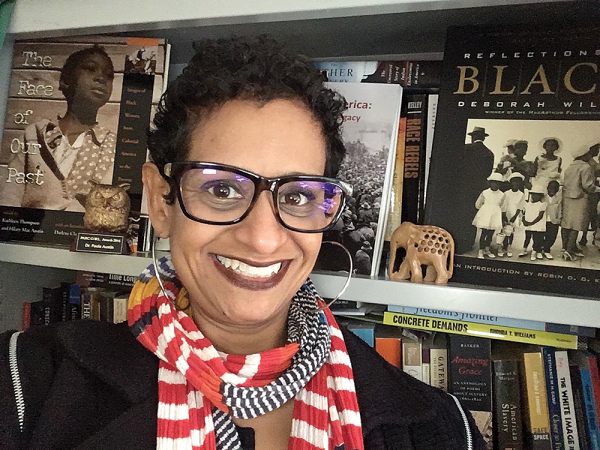 Just up the hill from the Adams Street Branch Library and across from Thomas J. Kenney School on Oakton Avenue sits the historic Pierce House, which is treasured as one of the last surviving examples of 17th century architecture in the city of Boston. Its present-day owners – the non-profit Historic New England – open the premises to the public by appointment on select days throughout the year.
Middle school classes in particular visit the Pierce House to learn about its history and get a detailed look at ten generations of one family's history in Dorchester. Now, Historic New England has launched an effort to broaden the scope and mission of its programming about the house.
Paula Austin, a historian and assistant professor at Boston University, recently joined the Historic New England staff to kick off a new program called "Teaching the Full Dorchester Story." Part of that effort includes updating the organization's educational programs about the Pierce House to include lesser-known voices from before, during, and after the Revolutionary War.

The historic Pierce House, owned and operated by Historic New England, was built in 1683. Colonel Samuel Pierce inherited the family house in 1768, the same year the British government sent troops to Boston in reaction to the Townshend Acts. Colonel Samuel Pierce recorded his involvement in fortifying Dorchester Heights from the British in the journals his family passed down. Izzy Bryars photo
The Pierce House was built in 1683 by a member of the Minot family, who sold it as part of a 20-acre land sale in 1696 to Thomas Pierce, whose late father, Robert Pierce, had accumulated extensive property holdings in the Neponset River at the time. Thomas's family was the first of ten generations of Pierces to occupy the house.
Three generations later, Col. Samuel Pierce's account books and journals detail his part in "fortifying" Dorchester Heights during the Revolutionary War. Come 1968, the last member of the Pierce clan – Ann Grenway Pierce Shaughnessy – sold the property to Historic New England, which maintains the historic structure and offers three on-site courses based on family documents that have been passed down through the centuries. The main concept — until now— had been to teach kids about colonial life. Austin's program is intended to update the script.
"When the research for our current programs was done, close to 25 years ago now, it was wonderful and thorough and really great," said Carolin Collins, Historic New England's manager of education programs. "And our programs are wonderful, but they really weren't looking specifically for stories of marginalized people."
Thanks to a grant from MassHumanities, Historic New England was able to bring on Austin to update the Pierce House research and uncover additional stories that can be infused into its current programs and, they hope, create new ones.
Austin, who started her research about a month ago, says the beginning phase consists of familiarizing herself with Pierce family and those with whom they might have interacted with as well as analyzing maps of the area.
"Right now, I'm just trying to get the lay of the actual land but also have the community landscape [like] 'who are all their neighbors?'" she said.
As she continues her work, Austin hopes to find way to bring lesser heard voices to the forefront of Dorchester history, but also connect those findings to today's issues. She specifically mentioned maybe finding stories of indigenous community members stories that fit into the Pierce House narrative.
"Many scholars of indigenous history actually talk about the kind of cultural dissonance there was, in which the selling [and compensation for land] wouldn't have actually been a meaningful thing for indigenous people," Austin said. "And, so, what they thought was happening in those interactions is very different from what the settlers thought was happening."
For Collins, the research could provide more reenactment opportunities for the House's Colonial Trades Program, a course based on the Col. Pierce's account books. In the course, students portray the people who would have been active at or near the home, from blacksmiths to wheelwrights.
Austin was struck in her first weeks of research by how many of the workers don't have last names. "Those people are really interesting to me because it tells me that they might be an enslaved person," Austin said. "It might be an indentured person. I don't know, I don't have those answers yet."
Austin thinks the research is important partly because it can help people of today's Dorchester "grapple" with current issues. "The only way that we can do that is by really understanding how we got here, and I don't think that we can do that without kind of fully knowing the very complicated history that we come from," she said.
The Pierce House is located at 24 Oakton Ave., Dorchester. It is open on select days for tours, but tickets are required. The next scheduled tour date is April 22. See historicnewenagland.org for more information.