By Gintautas Dumcius, Managing Editor
March 1, 2023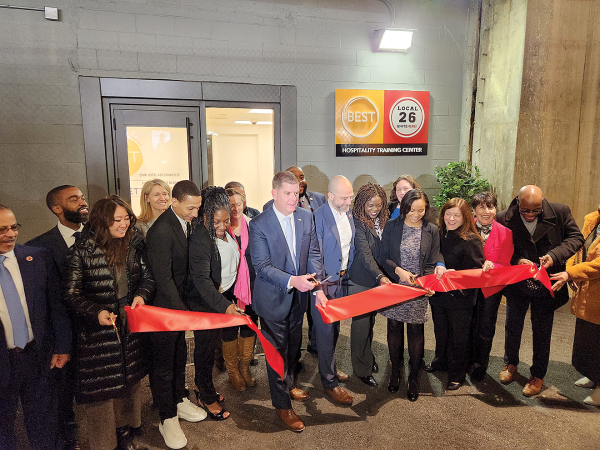 US Labor Secretary Marty Walsh joined city and state officials, as well as hotel administrators and employees last week in heralding the formal opening of a training center for hospitality workers.
"We are celebrating good wages, good jobs, and really helping bring back an industry and workers," said Lauren Jones, who worked for Walsh when he was mayor and is now Gov. Healey's labor chief.
The BEST training center — the letters stand for Boston Education Skills and Training Corp., an independent workforce development nonprofit — was tucked away under the Omni Hotel in the city's Seaport District after it moved from its Roxbury location in 2021. The training center is a collaboration between hotels and the Local 26 union representing workers.
Carlos Aramayo, president of the hotel union, said housekeepers make $27.27 an hour at hotels with Local 26 workers. The salary comes with free family medical coverage, access to a union pension, and, of course, the job training provided by the center. "There are a lot of openings right now," he told reporters, noting the tight labor market.
Walsh, who is due to depart his Biden administration post for the top job at the NHL players' union, praised Local 26 and noted that they backed his first run for mayor in 2013. The union "fought hard for my candidacy for mayor, all over the city of Boston, knocking doors," Walsh said. Turning to the training center, Walsh said, "I'm also glad the facility's here in the South Boston waterfront."
He pushed back on criticism about the Seaport, which has become known for a lack of diversity, and during the 2021 mayor's race, a "playground for the rich," saying, "The Seaport has been many things over the years," Walsh said. "But one thing it's always been is a place of work and jobs for people in this city, in this state. Longshoremen workers are working on the docks, people are working in their fishing boats, seafood processing plants. My first job in construction was down here. Hotel workers."
Labor has shown a divide in opinions of the Seaport. Leaders have defended the area, citing the jobs created during its construction, while rank-and-file members applauded criticism during a Dorchester mayoral forum in July 2021, when all five candidates unanimously panned the Seaport.