By Gintautas Dumcius, Managing Editor
September 13, 2023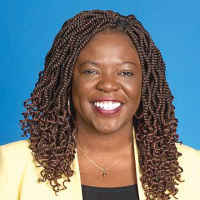 With the end of the preliminary election this week, voters can turn to the Nov. 7 ballot and its marquee race.
The ballot will feature eight contenders vying for the City Council's at-large slots, and voters can choose up to four. They will join the top two finishers in the district races that were on the ballot this past Tuesday (Districts 3, 5, 6 and 7), as well as incumbents like District 2's Ed Flynn (South Boston) and District 4's Brian Worrell (Dorchester and Mattapan) who are not facing challengers.
Three incumbents — Ruthzee Louijeune, Erin Murphy, and Julia Mejia — are running for reelection. The departure of veteran Michael Flaherty, who had two long stints on the Council, broken up by an unsuccessful run for mayor in 2009, has left voters with the choice of welcoming at least one newcomer to a body that has been riven by infighting and backbiting, even as it worked to pass rent control and reforms of the Boston Planning and Development Agency, two of Mayor Wu's legislative priorities.
Five challengers, nearly all of them first time candidates, are hoping to snag one of the four slots. Henry Santana, a former Wu administration aide, is among them, and has garnered the support of his former City Hall bosses. Santana worked for Wu and former District 8 Councillor Kenzie Bok, who left for the top job at the Boston Housing Authority.
The other candidates are Bridget Nee-Walsh, a South Boston ironworker who, when she's not on the campaign trail, can be seen helping build the tower rising above South Station, and Mattapan activist Clifton Braithwaite. The other two candidates, Catherine Vitale and Shawn Nelson, are anti-vaccine protesters known for their harassment of Mayor Wu.
Louijeune, an attorney who grew up in the Hyde Park/Mattapan area and was first elected in 2021, raised the most money out of all states' City Council candidates, not just in Boston, in August. She raised $28,448 and had $190,537 as of the end of that month.
Dorchester's Murphy was close behind, with $21,936 raised and $121,730 in cash on hand, while Julia Mejia, who also lives in Dorchester, raised $4,217 and has $37,341 on hand.
Among the at-large challengers, Nee-Walsh had the biggest haul, with $16,282 raised and nearly $12,700 on hand. Santana pulled in $6,411 and has $20,197.
Vitale raised nearly $3,200 and has $2,500, while Braithwaite raised $500. He had $66.50 in his account, as of the end of August. Nelson didn't raise any money in August and has $60.
Over the past two years, the Council has been divided along racial, generational, and political lines. Flaherty and Murphy have represented the moderate and conservative wing, while Louijeune and Mejia were part of the progressive wing.
But even among the progressives, factions have emerged. Louijeune and Mejia were on opposite sides of the final map in the City Council's redistricting process, which redrew the boundaries of the nine district seats. Louijeune steered the map to the mayor's desk, and it passed legal muster, even as Mejia floated a conspiracy theory, without evidence, that the Wu administration and the attorneys defending an earlier iteration of the map in federal court had purposely fallen short in their efforts.
Over the summer, some coalition-building took place, with Wu and labor unions joining to support or endorse several progressive candidates, including Santana and Louijeune.