By Gintautas Dumcius, Managing Editor
February 14, 2023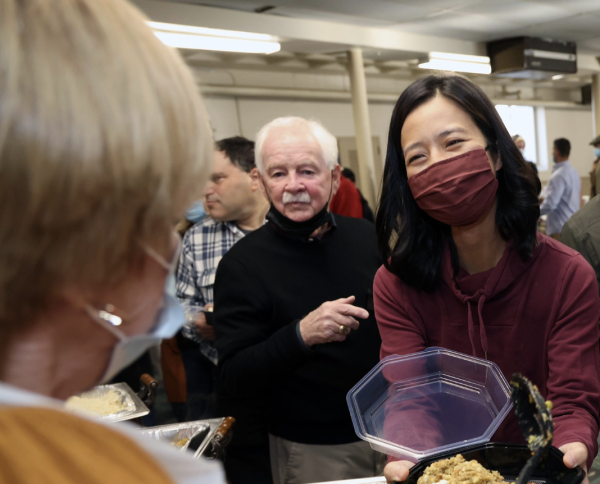 In 1976, South Boston's Michael Joseph Donovan won a nine-way Democratic primary for the down-ballot job of Suffolk Superior Court Clerk for Civil Business. He was the youngest person ever elected to the position, and over the next forty-six years and eight elections, he faced few opponents.
But Donovan has quietly retired from the job, which paid $164,000 in 2022, and since January a fellow South Boston resident — their homes are across the street from each other — has stepped in as acting clerk.
The acting clerk, who is likely to run for the permanent job when it's on the ballot next year, carries a familiar name to students of Boston history and politics: John E. Powers III.
His grandfather, a former state Senate president and a political confidant of the Kennedy family, rose to prominence in another era. John E. Powers the first beat the "Rascal King" James Michael Curley in a mayoral preliminary before losing to incumbent John Hynes in 1955 and later tangled with the Bulger family over a court job held by the gangster known as "Whitey."
Powers ran for mayor again in 1959, losing to John F. Collins, whose campaign lashed him for what Collins called "power politics."
Powers went on to serve as president of the Massachusetts Senate, and from 1964 to 1988, he was the clerk at the Supreme Judicial Court. The Globe reported in the 1980s that he had sparred with one of his successors, Senate President Bill Bulger, also of South Boston, over a no-show job given to his brother, James "Whitey" Bulger, after a prison stint, with President Bulger freezing Powers's pay after Powers sought to remove "Whitey" from the courthouse payroll. Powers died in 1998 at the age of 87.
His grandson, 59, is a newcomer to politics. Unlike Donovan, who could be seen out on the campaign trail, notably endorsing Michelle Wu for mayor in 2021, Powers III has kept a lower profile, helping friends with dropping campaign literature or holding signs.
"This is a new experience for me," he told the Reporter after he opened up a campaign fundraising account with the state Office of Campaign and Political Finance, a key step toward running for public office. Donovan, who did not respond to a request for comment, is listed as his campaign chairman. Suffolk County includes Boston, Winthrop, Revere, and Chelsea.
Powers said he hasn't made a final decision on running for the job, but added, "I'm very likely to do it." He brings with him 38 years of experience in and around the court system. He has been in the civil clerk's office for 15 years, and before that, he was a prosecutor in the Suffolk District Attorney's Office. On Jan. 3, Superior Court Chief Justice Heidi Brieger swore him in as acting clerk.
"It's important to have someone in the position who understands it," he said, adding that the job is about providing access to the court system to lawyers and non-lawyers alike.
Powers said his grandfather, who dropped out of high school to support his family, never went to college, and attended law school when he was in his 60s, influenced his decision to go to law school
"Education was important to him," the grandson said. "He had a famous line: The thing about an education is they can never take it away from you." That was passed on to the third and last John E. Powers. "I'm glad he did because it's been a fulfilling career."
Super PAC aim: Help Black candidates win
An ex-staffer to former Gov. Deval Patrick and former City Councillor Tito Jackson is launching a super PAC aimed at helping Black candidates gain office.
Reynolds Graves, who has also worked as a lobbyist and a director of government relations for Suffolk County Sheriff Steve Tompkins, has set up the 1866 Action Fund, which pledges to raise and spend money on mailers and drive-time radio ads once they endorse a candidate.
They plan to back candidates through an endorsement process that will include questionnaires. The super PAC's formation was first reported by GBH News.
The super PAC, which can raise and spend unlimited amounts of money but is prohibited from coordinating its efforts with the candidates it supports, is named after the year that the Massachusetts Legislature welcomed its first two Black members, Charlestown lawyer Edward Garrison Walker and Boston printer Charles Lewis Mitchell.
Walker was a self-taught lawyer and abolitionist named for the journalist and reformer William Lloyd Garrison, and Lewis Mitchell served in the Massachusetts 55th Infantry Regiment, an all-Black unit. The year before their election, 1865, saw the end of the Civil War.
"This is an effort to strategically focus on electing Black candidates across the Commonwealth," Graves said. "This is not just going to be the metro Boston area."
Graves, 34, interned in the Obama White House and the US Embassy in Cairo, and more recently helped Harvard professor Danielle Allen's 2022 run for governor and state Rep. Jon Santiago's 2021 campaign for mayor of Boston. He runs the Graves Group, a public affairs and government relations company focused on clients in education, marijuana, and technology sectors.
His super PAC plans to target seats on city and town councils, select boards, as well as school committees and seats in the State House, district attorney, and sheriff's offices. The group does not expect to focus on executive posts, such as mayor or the statewide constitutional offices.
"As communities are becoming more diverse, it's important to elect leaders who reflect the diversity of the community and the changing times," Graves said.