By Seth Daniel, News Editor
September 14, 2023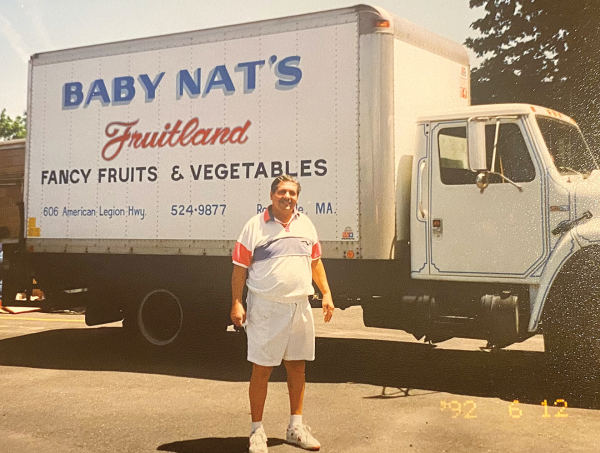 Anytime you entered Baby Nat's Fruitland on American Legion Highway, at the nexus of Mattapan and Roslindale, you knew you would be getting multiple bargains. Now, after one family's almost 50 years in business, the popular fruit and vegetable store will soon have a new owner for those deals: Brother's Supermarket is in the process of making Baby Nat's its fourth neighborhood location.
Darlene (Natorelli) Etienne, 66, told the Reporter that her late father, Argentine "Archie" Natorelli, founded the business in the 1970s, and now it was time for her to sell and retire.
"It was a family business: My father, my mom, my brothers and sisters and my kids. But you have to retire sometime," Etienne said in a phone interview. "It happened very fast, and I didn't even put the business on the market. I had associates I do business with who had people who were interested, and I got an offer. It worked out. I hope they do as good a business as we did. It's time for new eyes."
Ambiris Fernandez, of Brother's Supermarket, said they have bought the business and will be leasing the property from Etienne. With locations already on Geneva Avenue, Washington Street (Grove Hall), and Dudley Street (Uphams Corner), he said, this "location was good for us and a lot of people in the Roslindale, Hyde Park and Mattapan who were coming to our locations on Dudley Street or Washington Street.
"Our plan right now is to make it like the store on Dudley Street and bring in fresh meats, a deli, a kitchen, and fresh vegetables," he said. "We want to keep it nice and updated. We're also working with the city on a new storefront and sign project for that location. We're just super excited to come to this new community and be part of Roslindale, Hyde Park, and Mattapan…We hope to really do something great there."

Photo by Seth Daniel
The former Baby Nat's Fruitland has now been purchased and is being operated by Brother's Supermarket, giving the Dorchester company its fourth location in the area. The Natorelli family operated Baby Nat's for 50 years on the site, transforming it from a sleepy seasonal fruit stand to a year-round mecca for great deals on fruits and vegetables.

Baby Nat's Fruitland became a landmark in its nearly 50 years on American Legion with its "FRUITLAND" sign drawing customers from Dorchester, Mattapan, Roslindale, and beyond, to get deals on fresh fruits and vegetables that seemed sometimes as too good to be true. The end of a family run has turned some eyes to the history of the business.
Etienne said her fathergrew up in the West End and had a very hard upbringing – he could not read or write. He operated an outdoor fruit stand in the North End for some time and was offered the property on American Legion Highway in the early 1970s.
In the beginning, it was just an outdoor stand. "The first year," said Etienne, "my dad put heavy plastic over the fence and had those blow heaters. He wanted to see how it would work that winter before he decided to do any construction. Then it went well, and he put the building up. As we got busier, he put on another addition. Then we bought the home next to us and knocked it down. That was our parking lot."
Etienne, her late mother Carmela, her three sisters, and her late brother, Kenneth, all worked in the business and, later, when their children came along, working there became almost a rite of passage in the family.
And the name? The family – hailing from Medford - went by the nickname "Nat" and each member had his or her nickname on a license plate, such as Dad Nat and Momma Nat. "There were four of us and I was the baby," said Etienne. "I was Baby Nat, and the store was named after me. My brother and I fought over it, and my mom made the decision – and so it was Baby Nat's. Everyone thought it was a baby store at first."
In addition to the usual fruits and vegetables, Baby Nat's was famous for collard greens and yams – attractive catering to those who had migrated from the South.
"At the beginning it was all people from down South, and they were great customers," Etienne said. "They still come back on holidays and one holiday we sold 475 cases of yams and a lot of collard greens. We were known for collard greens and chitlins. Then when things changed and different people moved in, you just go with the cultures...We had all nationalities."
It was the deals, however, that set apart Baby Nat's, whether 99 cents for a huge bag of salad or limes that were 10 for $1. Etienne said it all came back to her brother, Kenneth, who did the buying from the New England Produce Market in Chelsea.
"We had so many good deals and we were known for that," she said. "We got pallets and pallets and pallets every day. We did a lot of business up there and sometimes there would be a pallet come in and it would be rejected by an inspector for whatever reason. They would sell it cheap to us and we could turn it over fast."
Etienne gives her father a lot of credit for building up the business after coming from such humble circumstances.
"He came a long way," she said. "He couldn't read or write, but my mom taught him what she could. I give him so much credit for the businessman he became."

Darlene (Natorelli) Etienne (left) and a former employee stock the shelves at Baby Nat's long ago on American Legion Highway.

Baby Nat's founder Argentine 'Archie' Natorelli (right) shown in the 1980s at the American Legion Highway store with his brother.

A 110-pound watermelon once hit the shelves at the American Legion Highway store and was famously raffled off to customers.

The familiar landmark façade of Baby Nat's Fruitland on American Legion Highway as it looked in the 1980s and beyond.

The late Kenny Natorelli helps a customer with a large order of collard greens during the 1970s before the store was made into a permanent structure.