By Amanda Brynn Birbara, Special to the Reporter
March 29, 2023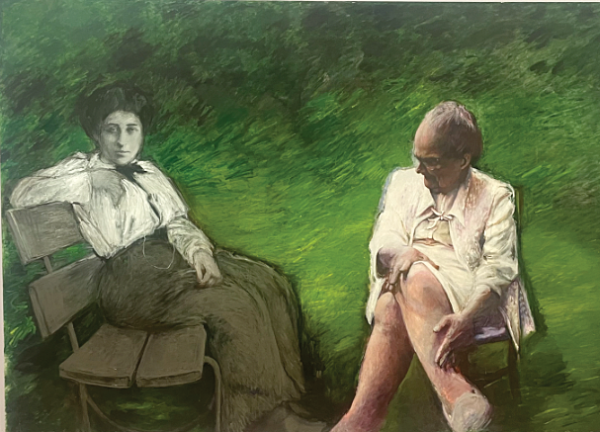 May Stevens, the Dorchester-born admirer of revolutionaries and a participant in radical groups such as Guerrilla Girls and Freedom Riders, believed that art, history, and politics intersect. 
But it's her family history — her complex relationship with her mother and an inspirational woman — that shaped her ideology.
Stevens and the role of the women in her life are on exhibit at Massachusetts College of Art and Design's museum through the end of July.  The exhibit, called "My Mothers," also celebrates the 150th anniversary of the college. 
But it mostly pays tribute to Stevens's mother, Alice, and her "spiritual mother," Rosa Luxemburg, a Polish-born German Jewish revolutionary and agitator who was assassinated for her anti-war views in 1919.
"This is a series of work that we think is really powerful and beautiful, but hasn't received as much attention," said Chloé Zaug, associate director of the MassArt Art Museum who works on the curatorial team for the "My Mothers" exhibit. 
She said the name of the exhibit is "drawn from the way [Stevens] talked about these two figures" in her journals and interviews.
Stevens was also a notable Bostonian. She was born in Dorchester in 1924 and lived there for a short period of time before her family moved to Quincy. Her family's house still sits at 45 Bloomfield St. in Dorchester, where Stevens was first exposed to her parent's traditional gender roles. Although no relatives still reside there, the history of Stevens's time there is visible in Dorchester and now at MAAM.
The "My Mothers" exhibit includes Stevens's numerous paintings and recordings that feature her Boston accent and ephemera that include a Guerrilla Girls poster. Stevens was one of the unmasked activists from the group. 
But it's the role of women in her life and how she depicts them that draw people to the museum. Inspired by Luxemburg, Stevens used her artwork to protest the Vietnam War. She also channeled her mother — the homemaker who held her family together who later was a ursing home patient suffering from dementia. Her prior series, "Big Daddy,'' focuses on her reflections on her father's bigoted beliefs.
A lifelong feminist, Stevens believed in exploring issues that the public might not often see in the art world, Zaug said, adding, she is "trying to say these more intimate issues are really important, too, and worth talking about more broadly."
The paintings on display all feature Alice Stevens. One shows her pinning flowers onto her mother's white coat. "It's sadly tender, achingly so," said Becky Brannon, as she visited the exhibit recently. "It's really poignant that she memorialized that aspect of her mother's life because I'm sure it was the saddest." 
Alexa Payne, a museum attendant since January 2022 and a student at Massachusetts College of Art and Design, said she was moved by the way Stevens chronicled her mother's age and illness. (May Stevens herself also had dementia later in life). 
She added that Women's History, especially in art, has long been "overshadowed by male counterparts." Very few people know about the equally significant work of May Stevens, that she was born in Dorchester, or that she had a long history of activism. 
"Those histories are not the main event. You don't go on a tour bus ride and talk about May Stevens, you talk about Paul Revere," she said. "Boston has such an incredible feminist history."
This story was published as part of a collaboration with Boston University's School of Journalism in the College of Communication. The student journalist is a member of a Reporting in Depth class taught by former Boston Globe reporter Meghan Irons.