By Seth Daniel, News Editor
July 26, 2023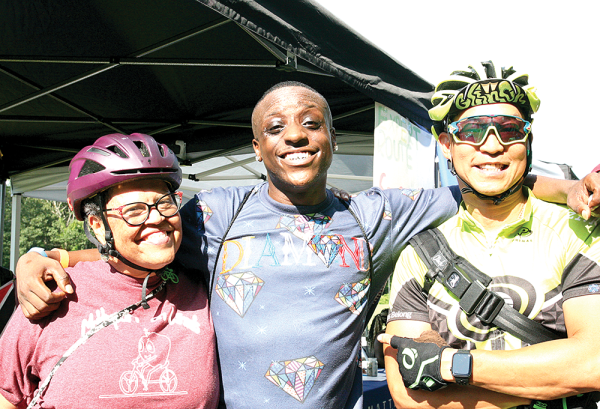 The 13th annual Mattapan on Wheels free bike-a-thon took place last Saturday, with scores of riders gathering on Ryan's Playground off River Street to engage in a morning of riding through trails and thoroughfares out of Mattapan and back.
The event is staged by the Mattapan Food and Fitness Coalition (MFFC), and Executive Director Shavel'le Olivier said they have focused on the bike ride for 13 years not only to have some summer fun, but also to emphasize that residents of Mattapan – particularly Black and brown residents –ride bicycles and need infrastructure.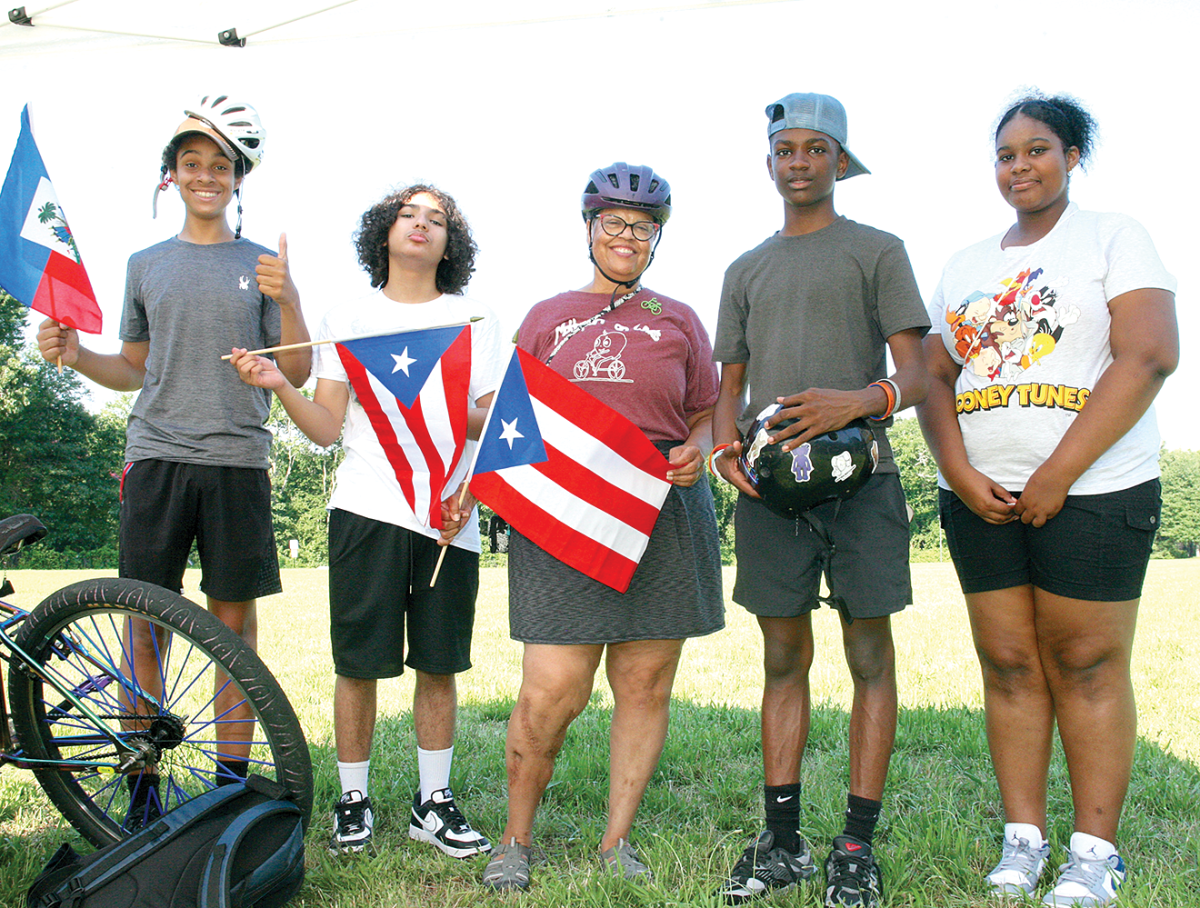 Mattapan's Bicycle Mayor Vivian Ortiz, center, with MFFC youth Max Atchue, Manuel Leiva, Neykon Tavares, and Davianna Young.
The common refrain that bicycle lanes are for "other" people is not accurate, she said in comments prior to the crowd prior to everyone leaving on either short, intermediate, or expert rides.
"The purpose of Mattapan on Wheels is to show people across the city that Black and brown people do bike," she said. "It's also to promote activity and a healthy lifestyle. Many of us want to bike, but just need a better infrastructure to do so."
In a major bike infrastructure announcement by the city last year, Mattapan was not included in plans for those improvements. That was not lost on the group as they advocated for more of those improvements to come their way.

Woody and Marcel Bastien took the ride as a father and son duo on Saturday. Seth Daniel photos
This year, Mattapan on Wheels tallied more than 50,000 miles ridden in its 13 years of existence.

Damion Dwyer keeps it cool while waiting for Mattapan on Wheels to start Saturday morning.

Several bikes were available to borrow for the day courtesy of the Boston Transportation Department and Bike Not Bombs organization.

Rudy Weekes greased up the bike chain and checked the tires on his bike before taking off on a morning ride for Mattapan on Wheels.

MFFC Director Shavel'le Olivier and MFFC founder Vivien Morris embrace to celebrate 13 successful years of Mattapan on Wheels.

HAIKU gets prepared to ride in Saturday's Mattapan on Wheels event.

MFFC volunteer Sonia Carter with State Rep. Brandy Fluker Oakley.

Sorayah Cabe of MFFC heads off leading the expert ride through the Emerald Necklace.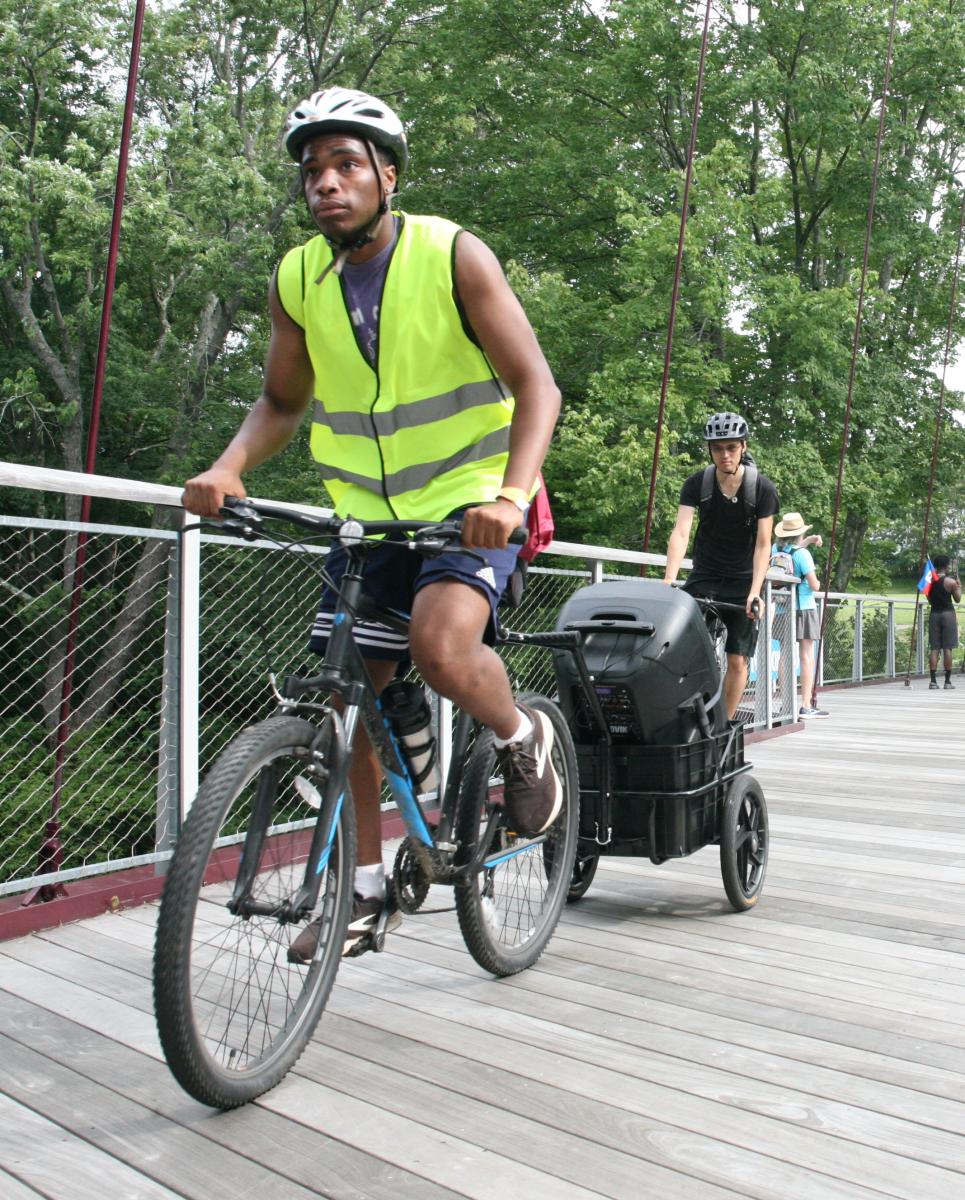 MFFC Ride Leader Ishmael Hazelwood leads off the Intermediate ride to Squantum in Quincy with music in tow.

Mattapan on Wheels participants started their ride going on the beautiful Harvest Bridge with the tree-lined Neponset River stretching off in both directions.