By Seth Daniel, News Editor
November 15, 2023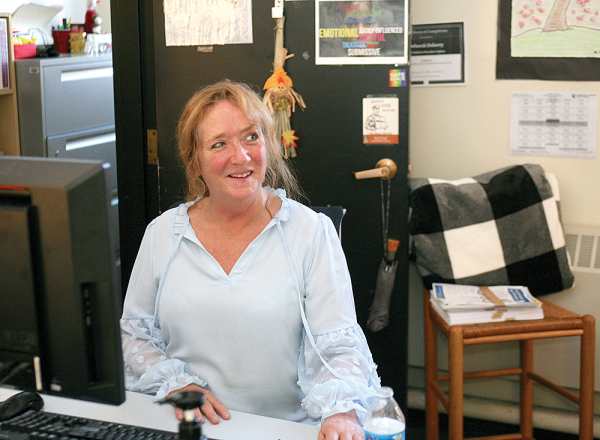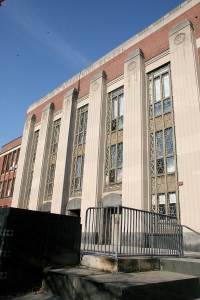 On the wall opposite the medical supplies in Debbie Doherty's office at Jeremiah Burke High School there is an array of photos. One shows a former student – now a colleague – playing college soccer. Another shows a student whom Doherty took into her home when she had no other place to live. There are pictures of happy babies, the children of former students. And one of a teen girl who had died of an asthma attack. The smiling boy in another photo was shot to death in front of the school a few years ago.
The collection captures the range of experiences that Doherty, who has been named BPS Nurse of the Year, has dealt with over her career.
"I want to retire because I have six grandkids that I adore, but it's hard," said the 65-year-old Doherty. "This isn't a job. I get up every morning and can't wait to get here – seriously. I even worked here all summer. I don't even think of it as work."
School nurses were thrust to the forefront during the pandemic and charged with managing everything from treatments to social-emotional well-being. Doherty did all that and more with her constant focus on helping people any way she can – including the hot meals like stuffed shells or butternut squash tortellini soup that she often brings in from home for students and staff.
"I think of the people I work with as family," she said. "The medical part is the easy part. It's all the other stuff – the behavior stuff, especially after Covid-19. It was troubling because emotional and behavioral issues were more difficult and challenging after the world shut down, and it was hard on them…It was tough coming back afterwards but it's finally coming back to normal and that's great."
Doherty grew up the youngest of six children in the former Columbia Point project, attending the Dever and McCormack Schools. After moving to Fields Corner, she studied at the Grover Cleveland Middle School, and graduated from Dorchester High. Helping others was a way of life in their home, and even with six kids, her mother, the late Mary Doherty – who worked more than 40 years for the Post Office— focused on the less fortunate.
"We grew up in the projects, but my mom was always helping someone," she said. "I'd come home and there was always some new kid living with us."
After getting her degrees from Boston City Hospital and Labouré, Doherty began her nursing career at Boston City Hospital while raising three daughters in St. Brendan's parish. All three – Hayley, Brittany, and Mollie – graduated from BPS schools. Two became nurses, and one is now a dentist. But as time went on, she said, "I discovered that I didn't want to do adult nursing anymore.
"You could make such a difference with the kids. I realized I wanted to be a school nurse, so I gave up my job at City Hospital…In the hospital, they come in and go out, but at the school you have them day-to-day and see the change."
In 2008, after subbing for several years, she landed at the Burke, where she blends a Dorchester-style no-nonsense approach with a wealth of empathy and understanding. She can tell it like it is, and at the same time offer a shoulder to cry on.
"I try to keep open dialogue with parents," she said. "I talk to them like they're my sisters. If their kid's being a pain, I tell them, and they laugh and appreciate it…They see I love these kids like they are mine."
Over the years, she noted in an interview, teen pregnancies have all but disappeared after being problematic, and STDs are lower as well. On the phone last week, she advised a parent about Covid protocols for a new case – the fifth of the week. At the same time, she encouraged the parent on the phone to stop by the school food pantry.
"I'll take you by when you come; we'll go together," she said insistently.
Such things might seem going above and beyond to others, but not Doherty.
"I think all of this is just what you're supposed to do," she said. "Isn't this the way you're just supposed to be? My mother taught me that, yes, but I think everyone should do that. That would make this a better place to live and to be."