By Seth Daniel, News Editor
March 15, 2023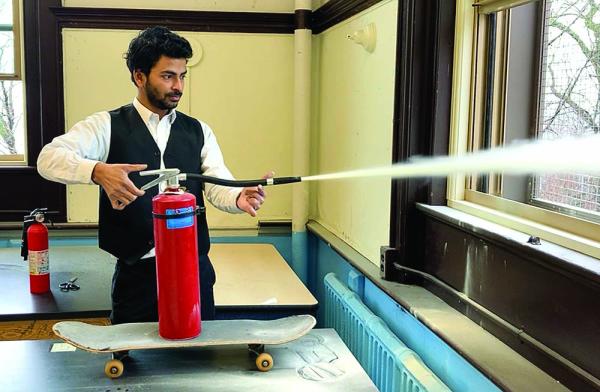 Anupam Raj teaches first-year physics at Excel High School in South Boston, and thanks to a pilot program launched by the Wu administration, the 27-year-old from India will be able to continue doing so in Boston for another year.
That development is a positive ending to what was a frustrating and confusing process for the science instructor, who had tried in vain to get the necessary visa extension that he needed to stay in the country. In February, he wrote an impassioned letter to Mayor Wu and BPS officials, imploring them to address the need to keep teachers like him on the job.
"I was frustrated and slightly annoyed that they didn't have any program, and they also didn't have people to do these jobs," Raj told the Reporter. "I was frustrated for the kids because it doesn't make sense not to help qualified people like me fill jobs that they cannot fill."
Raj's case garnered attention from fellow colleagues across BPS and from parents, many of them from Dorchester and Mattapan, who jumped into action to advocate for him after reading his letter.
Raj wasn't the only one in this position. City officials had for some time recognized that they needed a way to sponsor would-be employees in positions like Raj's, a process that is common in the corporate world, at universities, and even in public school districts in states like Colorado and New York.
The city's Chief People Officer, Alex Lawrence, said officials had the makings of a sponsorship program "well underway" – and they quickly reached out to Raj to encourage him to apply through the Mayor's Office of Immigrant Advancement (MOIA).

Excel High School physics teacher Anupam Raj is shown in his South Boston classroom. An impassioned email in mid-February about his visa situation garnered major support from colleagues and parents.
The program opened in February with a targeted outreach to existing employees known to need visas, including Raj. On Feb. 24, the program closed with about 20 applicants from a wide range of fields involved, including BPS, Boston Police, Public Works, and Labor Relations. The next step was to get qualified applicants in touch with a partnering law firm to send applications to the federal government's H-1B visa office, which opened March 1 and closes this Friday (March 17).
"We're very excited to see the that our hypothesis was correct in that we thought we would have a number of employees who were interested," Lawrence said. "We want to be an employer of choice that is competitive with all others in the region. This is just another step to making that happen."
Raj said he was "very impressed" by the swift action from Mayor Wu and her team. "I didn't think that would happen. I thought I would get fired for speaking up. I was very happy I was supported so much by other staffers and parents. I'm happy it's not just about me anymore, but it's about other people in the system too."
Lawrence said it would be irresponsible for the city to lose qualified employees like Raj only because there is no sponsorship program.
"Our hope is we'll learn a lot from this pilot and be able to expand it," he said. "It's small-scale now, but there are a number of jobs where we have a tremendously hard time hiring and retaining due to the nationwide shortages.
"To think we might lose these valuable employees because we don't offer these sponsorships is bad and we believe so deeply in immigrants who have left their home country and come here. They so often have grit and determination and are committed to the city, and we want to do everything we can to retain them."
Raj earned his undergraduate diploma and first master's degree in India and was going to move into the research field and get a doctorate, but he felt called to teaching. He left India and began studying at the University of Maine for his second master's and became certified to teach math and science. He turned down jobs in Maine and in wealthy districts like Newton specifically to teach at Excel.
In coming from a small village in northern India with limited opportunities, Raj said, he only succeeded due to the devotion of his parents and his teachers. He hoped to be able to motivate students in the city, and perhaps help them see they also could be talented scientists.
By all accounts, his first-year teaching has been full of successes, and it's one reason he didn't quietly pack up and head for a university that likely would have hired him and sponsored his visa.
"Students come in with the mindset that they cannot understand math, physics, or science, and that it isn't for them," he said. "Slowly with a lot of work and boosting their self-image, they see it's doable…Their perception of what a science or physics person is changes and they see they can perhaps be good at it…Seeing them realize they can handle science and seeing their self-esteem go up, that's my favorite part of the job."
There are still a lot of unknowns regarding the H-1B visa program, but Raj has at least begun the first step by getting city sponsorship, being assigned an attorney, and filing all the paperwork. He has high hopes that he will win a visa and be back in his South Boston science room next year, teaching a new crop of freshmen students from across the city how to excel at physics.