By Bill Forry, Executive Editor
November 15, 2023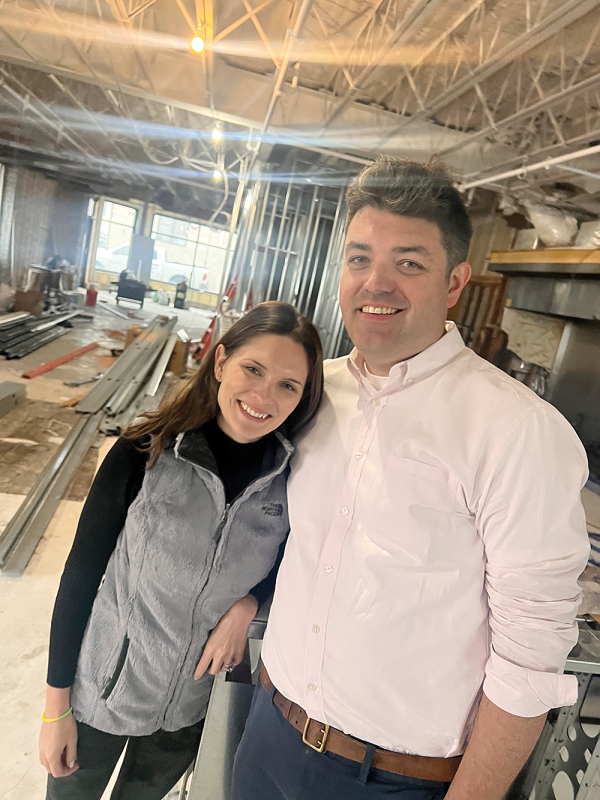 John and Anne Lydon intend to bring a touch of Ireland's West Coast to Dorchester's most identifiably Irish business district by early next year. The couple, who own and manage the gateway commercial building at 512 Gallivan Blvd., are busy supervising the construction of a restaurant and pub inside a first-floor space.
The eatery, which they plan to call Scobie's, a reference to an Irish slang word, will come complete with 2 fireplaces, a 17-seat bar, and room for 120 people in spaces that will include a cozy lounge, a take-away counter, and their version of a "snug," a semi-private space that is a common feature in rural pubs in Ireland. 
"Since I was a child, my heart has been split between my mother's Dorchester roots and my father's Irish roots," said John Lydon, who lives in Savin Hill. "Scobie's is a place where Anne and I would like to try to bring the two together."
What's on the menu? An array of Irish and Irish American comfort food, including roasts, soups, and what the Lydons hope will be the best pint of Guinness in the city of Boston. They are installing a dedicated keg room equipped with special features needed to replicate the perfect pour for Ireland's signature stout.
The Lydons are already well-versed in the rigors involved in running licensed establishments. They are the owners and operators of Shamrock Pub in South Boston. Scobies, they say, will have a distinctly Dorchester vibe, infused with quaint touches lifted from rural Ireland. John and Anne, who have children ages 5 and 3, travelled to Ireland this past summer and brought home a hearty list of ideas that will inform the look and feel of Dorchester's newest Irish pub. They also intend to put a Dublin-born chef in charge of the kitchen, namely Robert Kearney, who will be supervising the culinary side of Scobie's offerings, they said.
The vision, John and Anne say, is "a place where you can get a pot of tea and have a long chat with an old friend; catch a broadcast game from Ireland over an Irish breakfast or get together for a community fundraiser."
The space in question originally housed a bank called Minot Cooperative and was most recently occupied by the Butcher Shop and Deli, which just relocated to a smaller space two doors down. Work is now well underway to convert the newly vacant space into Scobie's, with a target date of February 2024. The layout includes an entryway that will allow for grab-and-go service for things like Irish themed snacks and breakfast sandwiches.
The restaurant conversion is the latest in several improvements made to 512 Gallivan Blvd. by the Lydons in recent months. The biggest addition is an elevator, which will allow for full-accessibility to the second floor, which now includes office space for Lydon's law practice, along with the campaign office of Councillor-at-Large Erin Murphy. Work is nearly complete on renovations to other second-floor office space that amounts to roughly 2,000 square feet, which the Lydons say should be ready for lease in the new year. Other tenants in the building include China Sky, PS Gourmet Coffee, Top Shelf Cookies, a dental office, and Attorney Michael P. Doolin.
The Lydons will present their latest plans at Thursday evening's 7 p.m. meeting of the Cedar Grove Civic Association at the McKeon Post.
"Adams Village is the home of the Irish community in Boston and, if we earn it, we'd like Scobie's to be the home of the Irish community in Adams Village," said John Lydon.