By Seth Daniel, News Editor
May 25, 2023
A few years ago, when the city approached neighbors in the Edgewater Drive area of Mattapan to ask if they would want to build out a food forest on a landlocked city-owned vacant lot in their neighborhood, the residents' first question was critical: What, exactly, is a food forest"?
According to the Boston Food Forest Coalition (BFFC), a food forest involves a coalition of neighbors who agree to take care of, or steward, the land to create locally run, public spaces on vacant lots in the city. There is an emphasis on the space being used for growing fruits and vegetables.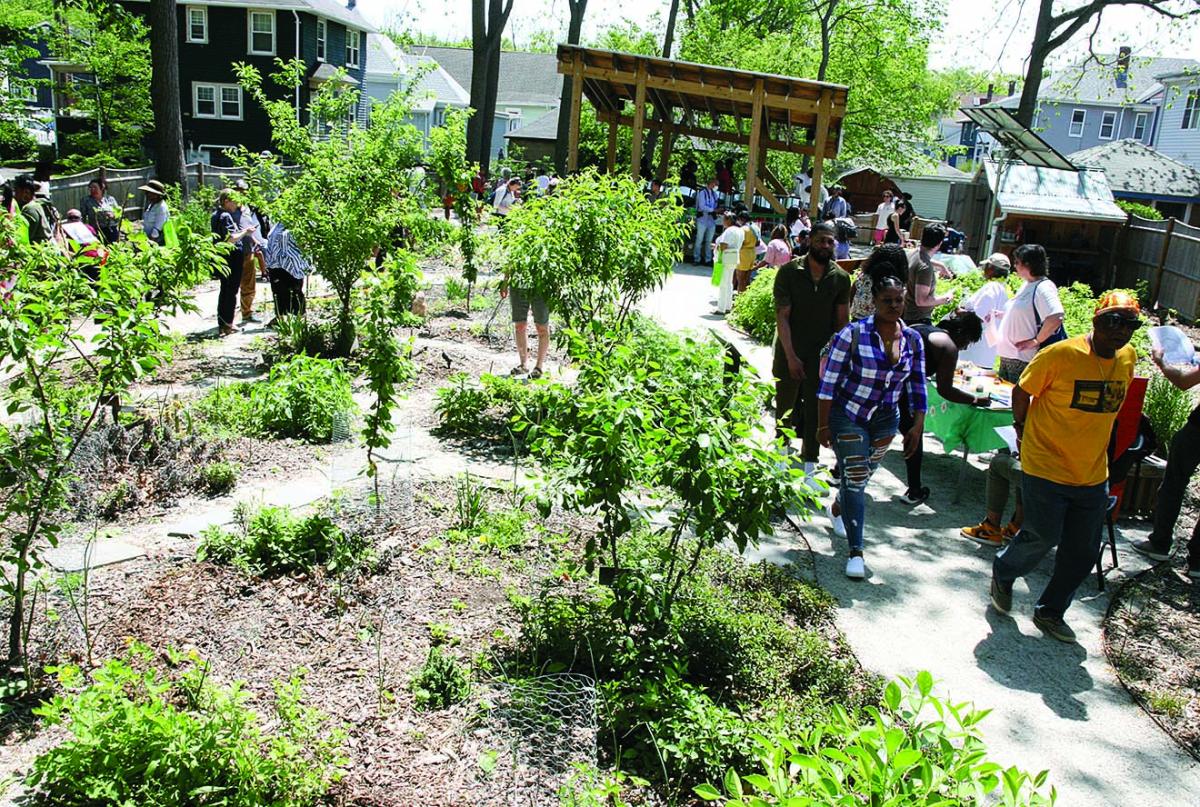 The Edgewater Food Forest will produce fruits and vegetables throughout the growing seasons, and neighbors are welcome to come in, relax, and forage for the fruits of the space. Seth Daniel photos

Said Jessie Dambreville, a steward of the Edgewater Drive Food Forest, at the grand celebration last Wednesday of the opening of the forest space in a 6,000-square-foot lot between Edgewater Drive and River Street: "We started working with BFFC and we didn't even know what a food forest was." He noted that the process started seven years ago, and that the city joined in three years ago.
What emerged from that effort, initiated by Vivian Morris of the Edgewater Street Neighborhood Association after she heard about food forests in her role with the Mattapan Food and Fitness Coalition, is a well-kept open space hidden behind a row of homes lining the south side of River Street at the edge of Mattapan.
At Edgewater, Steward Fatima Ali-Salaam –the chair of the Greater Mattapan Neighborhood Council (GMNC) – said neighbors like herself, Morris, and Dambreville have agreed to keep up the property and maintain it as a collective, placing emphasis on planting things like apricot trees or mushrooms that can be foraged by any neighbor who would like to partake of the fruits. Part of the job is simple care, as in who unlocks the doors in the mornings, and who locks them in the evenings.
Added Mayor Wu to the gathered celebrants: "All the parties involved here have transformed this space for generations to come."
Meanwhile, though they had passed the general area for years, a number of neighbors first discovered the space that day. That was the case for Kia Moore, who was amazed as she emerged from the pathway easement that leads to the food forest from River Street.
"I've lived here for 40 years and walk past this all the time and never knew it was here," she said. "I saw the sign but never thought to come down here. I can't believe it. It's like an oasis hidden back here."
State Rep. Brandy Fluker Oakley said it's about green space, but also about a model citywide for building bonds between neighbors.
"It's always good when community comes together, but especially great when community comes together for something good," she said. "I hope there are more opportunities to do things like this – fellowship with our neighbors and get to know them better and find out how you can support each other."
The main entrance to the Edgewater Food Forest is on River Street opposite Rector Road.

Barbara Rice, Joel Wool, and Laura Bellows were excited to join the excitement at the Edgewater Food Forest.

Vanilo, Vamir, Vanessa, Vanaya, and Vamaya Leveque relaxed on a shady bench in the Edgewater Food Forest.

Avah Hart and Dynell Andrews show off their lilac crowns.

Shavel'le Olivier, director of the Mattapan Food and Fitness Coalition, watches as her niece, Raelynn Olivier-Thompson, makes her move in a game of outdoor checkers.

Neighbors Kia Moore and Nadia Ballkishun were surprised to find the Edgewater Food Forest hidden in their neighborhood.

Vivian Morris, of Edgewater Drive Neighborhood Association, shows off the two-year-old Food Forest space to Mayor Michelle Wu.

Carl Smith, founder of Branches Steel Orchestra, brought his steel pan band to the festivities – playing on the new bandstand in the center of the new food forest.