By Seth Daniel, News Editor
March 22, 2023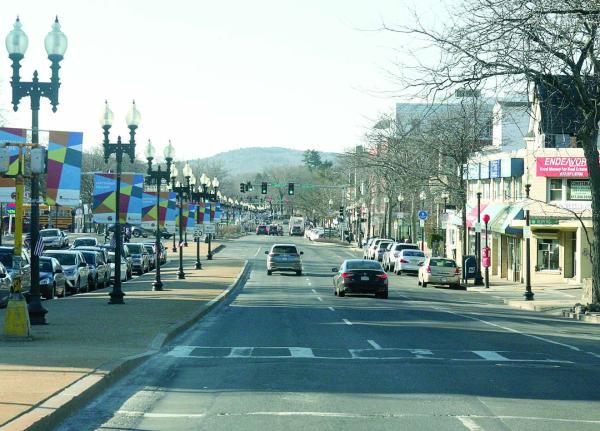 Great Blue Hill sits majestically in the distance beyond the aptly named Blue Hill Avenue, but for many residents of Dorchester and Mattapan, the 7,000-acre reservation below the 635-foot mountain is a place they know little about and rarely visit.
Aside from teacher-led elementary school field trips, participants and respondents in a study titled "Unlocking the Blue Hills: Addressing Equity and Access in the Blue Hills Reservation" note how many in the community say they have never been there, and have never heard of the ski slope, the horse-riding facilities, the hundreds of miles of wooded trails, the large swimming/fishing pond, and even the National Weather Service observatory on its peak.
That discrepancy in expectations is more pronounced among the 35 percent of residents dependent on public transit, which doesn't move across the Blue Hills.
State Rep. Russell Holmes, who grew up in Mattapan, knows little about the reservation despite living near it for most of his life. "The first time I found out about it was when I was elected as a state rep.," said Holmes, who won his House race in 2010. "You can very much see it, but you can't touch it. That is very much the feeling our residents have toward the Blue Hills. It feels like it could be a million miles away and that's because there's no quality access for our community. Everything is designed for the car."
That experience could change as soon as this summer if recommendations from a study done by local leaders and the Boston Region Metropolitan Planning Organization (MPO) can be implemented with a sense of urgency.
The study's report was released late last year and has been circulating through the community this year. Sean Rourke, a communication and engagement staff member at the Boston Region MPO, said the organization took on the study enthusiastically with the idea of getting its proposals funded and in effect in cooperation with the community.
Rourke said they heard from the community that the reservation was considered "off limits" to many in southern Boston neighborhoods, mostly because it was hard to access without a vehicle. The study was aimed at finding out who couldn't access the reservation and why – and to make recommendations that could reverse that situation.
Rourke said they found that accessing the Blue Hills is very easy by car, with ample parking, but most of the site is inaccessible by public transit. From Mattapan Square, there is only one bus route – the 716, and its only stop is at the bottom of the mountain at the Trailside Museum on Canton Avenue.
Above, along the rest of the reservation, which includes the popular Houghton's Pond area and a long and winding road leading to outlets to Mattapan Square and to Braintree, there is no public transit availability.
"The Houghton's Pond Recreation Area is completely inaccessible by existing public transit, denying transit-dependent Boston area residents' access to its 24-acre swimming pond and beach, fishing, picnic tables, sports fields, and hiking trails, as well as a visitor's center, and playground," the report said.
Shavel'le Olivier, director of Mattapan Food & Fitness Coalition (MFFC), was an early leader in calling for the study and shaping its progress in 2021 and 2022. She said MFFC wants to get more Mattapan and Dorchester residents to the Blue Hills, but public transit is so limited, it can be difficult to make that happen for those without a vehicle.
A fellow bicyclist introduced her to the reservation. "It wasn't until I was 26 that I got to see that great place so close to me. I had seen it and driven through it with my father, but never knew what it was," she said. "It's something you would hear about, but it's not a place you go to, especially because there really is no public transportation."
"In the study we found that one can get from the outer suburbs of Boston to the reservation by car faster and more easily than someone from these communities who is taking public transit," said Rourke. "That's a very clear and stark illustration of inequity of access."
Residents, for example, who live in the MetroWest community of Acton, which is 32 miles from the Trailside Museum, can on a Saturday get to the Blue Hills Reservation in about 40 minutes, faster than someone taking public transit from Dorchester's Grove Hall, which is seven miles from the reservation to the Canton Avenue stop but takes 57 minutes and a transfer to get there. Mattapan is four miles away and it takes resident upwards of 15 minutes to get there.
The 716 bus route along Canton Avenue also is difficult to use, Rourke said. The route is serviced by a shuttle bus, not a regular MBTA bus, and the Trailside Museum stop is not marked well, he said, making it hard to locate. Buses don't usually stop unless riders flag them down.
On a recent morning, the Reporter observed the 716 bus route for more than an hour. The scheduled outbound bus never arrived at the Trailside Museum, and the inbound bus came by 15 minutes late, and kept going without stopping. By way of comparison, in that time period, more than a dozen cars pulled up in the museum parking lot, and hikers, dog walkers, and mothers with strollers headed off to the hiking trails.
State Rep. Chris Worrell, who represents Grove Hall, said that few in his district would go to the Blue Hills Reservation despite it being so close. Rep. Brandy Fluker Oakley of Mattapan has been very supportive of the MPO's initiative, would like to see more residents from Lower Mills and River Street enjoying the nearby Blue Hills.
"Transportation deserts are real, and my constituents feel the repercussions of them daily," said Worrell. "The study examined what we already knew, but it's a step in the right direction toward awareness and change for our community."
The study's recommendations to improve access include a range of options. One easy fix would be re-routing the 716 bus up to Houghton's Pond on its Monday to Saturday schedule. An addendum to that option would add Sunday service to the modified 716 route.
A more expansive improvement would be a new public transit service out of Mattapan Station that would loop through the Blue Hills Reservation and stop at popular spots. The most optimistic option would include a full loop through the western and eastern sides of the reservation with stops at the Museum, hiking trail start points, Brookwood Farm, Houghton's Pond, the Shea Skating Rink, and the road to the Quincy quarries.
Running two buses along this loop, with expenses for marketing included, on a seasonal basis is estimated at $80,000. Less expensive and less expansive versions of the loop option are also suggested in the report.
The Boston Region MPO is a federally funded organization administered by the state. Their board is quite powerful in deciding which major transportation projects to fund and move along, but another aspect they emphasize is community engagement via transportation studies.
Rourke said the MPO's Community Connections program or the Mass Department of Transportation's community transit grant program could be funding mechanisms, but he also said that no one from the community has approached the MPO about funding anything yet.
Olivier said they have been making presentations and gathering support in the community this year. They have earned the blessing of the Greater Mattapan Neighborhood Council (GMNC), and Valerie Burton of the River Street Neighborhood Association said they feel it would be a good idea.
Among the community partners, the rush is on to make sure the study doesn't "sit on a shelf," Olivier said. She said they would like to get the MBTA on board, or if not, explore leasing private buses for a summer pilot.
"It's unfortunate we have this great reservation very close to Mattapan and folks from other communities much farther away can get there much easier because it's hard to get there if not driving by car," she said.
"I'm sure there are a lot more people like me who haven't been there before," she added. "Someone has to drive them there. But how awesome would it be to get on the bus at Mattapan Square and get there and back quickly."
The study is available on the Boston MPO website at bostonmpo.org.