By Seth Daniel, News Editor
September 13, 2023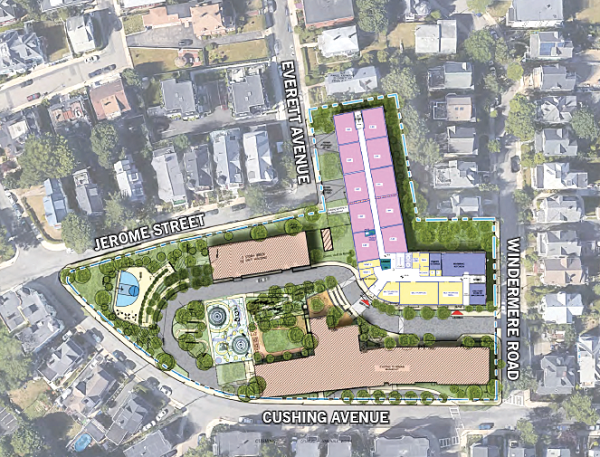 St. Mary's Center for Women and Children on Jones Hill filed plans with the Boston Planning and Development Agency (BPDA) on Tuesday that call for extensive renovation and new construction on its 2.4-acre campus along Cushing Avenue.
The Center currently operates an adult family shelter, a young parenting living program, transitional housing, and education/employment supports. It would expand its shelter programs if the project— planned in conjunction with the Archdiocese of Boston's Planning Office of Urban Affairs— moves forward.
Tuesday's "letter of intent" calls for the existing building and parking garage next to Everett Avenue and Jerome Street to be demolished, and a five-story building to rise in the space with 71 units of "deeply affordable" supportive housing. It would increase St. Mary's shelter programs by 30 percent and include 72 parking spaces underneath the structure. A second phase calls for a full gut-rehabilitation of the existing East, Main, and Chapel buildings – formerly the St. Margaret's Hospital along Cushing Avenue.
Tuesday's letter is a precursor to filing a Project Notification Form (PNF) under the BPDA's Article 80 process.