By Seth Daniel, News Editor
January 18, 2023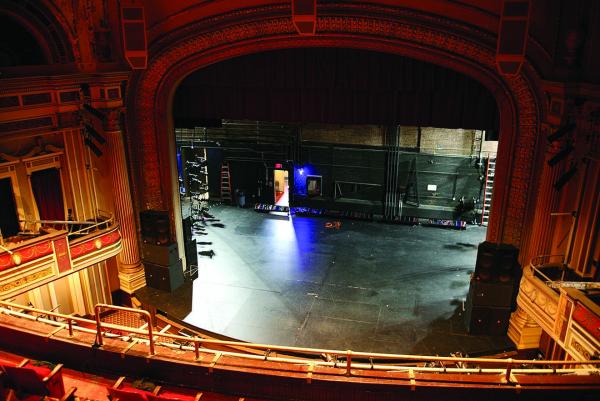 The Strand Theatre closed its doors this month as work began to tidy up the historic venue and complete high-priority maintenance items – painting, electrical, and plumbing fixes – at an estimated cost of $506,000.
The city-owned theatre is scheduled to re-open in late March and officials expect a lively spring and summer menu of shows.
"There has been a lot of work done over the years, but this is a really big investment," said Donald Wright, deputy director of real estate management and sales for the city. "We've come a long way. We put in a $1 million sound system not long ago. The sound quality is great and every seat in the house is a good seat. We're excited about the potential this theatre presents, and these investments now are only going to further that potential."
The work isn't glamorous and won't be announced on the marquee that faces onto Columbia Road. But several producers and performers have told the Reporter that while the bones of the facility are great, upgrades to the systems and the aesthetics will go a long way to improving its chances of success.
Another hurdle is the theatre's protected status, which requires regular historic preservation work. But this year, when it came time for a new paint job for the walls and plumbing upgrades in the bathrooms, Mayor Wu signed off on the half-million-dollar expenditure.

City Project Manager Marco Rebaza shows a group of painting contractors the scope of the project now open for bids at the Strand Theatre in Uphams Corner.
"Theaters are more than historic places in our city—they're cultural anchors for community-building and self-expression," Wu told the Reporter. "The Strand has been a beloved institution for more than a century and I'm proud we're investing in the facilities to ensure it will be a hub for future generations of Boston residents."
Last Tuesday, dozens of painting contractors went on a tour led by Wright, Project Manager Marco Rebaza, and other city officials and measured walls full of peeling paint. It was noted by some that the bidders were a very diverse crowd. That is no accident.
Wright said he spends a great deal of time seeking out diverse contractors to fulfill city needs like painting at the Strand, or snow removal at city buildings. He said they see the Strand work as a good opportunity for small businesses.
"I've not had an open house [before this] where the first three or four contractors showing up were women and even more continued to come," said Wright. "That's exciting for us. We have let the community know the city does have procurement opportunities and the Strand work is a great place to start."
Vicki Gray of New Chapter Home Services was one of the contractors taking measurements and surveying the scope of work. "This is definitely a great opportunity for us, and to try to bring some new life and positive vibes through colors on the walls," she said.
"The opportunity," she added," is also unique in working on a historic place in the community and my guys and gals who are local residents can be part of reviving something historic. It really gives back, and even when you just drive by you know you had a part in this."
Added Wright: "We're thrilled to have this investment, but it isn't going to get the facility exactly where we want it to be." To address that status, the city is looking to fund even larger investments in its systems and aesthetics.
The Mayor's Office of Arts and Cultural Affairs said the Public Facilities Department (PFD) is setting out the scope of work to lay out a comprehensive assessment to inform future investments.
On the programming side, once the Strand re-opens, the city plans to launch a second round of Strand Theatre Grants, which will support local producers in bringing events and productions to the facility this year. The first round was very successful last year as several popular shows and musical performances were held at the Strand.
In this second round of productions, however, they will be presented against the backing of a sparkling fresh coat of paint.