By Cassidy McNeeley, Special to the Reporter
September 6, 2023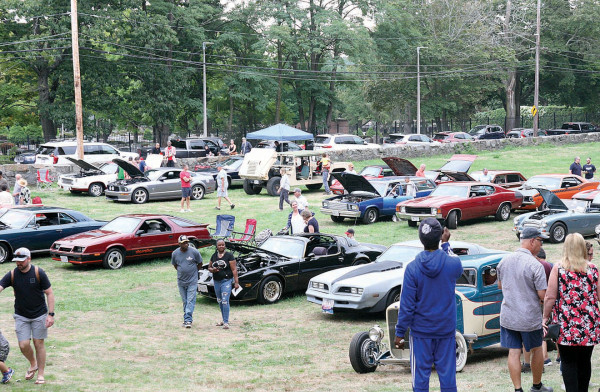 The playgrounds, tennis courts, and Little League fields at Dorchester Park will be transformed into parking lots for antique cars this coming Sunday morning as the annual car show arrives in town.
The event, located at 1000 Adams St. in Lower Mills, will be held from 10 a.m. to 2 p.m. and is open to all who want to enter a car in the assemblage or view unique vehicles free of charge. Those who wish to display their cars should arrive an hour early, but late entries are welcome as well. 
This year's event is being run by Dorchester Park Association member Lisa Ahern and Rockland Trust's Suzanne Spargo. "The first Dorchester car show was initiated at the bank parking lot back in 2009 and it was well received. The parking lot of the bank was not big enough so that's how we coordinated with Dorchester Park Association," said Spargo. 
It was Anthony Paciulli who in 2009 was president of Meeting House Bank, which formerly occupied the Rockland Bank's site, established the first car show. In 2011, Paciulli expanded the event by working with Cedar Grove Garden owner Richard O'Mara. Today, an average of 70-80 cars are shown yearly, with Spargo noting that on one occasion 122 cars were on display.
Ahern told the Reporter that attendees "can view the cars, vote for their favorite cars in different categories, and get something to eat from one of the food trucks." To increase park usage, the event also offers hay wagon rides pulled by a team of Clydesdales.  "It reminds people that the park is there and it's free and wants to be used," said Ahern. 
The car show also brings together community members from Dorchester, Quincy, and other parts of the city. "It's just a fun time, the neighborhood people just enjoy getting together," Spargo said. "I have found that the Lower Mills area is a very tight-knit neighborhood. It's a good afternoon to spend out with the kids and adults love it."