By Cassidy McNeeley, Reporter Correspondent
November 8, 2023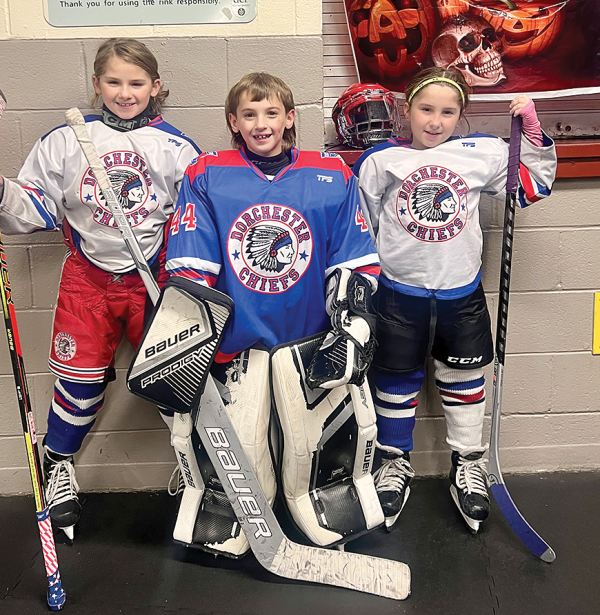 With their triplets Rosalie, Rocco, and Regan, and younger daughter Reese, Gianna and Neal Mullane's family of six is enough to form their own starting lineup. But for now, the threesome of eight-year-olds is taking the ice and letting their parents and little sister cheer them on from the stands.    
Neal and Gianna, who married in 2013, both work for the city. Neal is a firefighter and Gianna works for the police department. But when the triplets were born in 2015, their most important job titles became mom and dad. 

The Mullanes of Dorchester include (from left) Rocco, Reese, Gianna, Regan, Neal, and Rosie. At right is hockey coach Stephanie O'Sullivan of O'Sullivan Hockey. Cassidy McNeeley photos
From hockey games to flag football practices and dance competitions, the self-proclaimed "Insane Mullanes" are non-stop busy. The older trio started playing at age 3, a common age to put on the skates in the highly competitive, hockey-obsessed neighborhood
. 
"I was watching a video the other day of Regan building snowmen in the corner during a little development game. Rosie wouldn't even get on the ice. Rocco was doing pirouettes," said Gianna. "To, now see them out there learning positions, just getting better physically as well as being better listeners and having friends, supporting a team." 
In the five years that have passed since they first stepped onto the ice, the triplets have grown up together while developing individually. They attend Saint John Paul II Catholic Academy on Columbia Road, where the two girls are in the same class and see their brother throughout the day at Mass, lunch, and recess. 

The Mullane trio on the ice at their home-away-from-home, the Devine Rink in Neponset.
This season Rocco and Regan are playing on the Dorchester Youth Hockey Mite's Gold team while Rosie is on the Mite's Blue team, which Neal coaches. Rosie and Regan also play together on an all-girls team.
"They're really good at understanding where they thrive," said Neal. "For us just to be here, it's not about skill or anything. It's just to be part of a team. To learn the difference between winning and losing, how hard work pays off – and my biggest thing: I always say to them that anyone can teach you a skill, but you have to be a good listener. If you're not a good listener to the coach, then you can't learn."
On the ice, Rosie and Rocco play right-handed and Regan is a lefty. Since they are mites, they are still working out at new positions. Most recently, Rosie has been back on defense, Regan has played left wing and Rocco, who usually plays right wing, was taking a turn in the goal. 
He related that he "did the whole week practicing goalie but then I got hurt on my neck so I couldn't play the game." Regan, as a great sister and teammate, stepped up and took his place in the net for the next two weeks, helping her team win both games and earning for herself the team MVP award. After the game, Rocco said that "she was the best goalie I've ever seen."
Any girl with brothers knows that such compliments arrive few and far between. 
In between chirping at each other, and fart jokes tossed about by Rocco, the triplets credit one another for their on-ice strengths. "We call him Chihuahua and a mini-Marchand," Rosie said about her brother. "He's a Chihuahua 'cause he's small and vicious but he doesn't have sharp teeth."
Gianna joked that if Rocco did not have to wear a cage over his face, he would probably be licking on-ice opponents on the face – a move for which Brad Marchand, the current Boston Bruins captain, became infamous. 
While Rosie is quick to find the best in her teammates, especially her siblings, Regan is a bit more competitive. When asked her favorite part of playing hockey, she replied, "That I get to kill boys!"
Neal explained that Regan's tenacious mindset on the ice sets her apart from her peers. "She'll be in the box as a squirt, that's for sure," he said with a laugh.
Gianna explained that her daughters are different but that allows them to better support one another rather than compete with them. "Regan's like my natural athlete. She just is. So, everything she does is done smoothly and she flows with it and she knows how to be a good teammate and step up to the position where they need her."
Rosie, who is also a competitive dancer, is more into the social aspect of team sports. "She is a little social connect and she keeps everyone together," said Gianna. "If somebody is upset on the bench, she is the first to say hello, if somebody wants extra playing time, she's the first to let them take her turn. She absolutely loves the girls and she's one of the older girls now in mites, so I love seeing the younger girls follow her and skate with her. She's had some awesome older girl role models, so I feel she'll be like that next generation to help the little girls."
Rocco, the middle one of the twins, is a spitfire on the ice. Though he is somewhat smaller than his competitors, once his skates are laced up – by Dad, of course – his confidence grows.
"He is definitely my little fire soul," said Gianna. "He doesn't know how small he is, and he plays every minute on the ice with everything he has. You see him trying, you see the effort. He can sometimes get discouraged because of his size but he really does put in the extra work to catch up to the kids that are bigger than him."
The children all sport double numbers on their backs. Regan rocks number 11, Rosie is 33, and Rocco proudly wears 44. "And she's gonna be 22!" Rosie exclaimed while pointing to one-year-old Reese, whom the triplets nicknamed "Snoogerboogers" over the course of the interviews. "We'll be 1,2,3,4."
The baby, who already spends most of her time at the rink, just got her first pair of hockey skates. "We're rink rats, with Reese probably taking the worst of it," said Neal with a laugh.
The proud parents joked that the hardest part about having triplet hockey players is getting them dressed and undressed. "I can't wait for the day when they can tie their own skates," said Gianna. "During Covid, we had to come to the rink dressed. We've kind of kept that habit," said Gianna.
Regan agreed about the hard part, saying that the worst part of being a triplet is waiting until her parents can untie her skates. What she does enjoy about being a triplet, though, is that she always has her siblings nearby. "I'm never lonely," she said.
For Rosie, her favorite part is being the oldest. "I like it when we get to sing happy birthday and I'm first," the eight-year-old said.
Rocco, for his part, is of two minds: "I like that I'm the only boy but one thing I don't like is that I have three sisters!" said Rocco.  "But I can always get away with stuff." 
The rink has essentially become a second home to the Mullanes who are there five days a week. As the triplets get older the time and travel spent going to and from practice and games will only increase, but it is something their parents are excited about.
"It's a great community and we get to look forward to the traveling tournaments now as they get older with that same community. They're just great, great people," Neal said about Dorchester Youth Hockey participants. 
Whether or not their children will stay in hockey is an open question, but Gianna and Neal are certain that the lessons they've learned from the sport so far will stick.
"My whole thing is to be part of the team," said Gianna. "I don't care if you're the worst one on the team or the best one on the team. You need to go be a teammate, know that it's not about you, and be a good listener. That's my motto with any sport, anything they want to do."