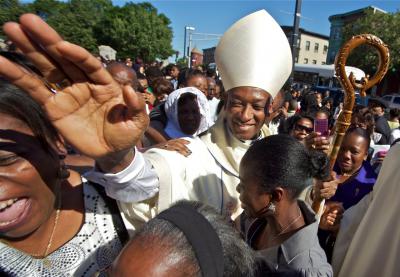 Cardinal Chibly Langlois in Boston: The scene outside Mission Church on Sunday. Photo by Joel Jean-Pierre
Today's "New Bostonians" – like the immigrant communities that preceded them in settling this city – are experiencing their share of seminal moments, a breakthrough or a milestone in their own collective Boston and American experience. One such moment happened last week for our city's Haitian-American community, long seen as ascendant among the relatively new arrivals to our town, but, in truth, still laboring daily for a firm foothold.
Last Thursday, one of their Haitian cousins, who had visited Boston several times in the past in his role as a simple country priest, returned to a hero's welcome in his new role: that of cardinal of the Roman Catholic Church, installed earlier this year by Pope Francis. His elevation is a monumental achievement on many levels, not the least of which is that Chibly Langlois, a tall, youthful-looking 56 year old, is the first Haitian ever appointed to the College of Cardinals.
He is already a national figure of great import in Haiti, where the Catholic church remains a pivotal player in a country riven by class divisions, grave poverty, and real or perceived exploitation from abroad. Given his youth and promise, Langlois is poised to become a major regional voice for Latin America and for the Caribbean disapora throughout the world. Boston – where Haitians have settled steadily since the 1960s – is a place where Langlois'opinions and influence will be outsized.
Inside Mission Church: Photo by Patrick O'ConnorOver a four-day visit that began last Thursday, the cardinal electrified the Haitian-American communities with a victory lap tour of private homes, TV and radio studios, and, of course, parishes, culminating in the celebration of a Mass on Sunday at the Mission Church on Mission Hill. More than 2,000 people packed the pews for the annual Mass that celebrates the Feast of Our Lady of Perpetual Help, an important day in the Haitian community. It always draws a large congregation, but Langlois' rock-star turn made it a spectacle unlike any seen in recent years with nearly everyone swarming around him for a photo.
On Sunday night, nearly 1,000 people, almost all of them Haitian-born parishioners of Boston area churches, packed McNeice Pavilion at BC High for another landmark event. The Archdiocese of Boston's Office of Black Catholics organized a testimonial dinner with Cardinal Langlois as the keynote speaker. The $75-per-seat dinner raised funds to support the Haitian Apostolate, which assists Haitian priests in ministry both here and abroad.
The crowd sat enraptured as Langlois addressed the audience for nearly 30 minutes. He has a quiet, but cheerful demeanor – one that seems to reflect the finer qualities of the pontiff himself and he seems to have embraced his sudden celebrity status with a simple grace.
Cardinal Langlois and Marianne Mathurin: Photo by Bill ForryOn Friday, before the weekend's whirlwind swirled to Obama-speed, he visited a Dorchester home that he had visited twice before on earlier, more anonymous trips to the city. The home is that of my wife's parents – Andre and Annie Dorcena – who are related to the cardinal through marriage. He grew up in LaValle, a village far from the bustle of Haiti's overcrowded capital, and it was there that he befriended the Mathurin family, most of whom have come to settle in Boston's neighborhoods.
On this day, he reunited with them once again and spent simple, special moments with the family's matriarch, 100-year-old Marianne Mathurin, who watched Chibly grow up as a close friend to her own son, Claude, who passed away here in Boston in 2011. They prayed together in Kreyol for Claude and his mom— and for the many Haitians who came here to Boston, likely never dreaming that one of their own would one day visit them wearing a cardinal's red vestments.