There are precious few written records about Meetinghouse Bank's origins, save for a list of founding board members. But with names like Devlin, Leary, Fitzgerald, and O'Reilly – along with a Piotti – it's pretty clear that it was a largely Irish-American endeavor, much like the booming community that was then predominant on the dense side streets of St. Peter's Parish. Most likely, the bank sought to give its neighbors and family members a viable lending alternative to the then-Yankee dominated business world of Brahmin Boston.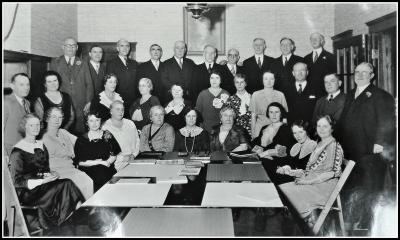 Meetinghouse Hill Co-operative Bank board of directors and spouses, 1914
On Wednesday morning, the current leadership of Meetinghouse Bank celebrated their institution's 100th anniversary with a breakfast at Phillips Old Colony House. Bank president Anthony Paciulli welcomed Mayor Martin Walsh, who delivered a speech congratulating the bank on hitting its milestone and highlighting Paciulli's achievements during his 11- year tenure.
Under Paciulli, the bank has once again become a pillar of business and civic life in Dorchester and, in recent years, Roslindale, where the bank opened a second branch in 2012. It's flagship location in Lower Mills, where it has been based since relocating from Bowdoin Street in the 1970s, has become a key stakeholder in that part of Dorchester, especially since Paciulli's arrival in 2003.
Meetinghouse Bank president and CEO Anthony Paciulli: 11 years into his tenure, he's built the community bank into a potent business and civic leader in Dorchester. Photo by Bill Forry
"In my tenure we've focused on reinvesting in the community and playing a leadership role, whether that be supporting a good cause or a business endeavor," said Paciulli this week.
Seizing on a void in the village, Paciulli threw himself into revitalizing the Lower Mills Merchants Association, which has become an influential voice on civic matters in the neighborhood. Paciulli set about beautifying the village, organizing an annual holiday stroll and launching a car show on the bank grounds that has now grown into an annual Dorchester Park event (It is set for September this year.)
As it has assisted countless causes locally, Meetinghouse Bank has itself grown and prospered. Paciulli has spent close to $1 million over the last five years on the bank's physical plant, adding space to the Dorchester Avenue branch and building a new administrative office space next door on Richmond Street.
Critically, the bank's board and Paciulli decided to go public in 2013 with a stock offering that raised about $6.6 million, money that will help the bank grow and serve more Bostonians. And Paciulli told the Reporter this week that he is planning a third branch for a building the bank owns on Dorchester Avenue at the corner of Hecla Street near Fields Corner. Such a development would be great news for Meetinghouse Bank and for the community.
In the last ten years, the volume of deposits at Meetinghouse has doubled and the bank is now lending to small businesses and homeowner at a much bigger clip. According to Paciulli, the bank that once lent a meager $5 to 6 million annually is now lending over $100 million per year, many of them home loans aimed at nearby residents.
They do it with a staff of some 35 employees, most of them from Dorchester, Mattapan, and Roslindale with roots in places the bank's founders would have found exotic: Cape Verde, Russia, Vietnam, Haiti ,and Italy. Paciulli and his team have good reason to be proud of Meetinghouse Bank's success and standing in our community. In a very competitive climate, they've re-defined what it means to be a true community bank – and our neighborhood is a better place for it.
– Bill Forry