Project D.E.E.P. participants were photographed at Monday night's 23rd annual Recognition Night at Florian Hall. John Sweeney photo
For 23 years and counting, they have helped kids and teens get ready for entrance exams and offered extra help on tough homework assignments. They've connected students and parents with elite private school admissions officers. They've offered free summer camps to hard-working kids and teens who earn their spots by pitching in on community service projects.
The Dorchester Education and Enrichment Program— Project D.E.E.P. for short— does all of these things and more because it's part of its mission. In the process, the program has done even more: It has created a community of people who are devoted to one another and to their home neighborhood.
On Monday, the group gathered its latest crop of all-star students and tutors for its annual Recognition Night at Florian Hall, which has been a rite of spring since 1996, a way of saluting the young men and women— most of them in high school— who devote several hours of their week to helping younger kids from their neighborhood improve their schoolwork.
There are many ways to measure the success of such a program, of course. Project D.E.E.P. now counts more than 240 students in its annual exam prep program. Eighty-five percent of the kids enrolled see an increase in their test scores. A full 80 percent were successful in gaining entrance to one of the city's exam schools.
But, as Brendan McDonough, who founded the program in the mid-1990s, said on Monday night: "This program is all about community service. We have always said that we will judge ourselves by how many kids keep coming back as volunteers."
Over the years, Project D.E.E.P. has added several categories of awards to the program, each named for a local man or woman of distinction from our community.

Mairead Baker, right, with Spehanie Maneikis. John Sweeney photo
People like Dr. Tom Durant, whose name is attached to the annual Tutoring Award. This year's Durant Award went to Mairead Baker, who grew up using Project D.E.E.P.'s services herself, but has returned as a high school student to volunteer her own precious down time to work with her young neighbors. Mairead was hailed by D.E.E.P. direct Beth Connell as one of the most dynamic and engaging young people she has ever met.
On Monday, two high school seniors— Emily Foster and Joe Connolly— each received $6,000 academic scholarships, thanks to the generosity of the Tom & Patty Doar Foundation. Both Foster and Connolly have been active tutors in the D.E.E.P. program as high school students.
Monday's keynote speaker is another dynamic and successful Project D.E.E.P. almuna, Stephanie Maneikis, who attended Boston Latin School and then Harvard College. She has risen through the ranks of the Boston Red Sox organization over the last decade, and today serves as the senior director of Fan Services and Entertainment for the organization. Now a new mom, she and her husband Kevin recently bought a home on Pope's Hill, not far from where she grew up.
On Monday, she recalled her own experience as a young person sitting in the auditorium of the Murphy School, listing to Travis Roy tell his story to the Project D.E.E.P. class of that year. She traces her own success in part to the work ethic instilled in her by her proud parents— Charlie and Ellen— and cemented by her years engaged in the D.E.E.P. program.
"I feel a real sense of pride when I tell people where I'm from: Not just from Boston, but from Dorchester," Maneikis said.
Congrats to all of the board members, staff, volunteers and funders— most notably the Martin Richard Foundation— for making Project D.E.E.P. successful for more than two decades.
More info and photos from Monday's Recognition Night are available online at projectdeep.org.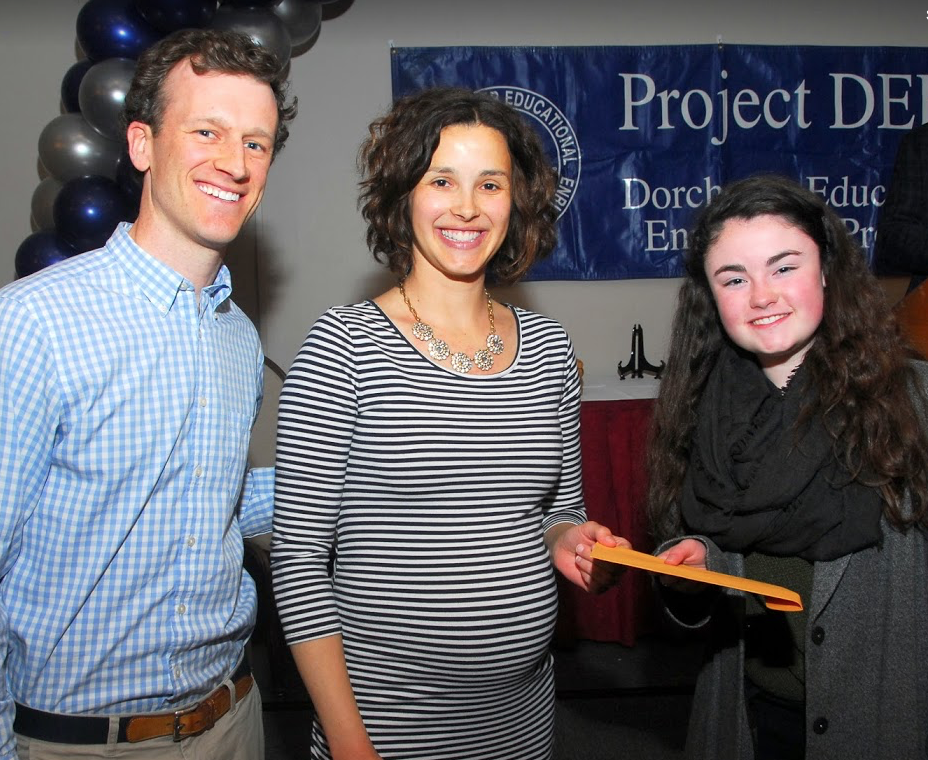 Emily Foster, a standout Project D.E.E.P. volunteer tutor (right), was awarded a $6,000 scholarship from the organization on Monday. The scholarship was largely funded from the Tom & Patty Door Foundation. Shown are Anita and Charlie Doar, whose parents funded the foundation. John Sweeney photo