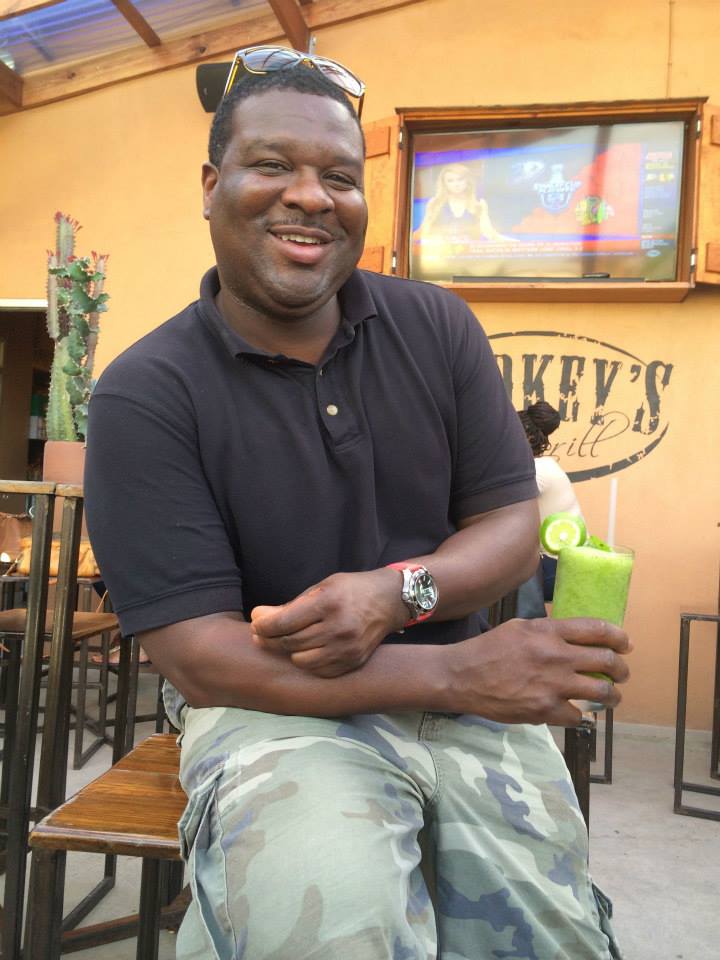 Even as we prepare to celebrate a milestone moment in this newspaper's history, the Reporter family is mourning a sudden loss this week. Richardson Innocent died last Friday, Sept. 8, after suffering a massive stroke on Sept. 1. He was just 50 years old.
Rich played a key role here at the Reporter in years past, pitching in to market and promote the Haitian Reporter, a companion paper published from 2001-2016. Ours is a family business and that much included Rich, whose son Jonathan interned with the Dorchester Reporter in 2019.
I first met Rich when we were teenagers. He was a recent arrival from New Jersey by way of Guadeloupe and, before that, his native Cabaret, a town in Haiti. We had mutual friends in common, but little else— at least by the conventional wisdom of that time, the late 1980s. But we became fast and lifelong confidantes.
Rich was a native Kreyol-and-French speaker with a booming voice and raucous laugh who was still learning a new language and adjusting to the sights and sounds and smells of a new neighborhood. He and his four siblings lived with their mom and dad in a three-decker on Edwin Street near the corner of Florida Street. He went to Dorchester High and, later, Oakwood University in Alabama, where his accent— a stew of Haiti, the West Indies, Elizabeth, NJ, and Dorchester — received an infusion of Deep South drawl to make things all the more interesting.
A union carpenter by trade, he started a family— including his brilliant son Jonathan, my godson, and later, Natalie, now 10— and settled in a rough-around-the-edges two-story, brick home in Roxbury, near Warren Street. It was a deliberate act to invest in a Black neighborhood— and he constantly sought out new ways to uplift and empower Black enterprises and candidates. He also was a trusted volunteer for my wife, Linda Dorcena Forry.
Rich's roots in Haiti were a powerful magnet that brought him back there frequently, as he dearly hoped to make his homeland more prosperous and self-sufficient. In January 2010, he was visiting Port-au-Prince when the earthquake struck. Spared in a disaster that claimed 250,000 or more souls, he did what most survivors of that catastrophe did: He became a first responder, digging with whatever tools he could find to free the trapped, the dying, the dead.
When we finally spoke days afterwards, he told me: "I feel like God sent me here for a purpose. Nothing's happened to me, not a scrape. I'm doing all these things. I'm pulling people out with my own hands…I've done things I never thought I'd have to do."
Five years later, Rich was my companion when I visited Haiti for the first time. It was a magical journey, made extra special because my lifelong friend was the guide, showing me the Haiti that most will never see or believe. Waterfalls and lush mountains, fresh produce and pristine beaches, and people eager to welcome strangers.
Losing Rich has brought great heartache to his extended family, particularly in the tight-knit Haitian community. In a cruel twist, his funeral service next Friday at Temple Salem on Woodrow Avenue will be a dual farewell, as his younger brother, Jean-Charles Innocent, died the day that Rich suffered his stroke. It'll be a tough goodbye, singed with sadness. But we'll be buoyed by fond memories of Rich's infectious laugh, his love for music and parties, and his kindness and affection for people— no matter their station in life. Safe journey, my friend. Na wè pita.
A funeral service for brothers Richardson Innocent and Jean-Charles Innocent is planned for Friday, Sept. 22, 10 a.m. at Temple Salem Seventh-Day Adventist Church on Woodrow Avenue in Dorchester. A Go-Fund Me campaign has been launched to assist the Innocent family in this difficult time.