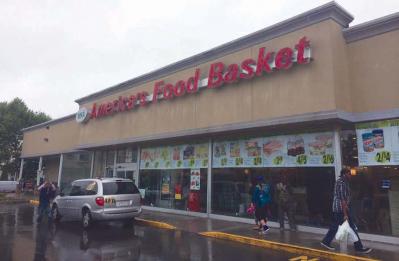 America's Food Basket on Geneva Avenue will be replaced by Save-a-Lot. Charlie Dorf photo
The America's Food Basket store in Fields Corner will soon be replaced with a Save-a-Lot, a discount supermarket that plans to do an extensive rehabilitation of the Geneva Avenue store before re-opening later this year.
America's Food Basket, with corporate headquarters in New York, is currently the anchor tenant at the mall, which is owned by Supreme Realty Trust. Tom Cifrino, who manages the trust, says that the operators of America's Food Basket failed to extend their lease, which expires at the end of August.
"They missed the option to renew and we decided to go in a new direction," explained Cifrino.
Edwin Polanco, the general manager and co-owner of the America's Food Basket, acknowledged that his company had failed to file a necessary document to extend their lease agreement with Supreme Realty. But, he said, the company wanted to keep the Fields Corner location and hoped to negotiate a deal to stay.
"The lawyer in New York didn't send a letter he was supposed to send to confirm the lease. He made a mistake and now the landlord wants to kick us out because he wants to get somebody else in here," said Polanco. "We are open to negotiating if they want more money."
But Cifrino says it's too late. Supreme Realty has entered into a new lease agreement with Save-a-Lot's local licensee, Harold Slawsby, who operates stores in Roxbury, Roslindale, and Brockton. The Slawsby family is no stranger to Dorchester. In fact, Harold Slawsby and his family once owned and operated the now-defunct Capitol Market chain, which had two locations in Dorchester, one of them at this same space in the Geneva Avenue mall.
"We've always wanted a store in Dorchester and we've looked high and low," said Harold Slawsby, 78. "I've known the Cifrinos for many years. In fact, they outbid us for that [Fields Corner] land in the 1950s. But we've always been friendly competitors and stayed closed to the family."
Slawsby said he was approached by a broker to gauge his interest in leasing the Fields Corner location earlier this year. "Whatever happened with the current America's Food Basket, I don't know," he said. "But evidently they neglected to exercise their option on their lease," said Slawsby.
Save-a-Lot is a national brand with more than 1,300 locations across the United States. A wholly owned subsidiary of SUPERVALU, the company licenses its brand to local operators, including Slawsby. He now operates stores on American Legion Highway in Roslindale, Martin Luther King Boulevard in Roxbury, and on East Ashland Street in Brockton.
"We're going to be spending a considerable amount of money to gut the store," said Slawsby, who added that the work would begin soon after the America's Food Basket vacates. "Our lease kicks in when they get out," added Slawsby.
Polcano said that America's Food Basket is concerned that the new owners may not keep the current staff of 71 employees in place. City Councillor Tito Jackson this week expressed concern over the change as well, saying he worried that staff shifts in the transition would hurt workers.
"I am very troubled by a landowner in Dorchester allowing fifty people to be displaced from their jobs," said Jackson. "America's Food Basket has been an anchor tenant at the mall for a long period of time and is one of the most visited stores in that area. I find it troubling that the landlord would not seek an amicable resolution to allow them to stay."
Slawsby said that Save-a-Lot has typically kept the full complement of employees in place during transitions like this one. "When we bought the Roslindale store from the company, we initially kept almost everybody who was there," said Slawsby. "We would certainly seek to do that in this case. We do have a diverse crew of managers and they're well trained. Our goal is to provide a clean environment.
"We do things a little bit differently. We have a fresh meat department, for example. But we don't offer secondary services like lottery and bill paying. We try to keep labor costs tight and as a result prices for consumers are lower," said Slawsby.
America's Food Basket operates stores in Mattapan Square, Bowdoin Street, Codman Square, and Hyde Park. The Geneva Avenue location, Polanco said, has been a "good one. Before us, nobody could keep up with it," said Polanco. "Once we came on board, we make the store clean, we bring product for all of the community, especially different countries, because we have a very diverse area here in Fields Corner."
Paul O'Brien, the Save-a-Lot manager at the Roslindale location, says that won't change under new ownership.
"We serve a very diverse community, and we try to carry all the important items for every ethnic group," said O'Brien. "We plan on making sure that when we open up the new store, it's going to be the best of our stores in the area. We have four stores in the area now, and it's going to be the best and it's going to be the store that we all want it to be.
"We'd like to get started serving that community as soon as possible," said O'Brien. "My managers and people with the store are hoping to do it quickly. We will provide higher quality, at lower prices, in a much nicer store. We try our best to provide a clean store with fresh produce." 
Slawsby's experience in Fields Corner dates back to the 1940s. His father ran a meat market at 1498 Dorchester Avenue, a precursor to the Capitol chain that his family later opened. In addition to the Fields Corner location , the Slawsby family operated stores on Morrissey Blvd.— a building that now houses a liquor store and a CVS— and a store at Morton Street and Gallivan Blvd. that is now occupied by Norfolk Hardware.
"I grew up basically in Fields Corner in '46-'47 in my father's store," said Slawsby.