By Jennifer Smith, Reporter Staff
July 1, 2016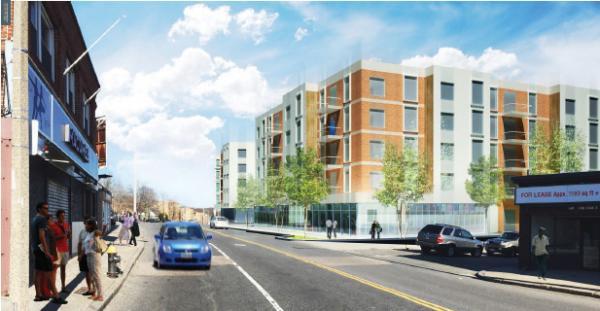 Nuestra Comunidad Development Corporation and the Preservation of Affordable Housing Inc. (POAH) reported on their proposal for the Mattapan Station mixed-use development at a public meeting organized with the MBTA on Wednesday night, with non-profit representatives fielding questions on housing and community involvement.
The team was awarded rights to develop the parking lot parcels along River Street after responding to a request for proposals earlier this year. Their winning proposal included payments in excess of $4.8 million to the MBTA over the next 20 years.
The Nuestra-POAH proposal includes 135 units of housing and 10,000 square feet of commercial space. At the public meeting, about 30 attendees were told that the development team was committed to making at least 50 percent of the units available for rent at 60 percent area median income.
Julie Creamer, POAH's vice president of new construction and special projects, said the partner teams were united in their commitment to affordable housing.
"Our goal was to build high-quality, transit-oriented housing that is affordable to a range of incomes," she said. "We feel that that makes for a united community and really brings housing opportunities to a broader range of residents."
In response to audience questions on housing, Creamer said they were still working out the balance between possible homeownership and the span of affordability that would be offered through the project.
Roxbury-based non-profit development corporation Neustra Comunidad's proposal was selected by the MBTA to develop the underused bus yard in May, beating out the only other proposal for the lot put forth by Trinity Financial Inc.
The MBTA was approached in 2014 to sell the parcels $1.5 million to a Hyde Park-based charter school looking for a new permanent home in the Mattapan area. Elected officials and civic leaders blocked the deal and insisted that the MBTA put out a third RFP to seek a partner who would bring River Street a mixed-use project that to add jobs, a tax base, and housing.
State Rep. Dan Cullinane asked that the community be kept in the loop as the project develops, with notice ahead of all public meetings and a website to hold any relevant public presentations.
"We have one shot to get this project right," Cullinane said. "This is going to be the welcome mat to Mattapan Square for the next hundred years. It was having that in mind why the entire elected delegation stepped up and said, 'We need a community voice in this process.'"
Also present at the meeting were State Rep. Russell Holmes, City Councillor Tim McCarthy, and representatives from the offices of State Sen. Linda Dorcena Forry, Mayor Martin Walsh, and city councillors Annissa Essaibi George and Andrea Campbell.
Cullinane asked if the project would be appropriately prioritized to move forward, given existing projects in the pipeline for both Nuestra Comunidad and POAH.
"We are committed to making this happen as quickly as possible," Creamer said. As the project moves through the Boston Redevelopment Authority's Article 80 process, as well as design and funding stages, developers said they could see a potential 2018 construction kickoff if everything goes smoothly.
A first step is the submission of a Project Notification Form, which Price and Creamer anticipate sending to the BRA in the fall.
Nuestra Comunidad is simultaneously working to re-use the former Bartlett bus yard near Dudley Square in Roxbury, a $170 million effort that will eventually house 323 units of housing and more than 52,000 square feet of commercial space, along with a charter school.
The RFP for the Bartlett bus yard was awarded in 2008. David Price, with Nuestra Comunidad, said they would be breaking ground on two buildings in the Barlett project in fall 2016. The project is likely to be completed in 2021, he said.
"I think that's one reason we're happy to partner with POAH," Price told the Reporter after the meeting. "I think it would have stretched our resources to do this on our own and do Bartlett at the same time, so we really needed POAH as a partner to do this. In combination, we have a strong capacity to do it."
The transit-oriented development at Mattpan Square benefits from a confluence of public transit options, developers and attendees noted.
"One of the things we're most excited about on this project is the bikes connection for the [Neponset River] Greenway," Creamer said.
Bus routes would be largely unchanged and unimpeded, she said. Buses would traverse their normal paths around what is now the parking lot site and would later be the multi-building development.
Rep. Cullinane pointed out the proximity to the historic Mattapan trolley, the future of which elected officials have forcefully pushed to ensure, as another unique advantage for the project.
One abutter said they were already "choking" on traffic, and worried about the 173 parking spaces included in the project estimate, given the transit-oriented pitch. Price explained that the overall parking to unit ratio was 0.5, already very low, with station-specific and on-street parking incorporated in the overall estimate.