By Bill Forry, Editor
April 5, 2016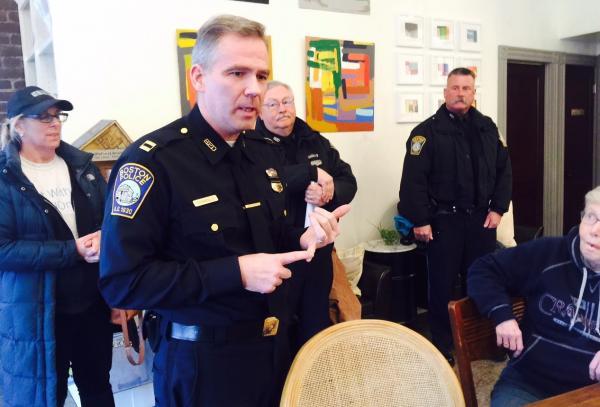 (Updated, Wed., April 6)- There is a new commander on watch in Dorchester's Area C-11 police district.
Capt. Tim Connolly assumed command at the Gibson Street station house effective Monday, April 4. He replaces Capt. Richard Sexton, who has been in command at C-11 since 2008.
Captain Sexton, a 25 year veteran of the department, has been re-assigned to the Boston Police Academy where he will oversee the training of new recruits, according to a statement issued Wednesday by Commissioner William Evans.
"I'm very pleased to announce the promotion of three qualified individuals to the role of Captain, and subsequently several shifts in personnel within the department," Evans said. "I have assigned Captain Timothy Connolly, also a 25-year veteran of the BPD, to the captain's position in District C-11. He is extremely dedicated to the community and excited to begin his new role as the District C-11 commander."
Connolly is a South Boston native who was promoted to the rank of captain two years ago. Most recently, he has been one of two "night commanders" who are responsible for responding to crime scenes and crisis in Boston. Connolly was assigned to the north side of the city— including districts A and D.
"It was definitely a pleasant surprise," Capt. Connolly said of the news of his re-assignment to C-11, which is one of the busiest police districts in the city. "I look forward to the opportunity that the commissioner and the mayor have given me."
The district includes most of Dorchester, including Ashmont, Codman Square, Fields Corner, Columbia-Savin Hill, Lower Mills, Neponset, Adams Corner, Bowdoin-Gevena, Meetinghouse Hill, Four Corners and parts of Uphams Corner. Dorchester is also covered in part by three other police districts: B-3, which includes Mattapan; B-2, which is centered in Roxbury's Dudley Square but includes parts of Dorchester to Columbia Road; and South Boston's C-6, which has jurisdiction in Columbia Point and the Polish Triangle.
Connolly received word of his new appointment last Friday and is making the rounds of local civic and crime watch groups alongside C-11 community service officers. He introduced himself to members of the Fields Corner Civic Association at their meeting on Tuesday evening, held inside the newly-opened home.stead, a new bakery and café at the corner of Dorchester Avenue and Adams Street.
"I've been studying reports and the good news is that crime is down [on Area C-11]," Capt. Connolly told the group, adding: "We want to engage the community in whatever we do."
As with many civic groups in Dorchester, public safety concerns are a regular subject at the Fields Corner civic meetings. On Tuesday night, Community Service Officer Mike Keaney read through a series of reports of recent arrests and incidents— none of which were violent in nature.
Keaney passed word about a housebreak that occurred on Tuesday night in which someone pushed in a window air conditioning unit to gain access to a Lyons Street home. The only items stolen from the home, Keaney said, were bras and underwear. Keaney also told civic members about a Drug Control Unit activity that same day on Dicken Street, in which two young men were arrested after allegedly engaging in an illicit drug transaction on the street.
Capt. Connolly responded to several questions from the civic group membership, including one resident who wanted to know if a police-grade taser is something that his wife could use for self-protection as she walks on city streets.
Capt. Connolly was quick to inform the resident that tasers are only permitted for use by law enforcement officers and that citizens are subject to arrest if they are observed carrying or using one. Connolly said that mace canisters can be obtained as a self-defense tool with proper authorization from Boston Police headquarters.
Officer Keaney reminded the civic association that Area C-11 offers a self-defense class intended for women to learn techniques to fend off an attacker. More information about the classes is available by calling the district's CSO office at 617-343-4524.