By Bill Forry, Editor
October 5, 2016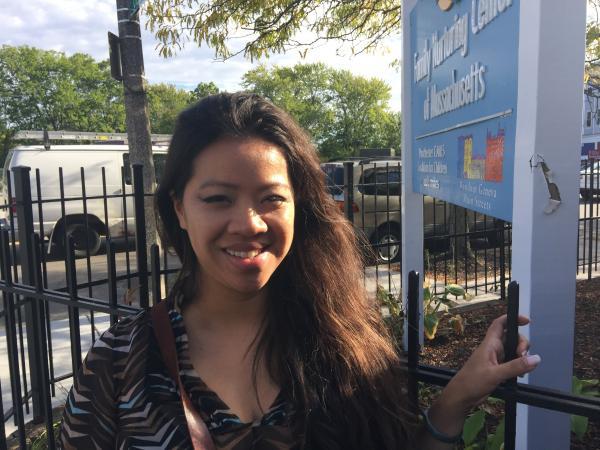 Anh Nguyen, the new director of the Bowdoin-Geneva Main Street organization, is accustomed to working in communities where poverty and disinvestment have become systemic problems. Prior to taking the Dorchester posting in August, Nguyen was living and working in San Francisco's Tenderloin section, a neighborhood hard-hit by unemployment, drug trade and prostitution.
Nguyen, a Boston College graduate who worked at Sampan newspaper and Boston Globe in her early career, led the Tenderloin Economic Development Project, aimed mainly at assisting small businesses, most of them owned by immigrants and refugees.
Nguyen, a 38 year-old Vietnamese-American woman who was raised in Central Massachusetts, is now bringing some of those hard-learned lessons to Bowdoin-Geneva, a business district that has a similar composition. Many bodegas, barber shops and other stores between Kane Square and Geneva Avenue are run by entrepreneurs with roots in the Dominican Republic and Cape Verde.
As she sees it, Nguyen's job is to help them survive, improve and create more jobs for the surrounding neighborhood— while also seeking to help find new businesses that will complement the existing mix.
Jobs are a critical need in a community where unemployment hovers between 20-23 percent— way higher than the citywide average if 7.3 percent, according to a study authored by James Jennings, a now-retired professor at Tufts University.
Yvonne Ruggles, who chairs the BGMS board of directors, says Nguyen was the "unanimous choice" to fill the vacant position.
"Before moving to the west coast, Anh held a number of board and leadership roles in Boston, including the Economic Empowerment Zone (Boston Connects), Vietnamese American Civic Association, and the Women's Institute for Housing and Economic Development," said Ruggles. "Her mix of business and nonprofit experience is highly valued by BGMS, as we develop strategies to ensure businesses in our district have the resources and flexibility to thrive in a changing Dorchester."
Nguyen's timing may be just right for a business district that has long struggled to find its footing— but is poised to see real growth in the coming years. One tangible sign is at 225 Bowdoin St., where a new 98 seat, chicken-on-the-grill restaurant— Pollo Centra— will open later this year. It will be the first Boston location of the company, which includes two restaurants in Lawrence. Owner Miguel Santana, 43, said that Bowdoin Street is an ideal spot because of the ethnic mix and — in part— because there are not many other dining options close by.
"My product catered to everyone who likes chicken," said Santana, who said he conducted market studies in Jamaica Plain and other parts of Dorchester before committing to Bowdoin Street. "Bowdoin-Geneva offered so much more than any area. I think Bowdoin-Geneva is the next Savin Hill, ten years from now. You've got families, you've got students, you are starting to see the transition from downtown moving here."
Santana is so confident that he has invested in excess of $674,000 in the property— which he does not yet own, but which he has an option to purchase over the next year. Much of those costs have been on renovating the building itself, which was in poor condition, and installing state of the art restaurant equipment, including an exhaust system and hood to keep food fumes away from customers.
Nguyen said that the new restaurant is precisely the kind of new business that Bowdoin Street— and Geneva— need to help employ local residents and to keep the street bustling with energy throughout the day.
Nguyen is presently conducting a survey of existing business owners to establish priorities for the Main Street group and working with her board of directors to establish a plan for better marketing the district.
"We have to grow our shopping base here," said Nguyen. "We have this wonderful Spanish and Caribbean experience in Bowdoin-Geneva. And we have a talented board with business owners, property owners and residents. It's a good mix of institutional knowledge."
Nguyen says her goal is to be "on the streets 75 percent of the time" to engage with business owners and residents. The group hopes to convene a holiday bazaar this winter to showcase the various small businesses and micro, home-based businesses in the surrounding neighborhood.