By Jennifer Smith, Reporter Staff
June 8, 2017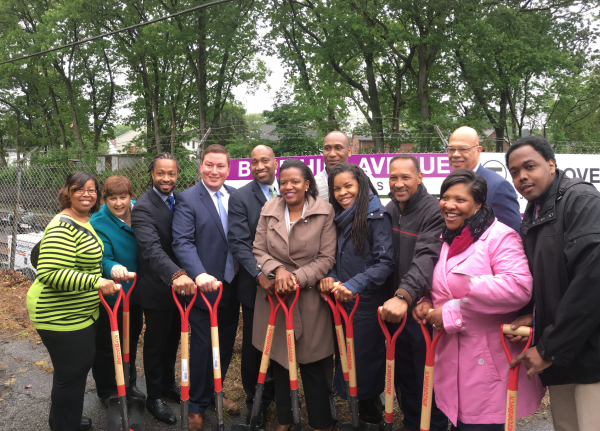 Officials ceremonially broke ground on the Blue Hill Avenue commuter rail station on Monday, kicking off construction for the new Fairmount Line connection point that is expected to open in 2019.
Gathered on a drizzly morning, city and state leaders celebrated the milestone event in the $16.97 million project. The station will feature a single central platform, be accessible from covered ramp entrances on Blue Hill Avenue and Cummins Highway, and give Mattapan residents access to a 20-minute trip downtown.
The Fairmount Line is "a great deal," said MBTA Acting General Manager Brian Shortsleeve, noting that its fare is comparable to the cost of a normal subway ride. Trains run every 40 to 60 minutes, connecting the Readville area of Hyde Park to Mattapan and Dorchester on their way to South Station.
"One of our most important tenets as an administration when it comes to public transportation is that we invest in our core systems," Gov. Charlie Baker said at the groundbreaking site. "Our plan over the course of the next several years is to invest billions of dollars into what I call 'the boring stuff' -- signals and switches, power systems, electronics, tracks, infrastructure, and yes, stations. And this is part of that investment."
Baker said he hopes that the station, part of $130 million invested in the Fairmount line, will boost ridership "and most importantly, give more direct access to a very fair and affordable ride into Boston for folks who live in this community."
Transit advocates hailed the Blue Hill Avenue stop, which will serve some of the most densely populated areas of the Fairmount Corridor, as another big step for the underserved community.
"We look forward to the day when we have rebranded this line as rapid-service transit, which has been our goal since the beginning," said Mela Bush-Miles with the Fairmount/Indigo Transit Coalition. "Get that last color on the spider map of the MBTA: The Indigo Line."
The Blue Hill Avenue station is the fourth and final Fairmount Line station mandated as part of a Big Dig-related lawsuit. A Talbot Avenue station was built in 2012, and the Newmarket and Four Corners/Geneva Avenue stations were completed a year later.
"Transportation is ultimately about connections, connecting people to the regional economy, connecting neighborhoods to opportunities in downtown Boston," said Transportation Secretary Stephanie Pollack. "And the Fairmount Line is a big part of it, but it's not the only part," she added, listing investments in the Mattapan high-speed trolley line, the Silver Line, and the local bus system. "Because at the end of the day, the more options that people in these neighborhoods have to get where they need to go, the more opportunities they will have," she said.
Going forward, some train service will be impacted by the construction. Weekend trains are being replaced with shuttle buses between the Morton Street and Readville stations. Buses will also replace the last two outbound weekday trains, Train Nos. 787 and 789 leaving South Station at 10 p.m. and 11 p.m., and make every stop through Readville.
"This has been a while for us to be at this moment," said state Sen. Linda Dorcena Forry, who grew up in Uphams Corner and is a long-time Fairmount rider. The station has been a longer process, she said, in part because of the community's involvement with the MBTA in shaping the project.
"What's important here is that we're having another station here in Mattapan," she said. "This is about access, and this is about more opportunities in our community of Mattapan to be able to get plugged into other areas of the city and to get plugged into jobs. So, so critical."
State Rep. Russell Holmes, who grew up not far from the station site, said his options as a kid had been limited to catching the 31 bus or walking over to the Mattapan high-speed trolley. Both would only let him connect up with the Red or Orange line, not whisk him downtown on a non-stop route. He said he hopes the new station would also serve as a catalyst to revive development planning at the nearby vacant Cote Ford site.
The importance of access in Mattapan was echoed by state Representatives Dan Cullinane and Evandro Carvalho, who both pointed to the link between transportation access and economic well being.
"I know we're here under a tent, but this is a beautiful day," Cullinane said, smiling broadly. "This is a milestone for Mattapan. Any time when we have $17 million coming right here to build a station is a beautiful day. The weather can do whatever it wants out there."