By Jennifer Smith, News Editor
August 29, 2017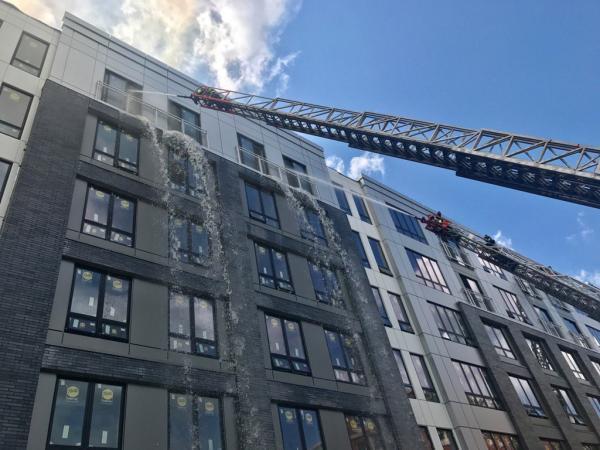 First step towards rebuilding 'Treadmark 2.0'
The owners of the Treadmark building, which was largely destroyed in a six-alarm fire in late June, have won city approval to demolish the top stories of the Dorchester Avenue structure. The company— Trinity Financial, Inc.— said that it will begin the work soon with plans to rebuild the mixed-use structure over the next year.
The city's Inspectional Services Department approved Trinity's demolition plan on Tuesday, said Trinity spokesman Mathieu Zahler. They will demolish the top five floors of the building, he said, stripping it down to its concrete podium above the first floor.
The Treadmark's upper floor and roof were consumed by a persistent fire in the ceiling of the six-floor structure around 2 p.m. on June 28, one day before the Boston Fire Department was scheduled to do a final sprinkler system check. A faulty exhaust pipe connected to a basement generator ignited flammable materials on the roofline, sparking a blaze that burned for almost 16 hours, according to fire officials.
The fire-scarred building sits across from the Ashmont T station on a prominent block near its Trinity Financial sister building,The Carruth.A high reach excavator is already stationed outside the building, Zahler noted, which will "just kind of chop the building into pieces" to be carted away.
He expects demolition to take five weeks.
"We feel good about it," he said. "We think it's the right thing to do and we are hopeful that we can get this underway soon."
After demolition, rebuilding the Treadmark could take a year. The Trinity team said it plans to construct "Treadmark 2.0," essentially the same structure.
The building is comprised of four stories of wood-framed construction over two floors of steel and concrete — a style that developers and city officials have emphasized is common throughout the city and very safe when built to code. Nothing about Treadmark's construction raised any safety concerns, city officials said, and the sprinklers were not required to be in use at the time of the fire.
June's blaze was a significant setback for the neighborhood, which was looking forward to the building on the former Ashmont Tire site as a new residential and commercial activator.
Anchor tenant American Provision, an artisanal grocer, has said they do plan to occupy their retail space in the new Treadmark.
It comprised 83 units —32 condominiums and 51 affordable rental units. An inspection on June 29, the day after the fire would likely have discovered the flawed design of the exhaust pipe, inspectors said.
Zahler said they have lost "roughly half of the buyers" for the condominiums. The Trinity team is respecting the placement of tenants who qualified for the affordable units through a housing lottery.
For ongoing project updates, the team has a CoUrbanize page at courbanize.com/projects/treadmark.