By Jennifer Smith, News Editor
September 21, 2017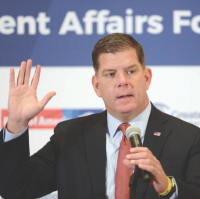 Mayor Martin Walsh has reservations about a controversial proposal by the state Department of Conservation and Recreation (DCR) to remove a lane on oft-jammed and oft-flooded Morrissey Boulevard as part of its ongoing redesign.
The mayor was briefed by DCR officials last week on overall design plans for the boulevard that are still in the design phase and not yet funded for construction. The lane drop was one of the most noted points of contention in comments submitted to the state by July, and planners expect to have another meeting on 75 percent design later this fall.
"I have real concerns about three lanes down to two," he told the Reporter in a phone interview on Tuesday. State engineers say fixes to the signaling and lane configuration should ease traffic pressures, but "it's not a signaling problem, it's a problem of congestion and confusion," Walsh said.
DCR hopes to transform the boulevard into a urban parkway from just below Kosciuszko Circle to Neponset, eliminating a lane to add protected bike and pedestrian lanes and greenery, and shoring up the road against increasing incidents of flooding. Walsh theorized that the boulevard should have enough space to add non-automotive infrastructure like protected bike lanes without losing a driving lane.
Not everyone in the neighborhood can make it out to public meetings, Walsh said, and he wants the state agency to brief civic associations whose territories will be impacted by changes to the roadway. "There needs to be a more robust community process," he said, adding that hitting all the relevant civic groups should be doable over the course of a month.
"If there's a two-lane proposal and they can prove to everybody that it will improve [traffic]," Walsh said, he is open to listening. The Boston Transportation Department is also taking a look at the plans, he said.
The mayor commutes along Morrissey "every single day," watching traffic that "ebbs and flows" along the route. He notes that the road is used as a cut-through to downtown from areas like Mattapan, Hyde Park, and Milton. Without that route, drivers will try to nip into residential roads to carve time off of their trek, he said.
Parkways like Morrissey typically have lower speed limits and restrictions on the type of vehicle that can use them. DCR is proposing dropping the speed limit on the stretch from 40 miles per hour to 35 miles per hour.
Although "parkways are for leisurely driving," Walsh said, "Morrissey Boulevard has always been something of a main throughway, and we need to do what we can to keep cars off the side streets."
The DCR responded to the mayor's concerns in an email Tuesday. "In response to issues raised by Boston Mayor Marty Walsh regarding the Morrissey Boulevard redesign project, the Department of Conservation and Recreation (DCR) will meet with various neighborhood and civic associations ahead of its next public meeting to present a detailed briefing on the street's traffic analysis, which was performed as part of the project's initial design," a department spokesperson said.
"In addition, the Massachusetts Department of Transportation (MassDOT) will fund a peer review of this traffic analysis, which was performed by DCR and its consultant, as well as a Central Transportation Planning Staff (CTPS) analysis of the project's effect on traffic regionally."
Jennifer Smith can be reached at jennifer.smith@dotnews.com, or follow her on Twitter at @JennDotSmith