By Jennifer Smith, News Editor
August 22, 2018
All politics is local, they say. And for some Dorchester residents, it's sitting on their couches.
Neighbors and city officials have been hosting candidates in statewide and countywide races at their homes for meet-and-greets with voters. Some hosts are inspired by the personal story of the candidates while others see the opportunity for a more intimate survey of their options.
Last Friday evening, about a dozen people gathered in Tom Carroll and Michael Soucy's home on Ashmont Street to meet a candidate with a big personality as he engaged them on a little-known race.
Jimmy Tingle, a comedian and Cambridge native, is running against Quentin Palfrey for Lieutenant Governor in the Sept. 4 Democratic primary. The victor will be on the party ticket with the prospective gubernatorial candidate, either Bob Massie or Jay Gonzales.
"I know Jimmy Tingle through his comedy," Carroll said as he stood in the living room next to the elaborate organ Soucy is constructing in their Carruth Hill house. "I know some of his personal story, including his bout with substance abuse, and that resonates for me and my family. And I think he's just such a forthright guy that I was very excited when I learned he was running for lieutenant governor. So, it's that sort of thing, and wanting to introduce him to my neighbors and friends so they can get a chance to get to know him."
Tingle chatted with those gathered in the room before offering an abridged stump speech and a casual question and answer session with the attendees. He is a comedian, he acknowledged, but "this campaign is 100 percent serious."
Having gone through years of losing friends to substance abuses, he was calling around looking for help with his alcoholism in the '80s and got nowhere until a voice in Cambridge finally answered the phone with "you called the right place."
Now running on a platform heavily tilted toward addressing the opioid epidemic and providing support to communities stricken by drug and alcohol dependence, Tingle has been to dozens of similar neighborhood gatherings across the state, trying to survey locals on their priorities should Democrats manage to unseat the popular Republican governor, Charlie Baker.
As Carroll felt a connection to Tingle, so did Ashmont Hill resident Pat O'Neil to Suffolk District Attorney candidate Greg Henning. She hosted a similar meet-and-greet for Henning earlier that week.
"I just liked him," she said of Henning, sitting in Carroll's house. "I liked his whole personality, just anything about him… he just was a real stand-up guy."
When Henning was queried by the small group on his plans for the seat should he win, O'Neil said, "he didn't say, "Well, I'll have to get back to you on that." He went on for five minutes at least about how that could happen and what he has done towards doing that."
City Councillor-at-Large Annissa Essaibi-George has taken a broader approach, inviting all five Democratic candidates for the Suffolk County District Attorney's post to her home for a "family-room politics" type chat.
Linda Champion, a candidate in the race, talked with voters in Essaibi-George's family room last Tuesday. The day before, candidates Rachael Rollins and Shannon McAuliffe met attendees. State Rep. Evandro Carvalho and Henning had their turns on Tuesday.
These events, billed as "a series of intimate conversations," give voters a chance to scrutinize all five candidates' trial experience, priorities, and intended policies for the district attorney's seat.
Linda Champion, left, addressed a group of likely voters who gathered at the home of Boston City Councillor-at-Large Annissa Essaibi-George and her husband Doug George last week. Champion is one of five Democrats running to replace outgoing District Attorney Dan Conley. All five were invited to speak to voters at Essaibi-George's home over the last week. Jonathan Ng photo
In the hour-long conversation, Champion, a former Suffolk assistant district attorney, said she would be a "bridge between communities of color and the communities that are not impacted by crime and violence."
Champion says that her experience as a prosecutor in the DA's office gives her an edge over other candidates.
"Greg [Henning] and I are probably the only two candidates that have actually done trials, impanel the juries, and presented evidence before the grand jury," she said. "One thing when you're going into the district attorney's office, if you don't know anything about criminal law and if you've never tried these cases, the team, the line, doesn't respect you."
Essaibi-George told the Reporter on Tuesday that current district attorney Dan Conley's decision to step down was an interesting twist for even attentive voters. "I was intrigued by this opportunity to elect this new DA," she said. "When the incumbent isn't running it certainly changes the dynamics of the race," she said.
"I'm pretty active voter," she added, but the first competitive DA race in her adult life made her realize, "oh my goodness, even people who may be politically engaged civically might not know what a DA does, what are their responsibilities, what do we need to know?"
Conley has endorsed Henning to succeed him. But Essaibi-George said she was struck by all five Democrats running, calling them an "interesting bunch of candidates, all qualified, who bring different skills."
She is confident that the person who wins the Sept. 4 primary will become the next district attorney, and this provides a chance for locals to have face time and ask follow-up questions of the future top prosecutor in the county.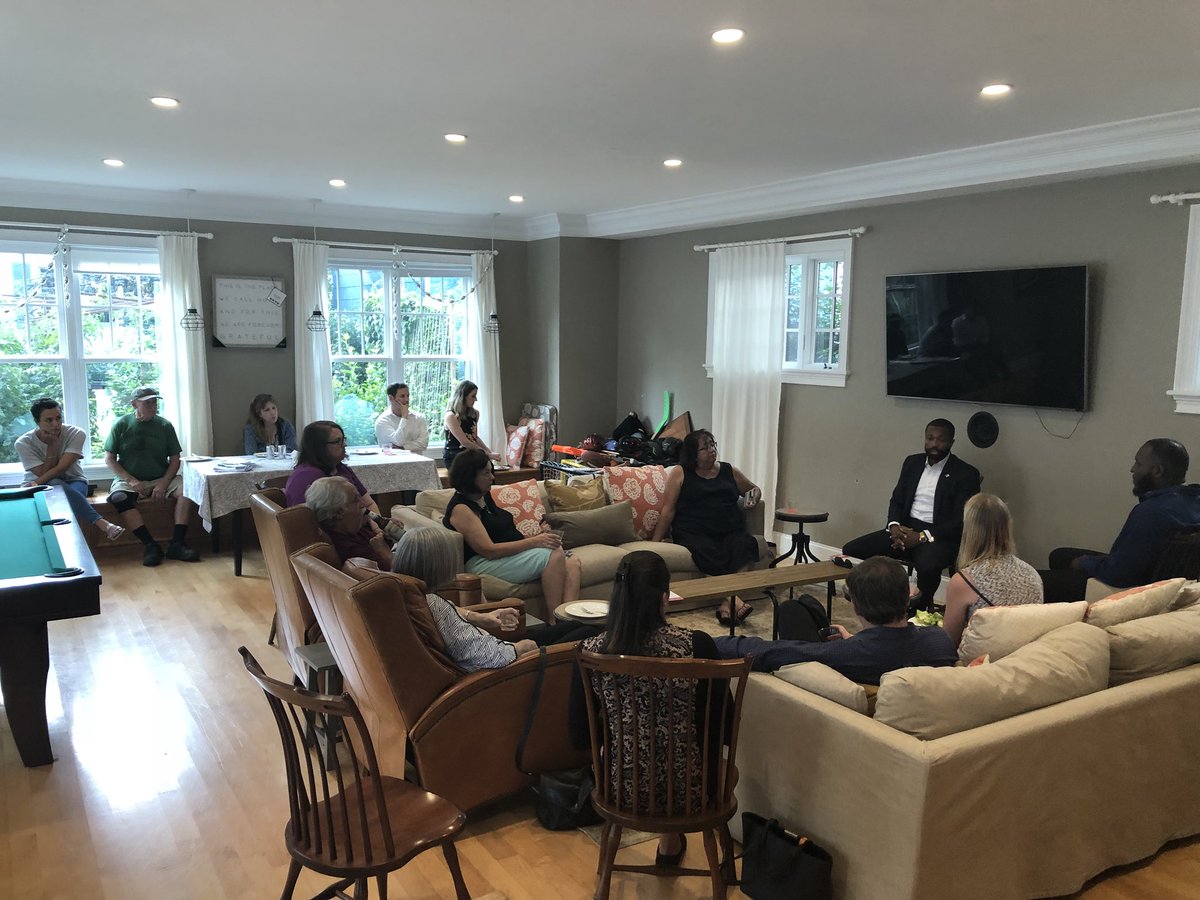 Rep. Evandro Carvalho spoke to a gathering of voters at the home of Boston City Councillor Annissa Essaibi-George and Doug George on Tuesday, Aug. 21. Photo courtesy Councillor Essaibi-George
All three hosts said they appreciated the attendance from those outside of their ordinary circles. The neighborhood is already fairly politically active, they noted, and these races could always use extra scrutiny.
"I found that the people that came were not people that I normally socialize with," O'Neil said, "and I thought that was great."
Reporter correspondent Jonathan Ng contributed to this report.